Summer is one of my favorite seasons and my favorite part is getting to go to the beach! My family usually goes somewhere in Florida! So I'm gonna share with y'all what I typically carry in my beach bag and my beach essentials for spending a day on the shore laying in the sun!
The necessary things:
Towel
Sunscreen
Sunglasses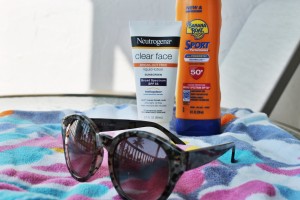 You need the towel to lay on either the beach itself or a beach chair! I sometimes bring two: one to lay on and one to dry off with. Also, SUNSCREEN. I cannot stress enough how important sunscreen is. Some people don't really burn, they tan easily and don't buy sunscreen with high SPF. i am NOT one of these people. Everybody is different, so find what works for you. I always have tried to protect my skin from the sun AND get tan if I can. So I buy sport or water resistant sunscreen with an SPF of  at least 50. I then typically take that  bottle (sometimes a spray) to reapply throughout the day. Now, I use different sunscreen for the face. I use the Neutrogena Clear Face sunscreen. It's break out free and, at least to me, is less oily and thick than regular sunscreen. It has SPF 55 so it protects your face! It works EXTREMELY well.
I always try to take a hat as well! These are the two I typically go between. Sometimes. if I'm feeling cute, I'll wear this cute fedora I got last year. Or, if I don't really care, feel sport, or just want the sun out of my face, I'll wear a ball cap (GO GATORS)!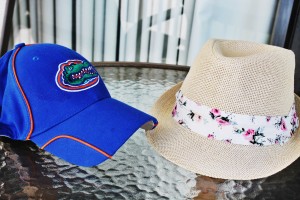 Everything else I take out on the beach is for my enjoyment, convenience, and happiness! I always take a book to the beach. I love reading and there is nothing more relaxing than reading on the beach, listening to the waves. I either read a crazy, adventurous fun book, or a fun, light romantic book. (I haven't decided yet which to read). MAJOR TIP FROM ARIANA: Take headphones. Even if you don't think you'll listen to music, take headphones. Also, always bring at least a bottle of water! I put mine in this cute cup with some ice and I have enough for the whole day!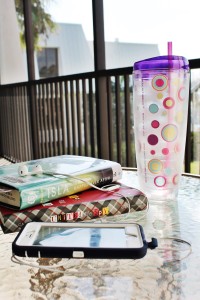 I took all these pictures outside on the balcony because surprise! I'm at the beach right now. Hopefully this post was enjoyed and enlightening! I'll be back to post updates on our trip later. Bye!