Hiya! Last week, I was in DISNEY! Which is why there were no posts (which I apologize for). I underestimated how hectic things were going to be leading up to and during the trip! But now I'm back and so excited to write for you guys! In case you missed it, I recently shared a post with my tips on planning a trip to Disney! On a related note, this brings me to today as I'm going to show you how I packed my Disney park bag!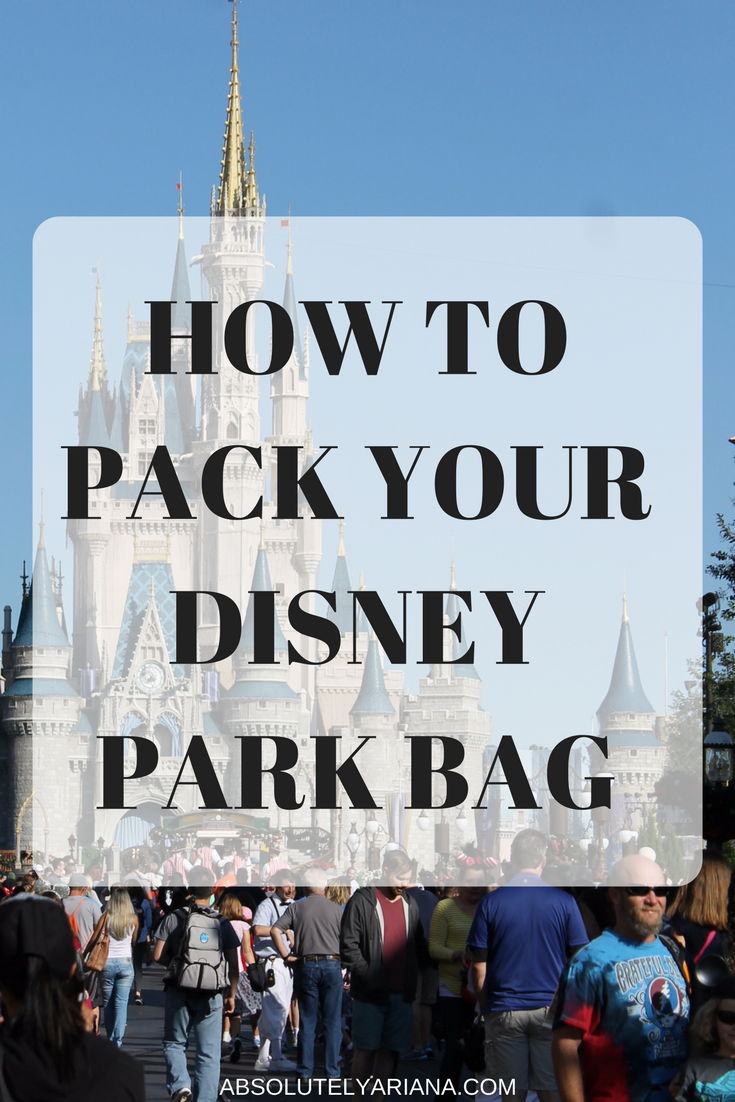 I don't know about you but when I go to Disney (or any theme park for that matter) I take a backpack (aka a park bag). It's comfortable, holds all your stuff, and generally durable enough. You don't want to be carrying loads of stuff or smaller bags around. And you don't want the opposite, which would be needing something you didn't bring because you didn't have a park bag! It's important to pack your Disney park bag correctly and with all the right stuff! This way you will have everything you need throughout the day and ensure an even more magical time!
The Backpack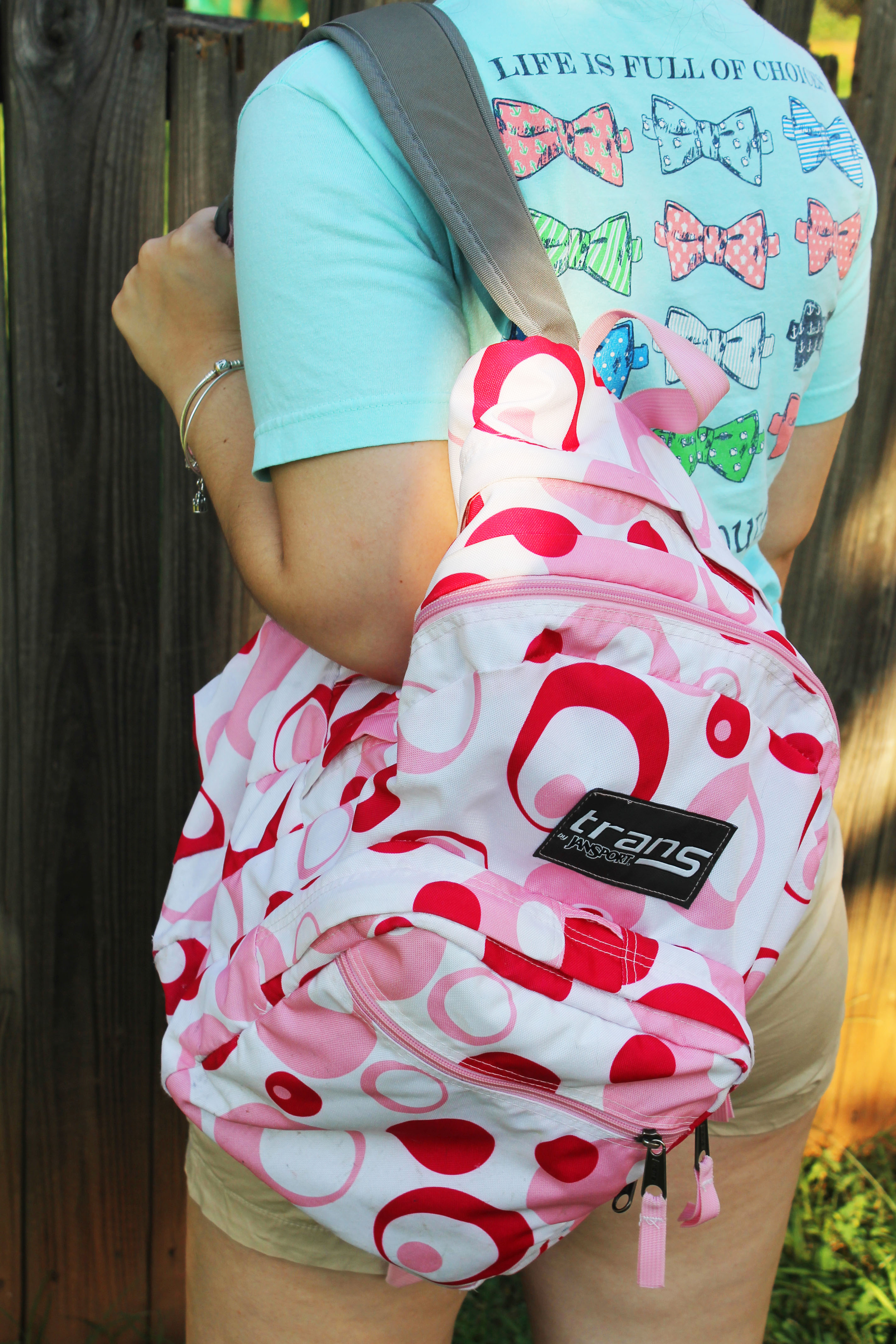 First lets start with the bag. During my recent trip, I used my old Jansport backpack from school a couple years ago  as my park bag (I can't find mine but Jansport has a new Disney line! My favorite is the Blooming Minnie!) and it worked fine. In fact, I found it had more room and pockets than I probably needed but I didn't know what I would buy inside the parks so I didn't mind the extra space. Having a cute park bag is probably ideal but you really want to go for practicality, durability, and functionality here. Nobody will really care what your bag looks like and if you don't want it in pictures, you can always take it off and place it out of frame!
The Contents
Next let's discuss the contents of the bag! Here are the items that I packed every day:
Camera
Extra camera lens
Rain Jackets (and/or umbrella)
Wallet
Hand sanitizer
Glasses
Sunglasses
Minnie Ears*
Autograph book & pen*
*Optional
Florida is hot y'all. And you're pretty much guaranteed at least one mini storm or rain shower a day. They don't last long but it can be a torrential downpour. You just gotta be able to go with the flow. So it should be a staple to have a rain jacket and probably an umbrella (we had multiple between us) ready to go!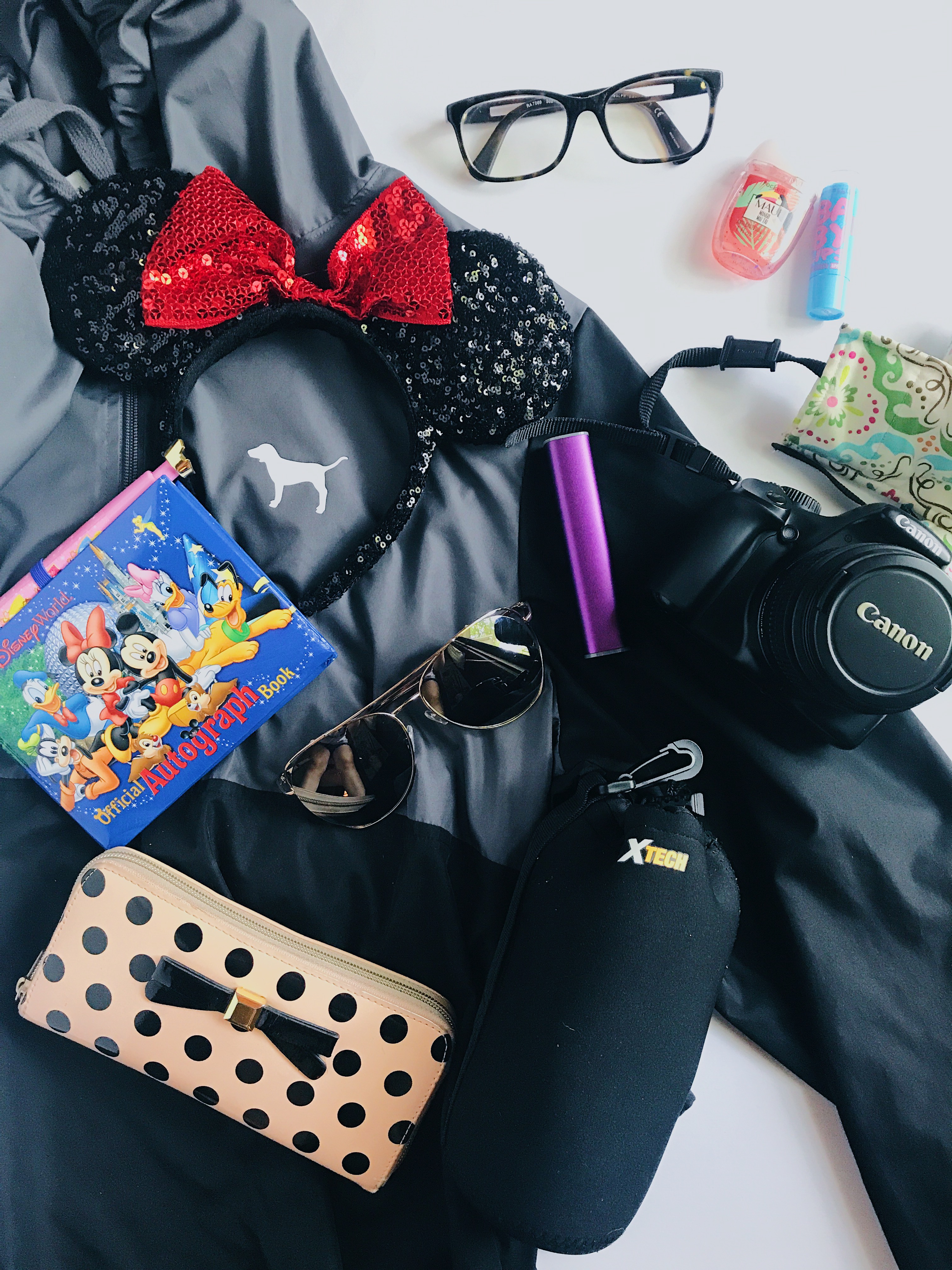 Packing the Bag
Main Compartment
Here I put my bigger and heavier stuff. I generally had my camera in my hands but whenever it wasn't, I put it here. I also put my rain jacket, umbrella, and wallet here. It may not have made sense to put my wallet here but it did to me for some reason. I don't know, don't judge (jokes jokes)! Whenever I bought something from a store, it went here. So did any hats or ears whenever I took them off (which is necessary for some rides!).
Second Largest Compartment
My bag had like 4 compartments: a main one, a second large one, a smaller square one, and a front zip one. So in my second largest compartment, I put my extra camera lens. I didn't want it in the main compartment because I didn't want it hitting the ground when it sank to the bottom or other things sitting on top of it. I would also my autograph book and pen in there. Anything else that was too big for the other compartments but I didn't want in the main compartment went in there.
Square Compartment
I put my external charger, charging cord, and glasses in here. Anything like that went into this compartment. They would probably get lost or accidentally fall out of the other ones (at least that's what I was worried about haha!)
Front Zip
Pretty much anything small went here. I put my sunglasses here, my phone, and the hand sanitizer. I also had one mesh cup holder on the side that I sometimes put my phone and sunglasses if I didn't have a water bottle there. It was easier to reach and I didn't have to stop and take my backpack off or ask someone to help me get it out.
There ya have it! My guide to packing a park bag for Disney! Of course this is totally optional and customizable to you! I hope this maybe gave you an idea or some guidelines on how to pack a park bag to make it functional so you have the best day ever in the parks! Now you're ready!
Was there something I missed? How do you pack a backpack for a day at Disney or any amusement park? Let me know in the comments!
xoxo Ariana