Hey guys! In case you missed it, so far I've shared our day at the Magic Kingdom, Animal Kingdom, and EPCOT! We did take a break day after that. We kind of just hung around the pool (until we got rained out), then went to meet up with my moms best friend for dinner in Disney Springs! She brought her kids and we all ate dinner at Raglan Road, a traditional Irish pub. The food was great and there was live music AND live Irish dancing! I share a picture down at the end of this post! I didn't really take many pictures this day because we just kind of chilled out and shopped around. Our second to last day was spent in Hollywood Studios!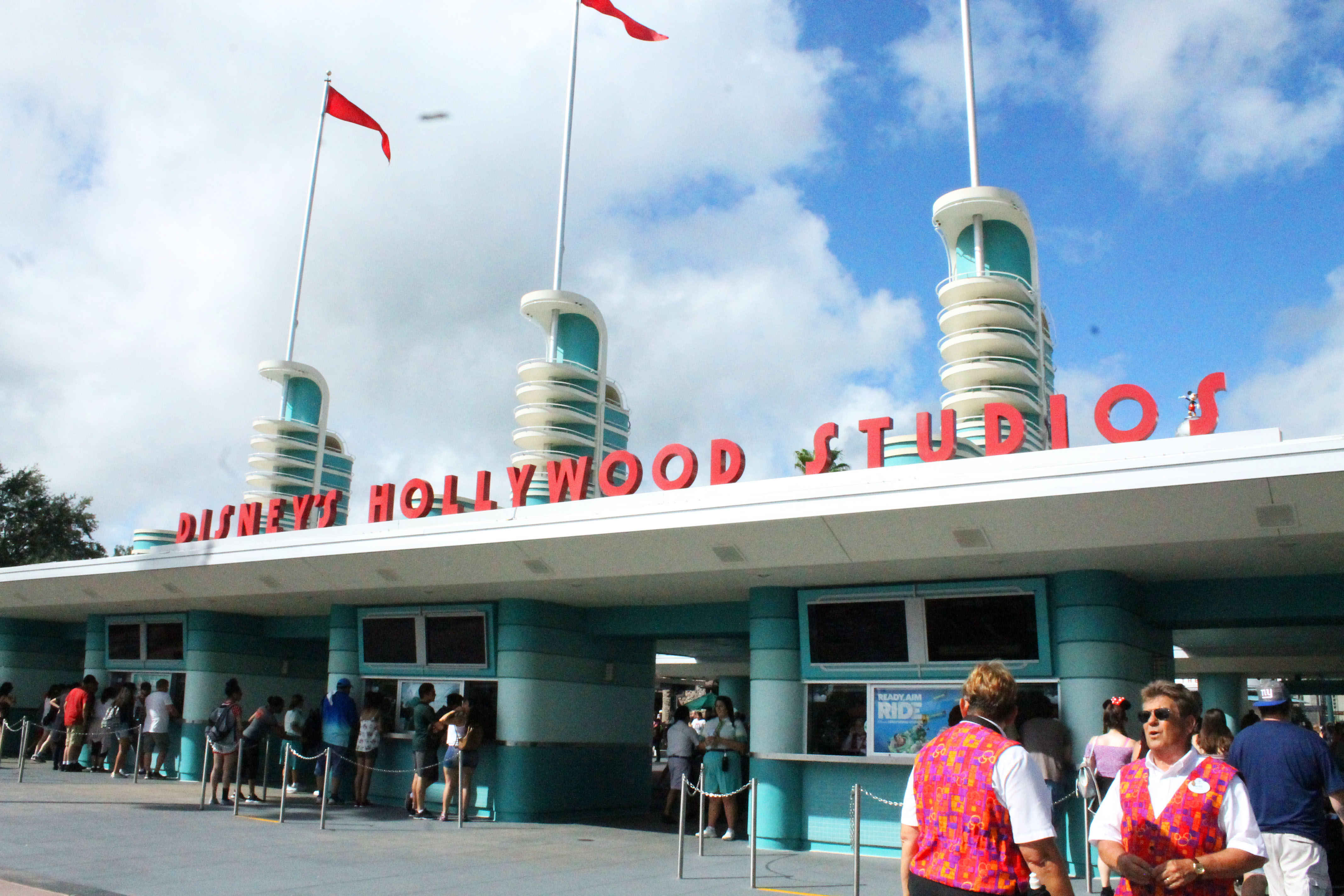 I was so excited for this day and I think it was my favorite day next to our days in the Magic Kingdom! Also, my family really likes Star Wars so we were EXTRA excited!! (Especially since this was the same week they announced everything at the Disney Expo which included Star Wars Land!)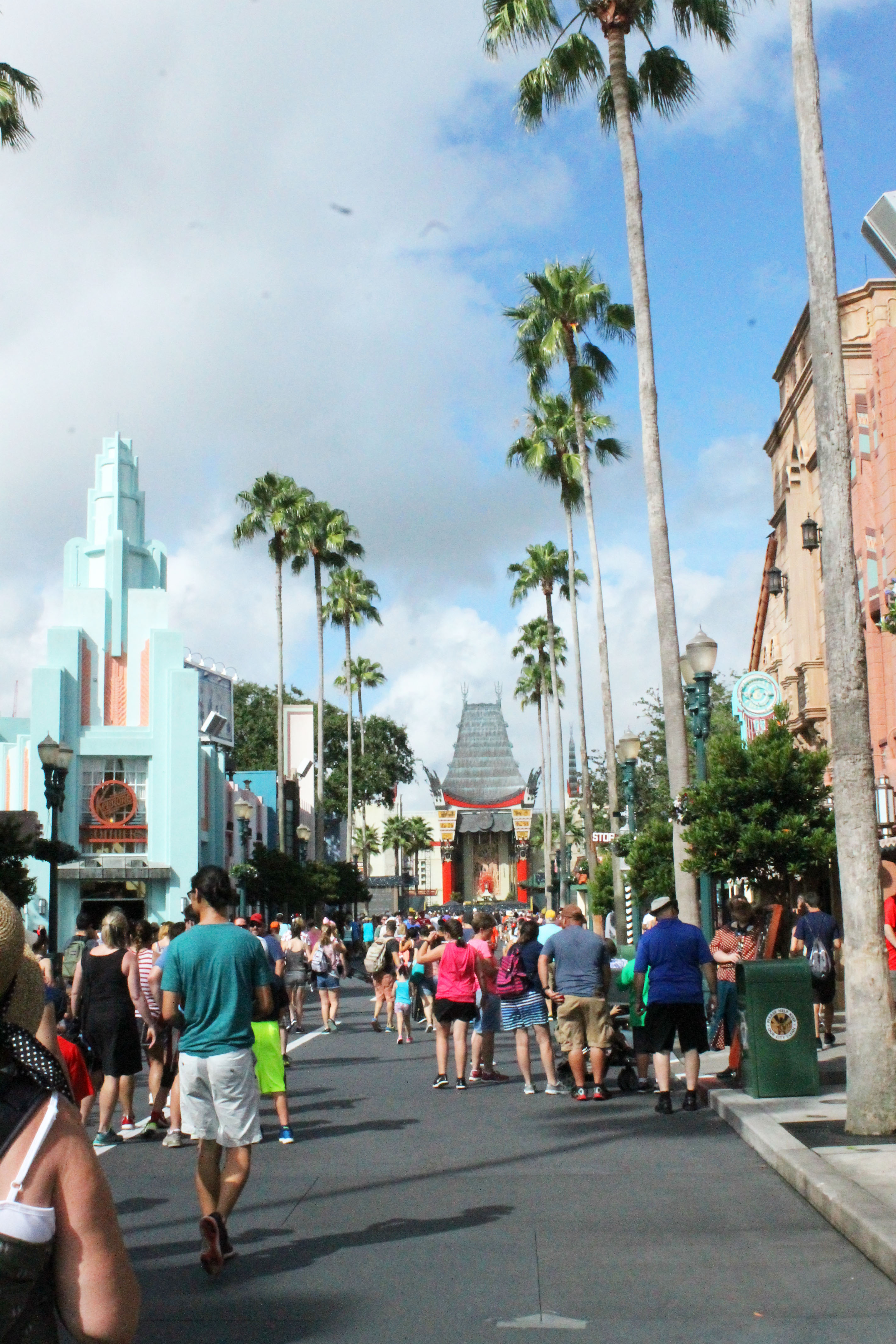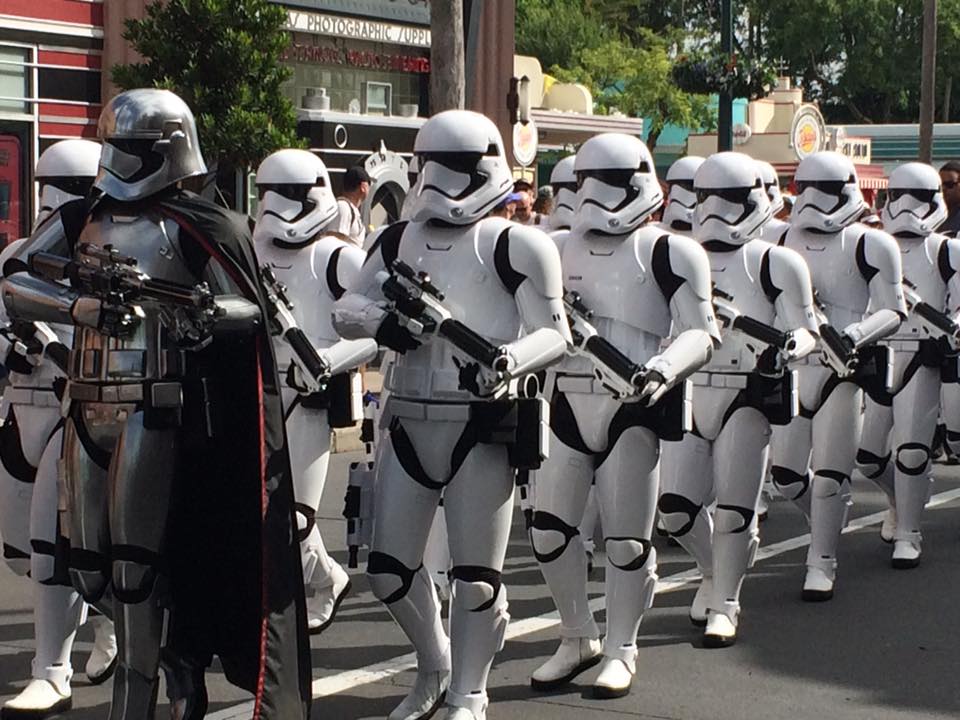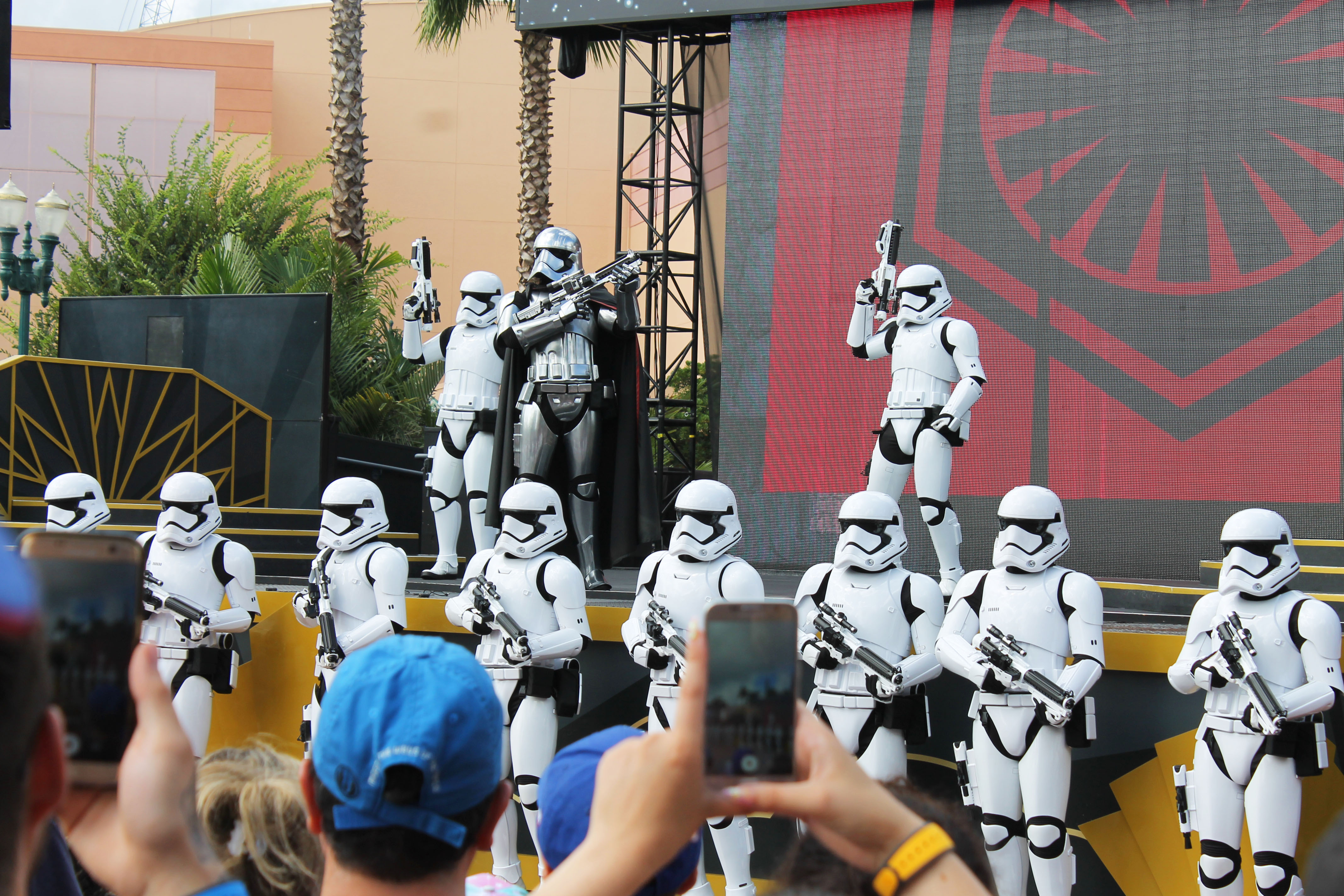 I was really excited to go to Hollywood Studios for so many reasons! Honestly, I just LOVE movies, especially old Hollywood ones. The whole vibe is just my favorite thing ever. But another reason is because I recently (in the past couple of years) rediscovered Star Wars and I just love it! I was so excited for all the Star Wars stuff (especially with the announcement of the new additions coming soon!) and I was really excited to see it all with my dad, a fellow Star Wars fan.
We were in a store right after we walked into the park. It was around 8 or 9 am I think. All of a sudden we heard music. You know…. THE music. Big sounding, thumping, Empire is coming-like music! I started freaking out and grabbed my dad to come with my outside. The stormtroopers were marching down the street and were talking! It was crazy. They walked all the way to the stage in front of the Chinese Theater and did a little…demonstration if you will. It was pretty cool!
Right after, we went directly to the Great Movie Ride (RIP *cries*). As I've said, I LOVE old movies. And I actually hadn't been on this ride before so I was excited and honestly (believe it or not) I cried. I walked in, and there's this huge screen where they talk about old movies while you wait in line. Well, they were talking about the Wizard of Oz, Over the Rainbow was playing, I was singing and I just started bawling because I love that movie so much and I got so excited. The ride was amazing, I loved all the old movies, and I felt all the emotions during the ride. So sad that it's gone now, hopefully the new ride will be amazing too! I'm happy I got to experience the movie magic.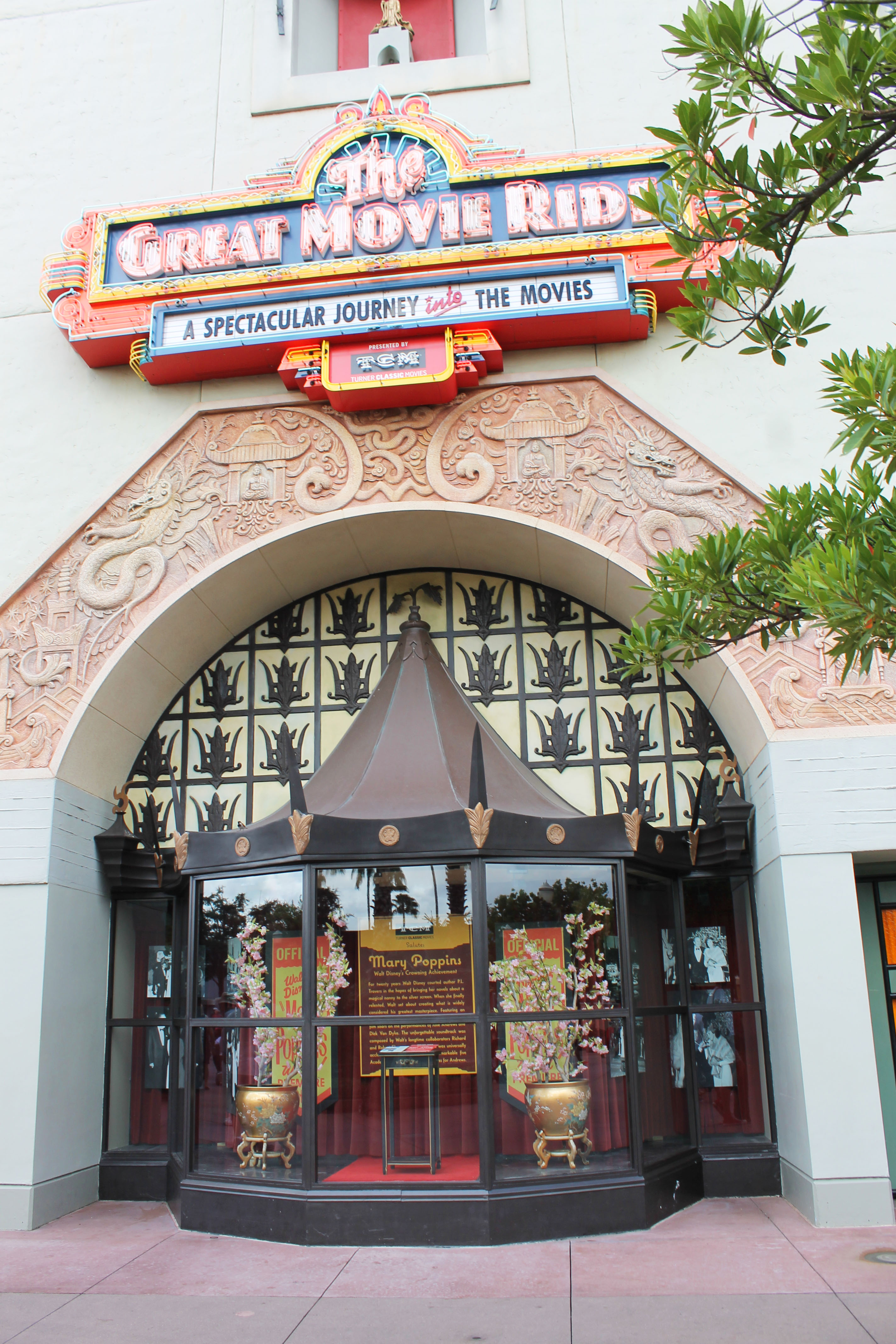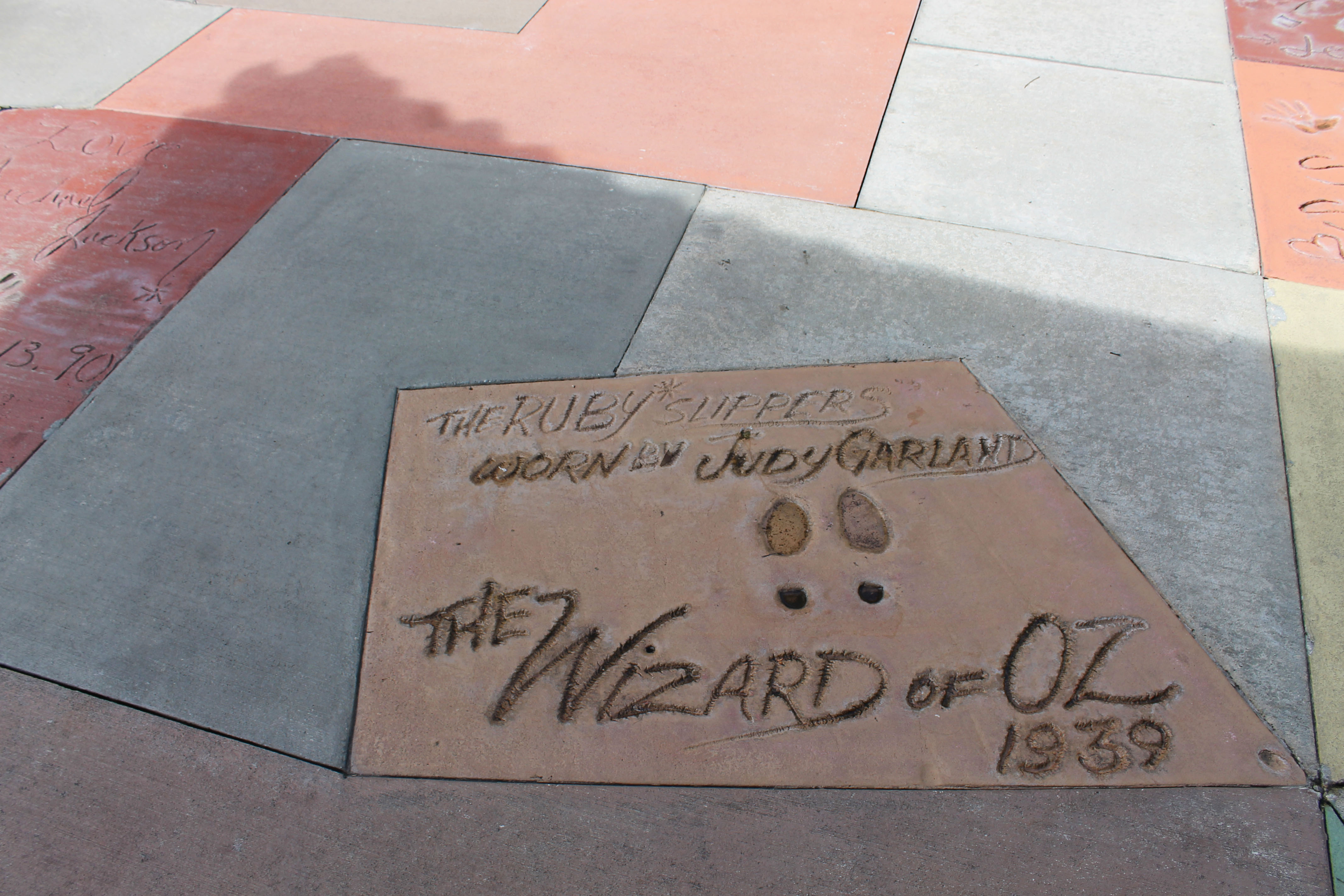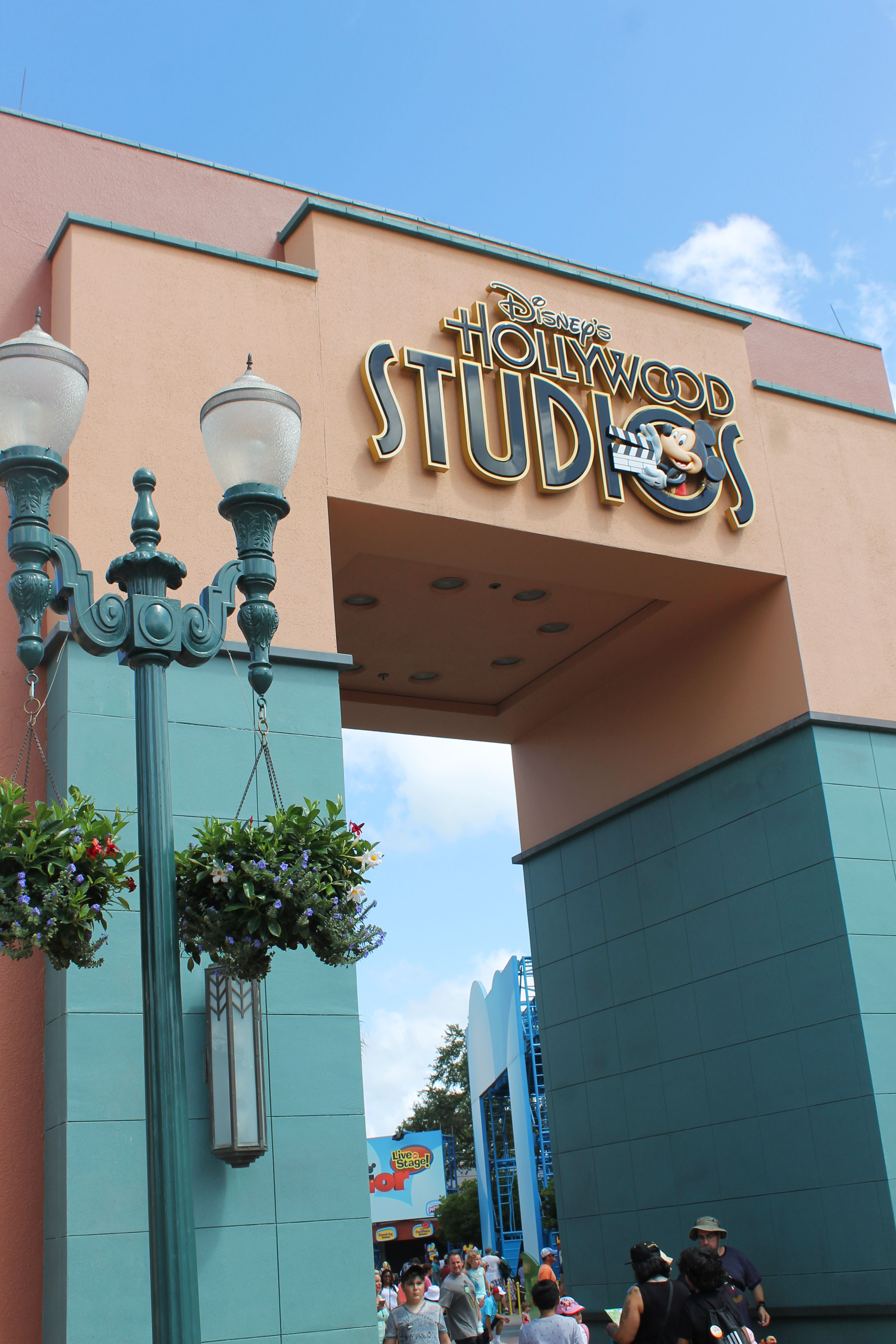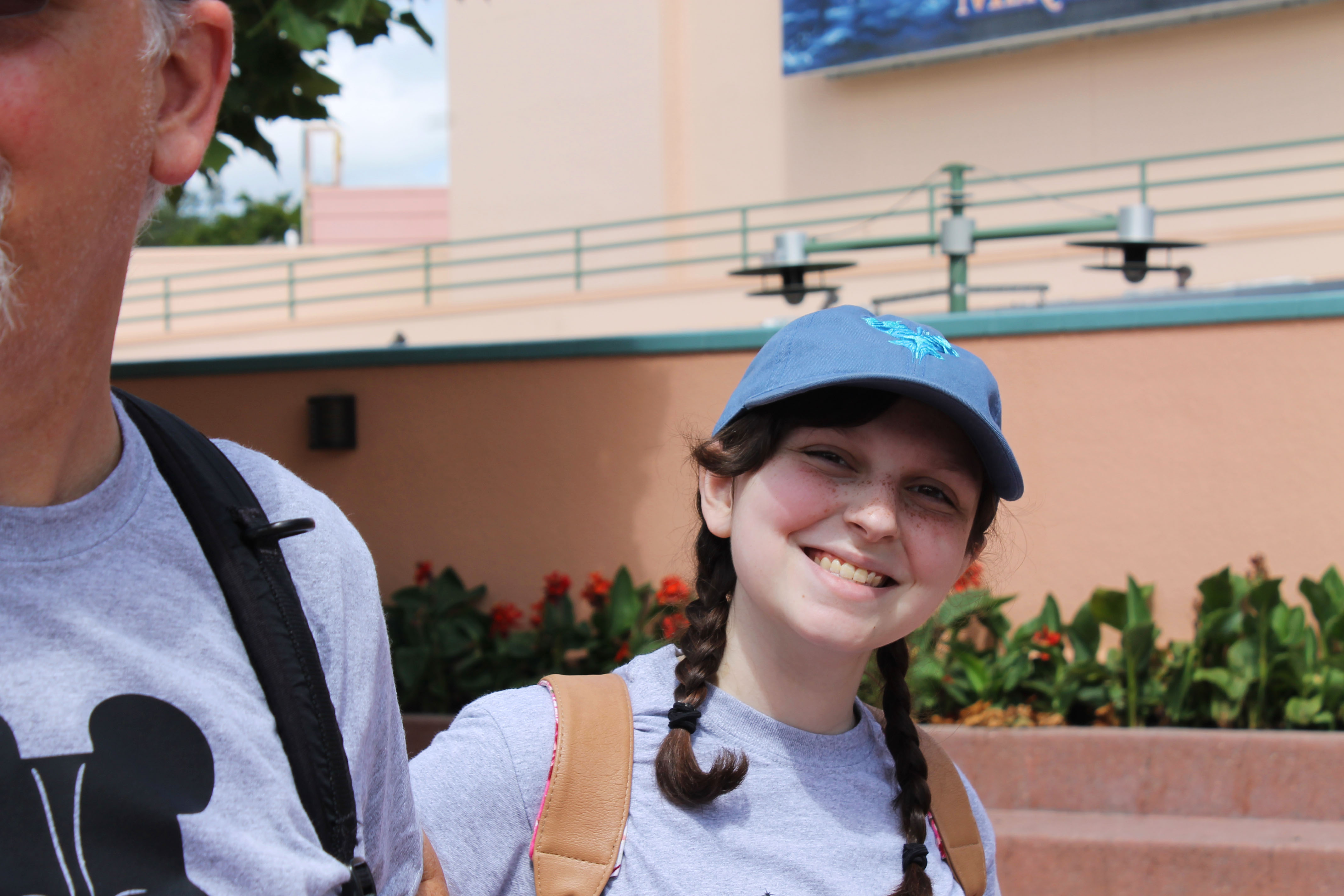 My sister's favorite is The Little Mermaid so we watched the Voyage of the Little Mermaid! It was really cute and brought back childhood memories from our first trip!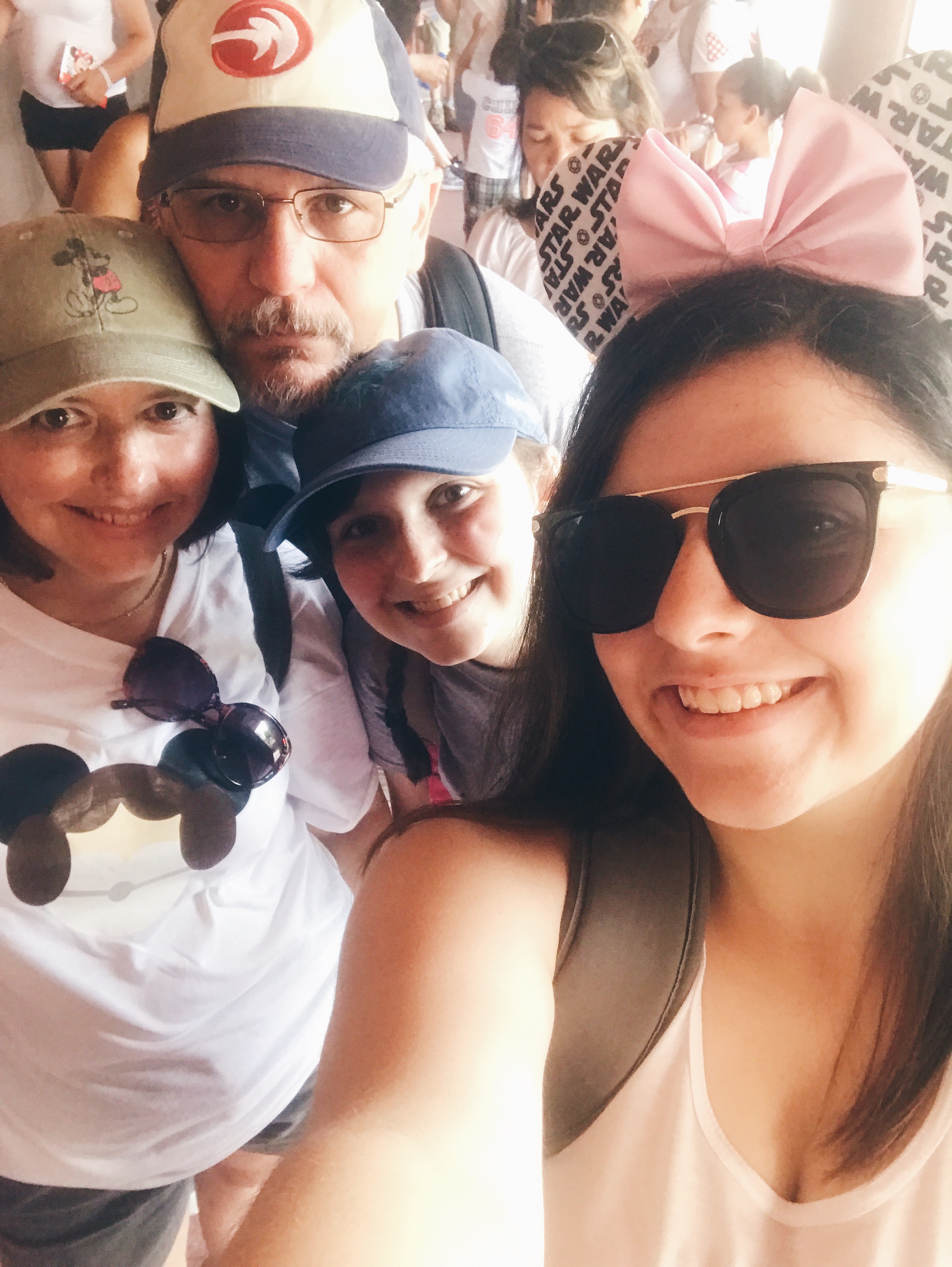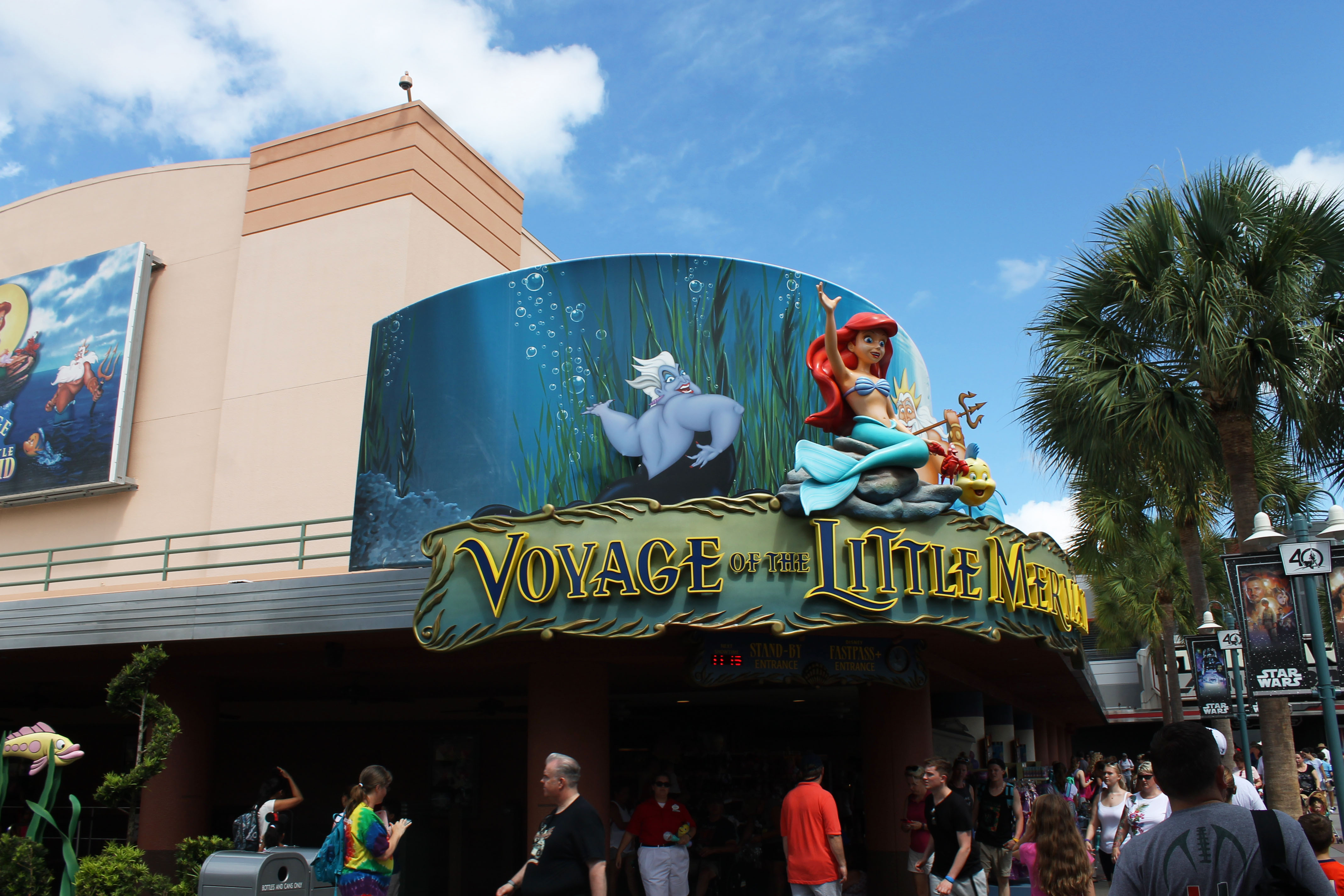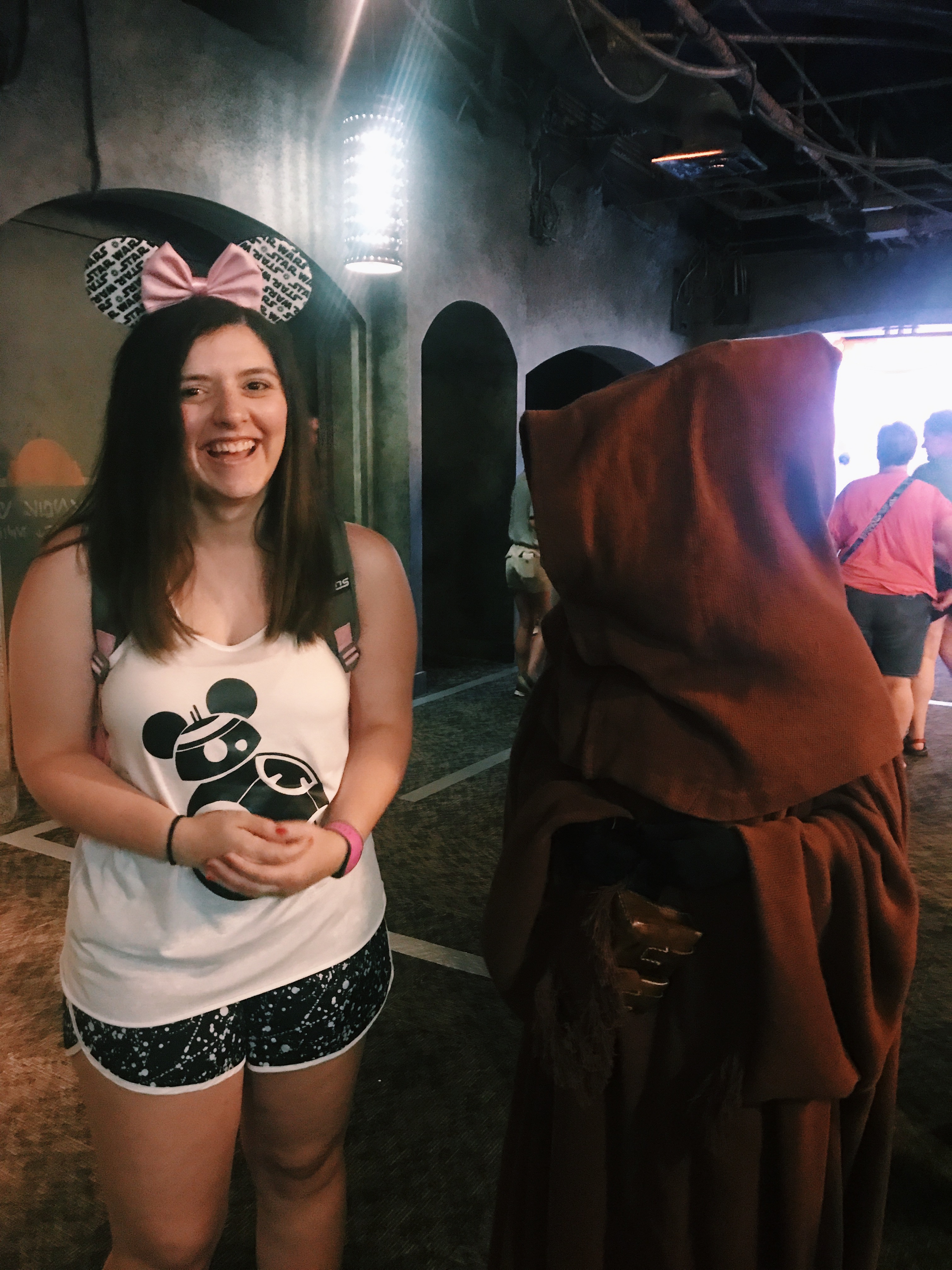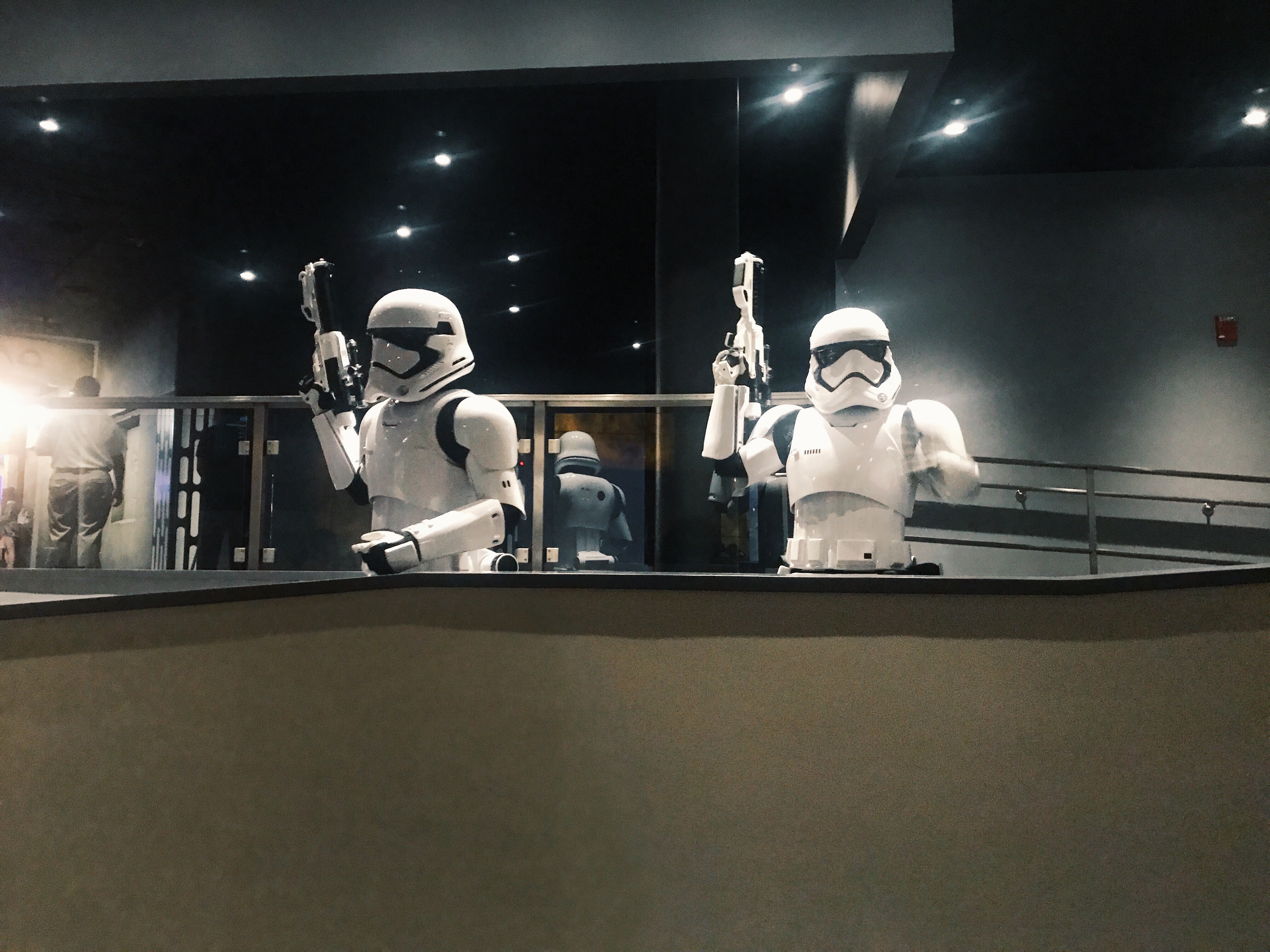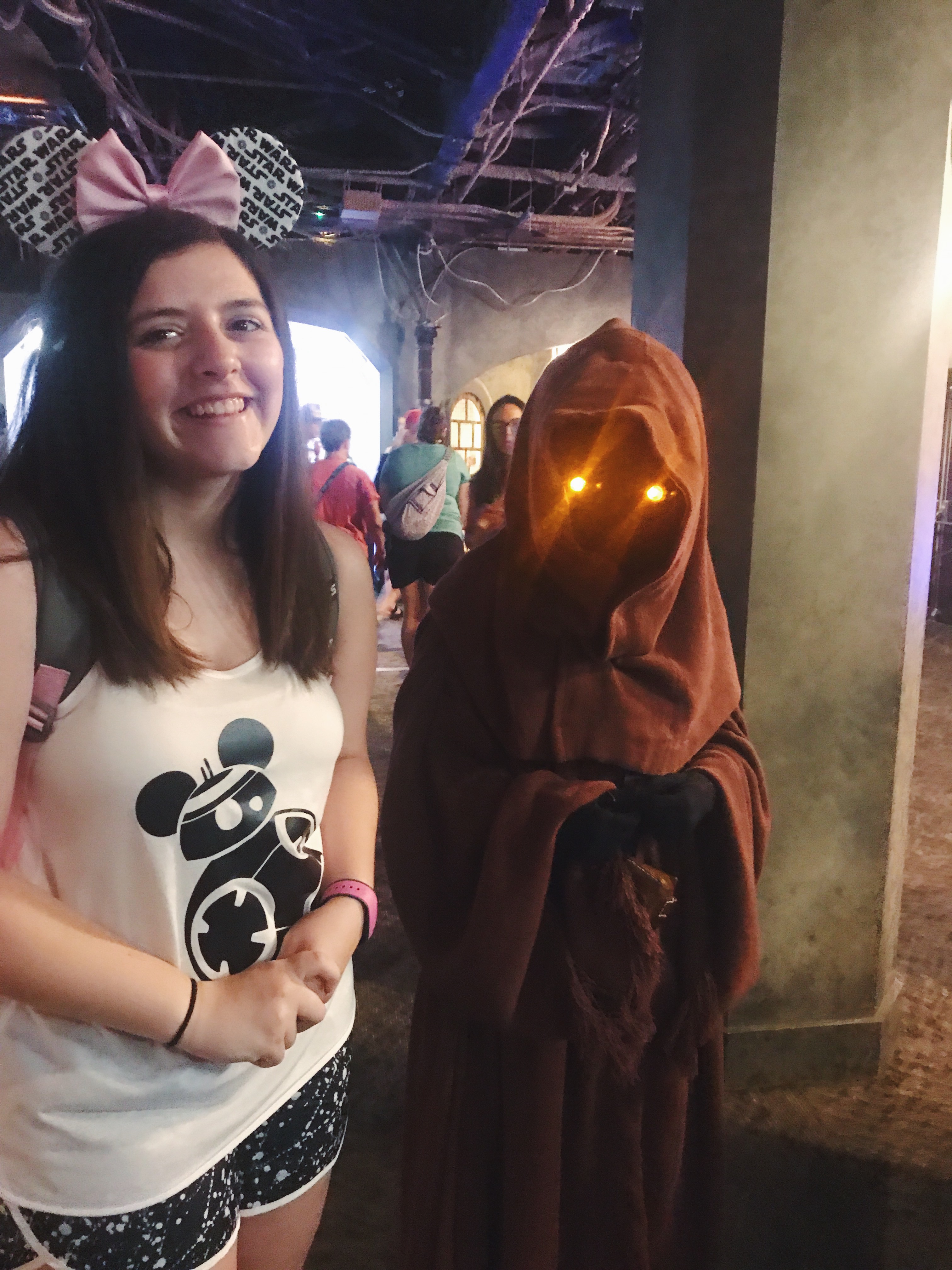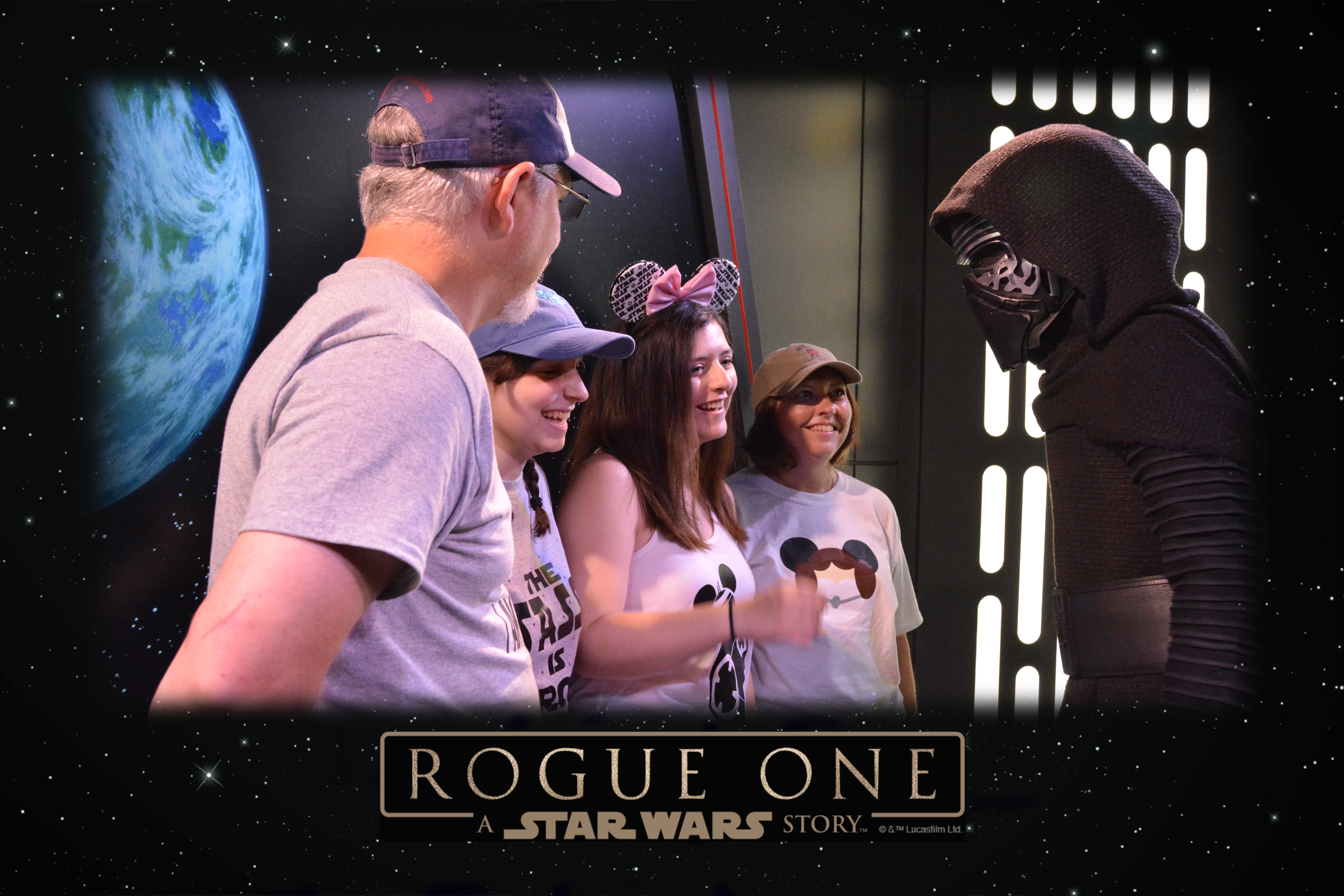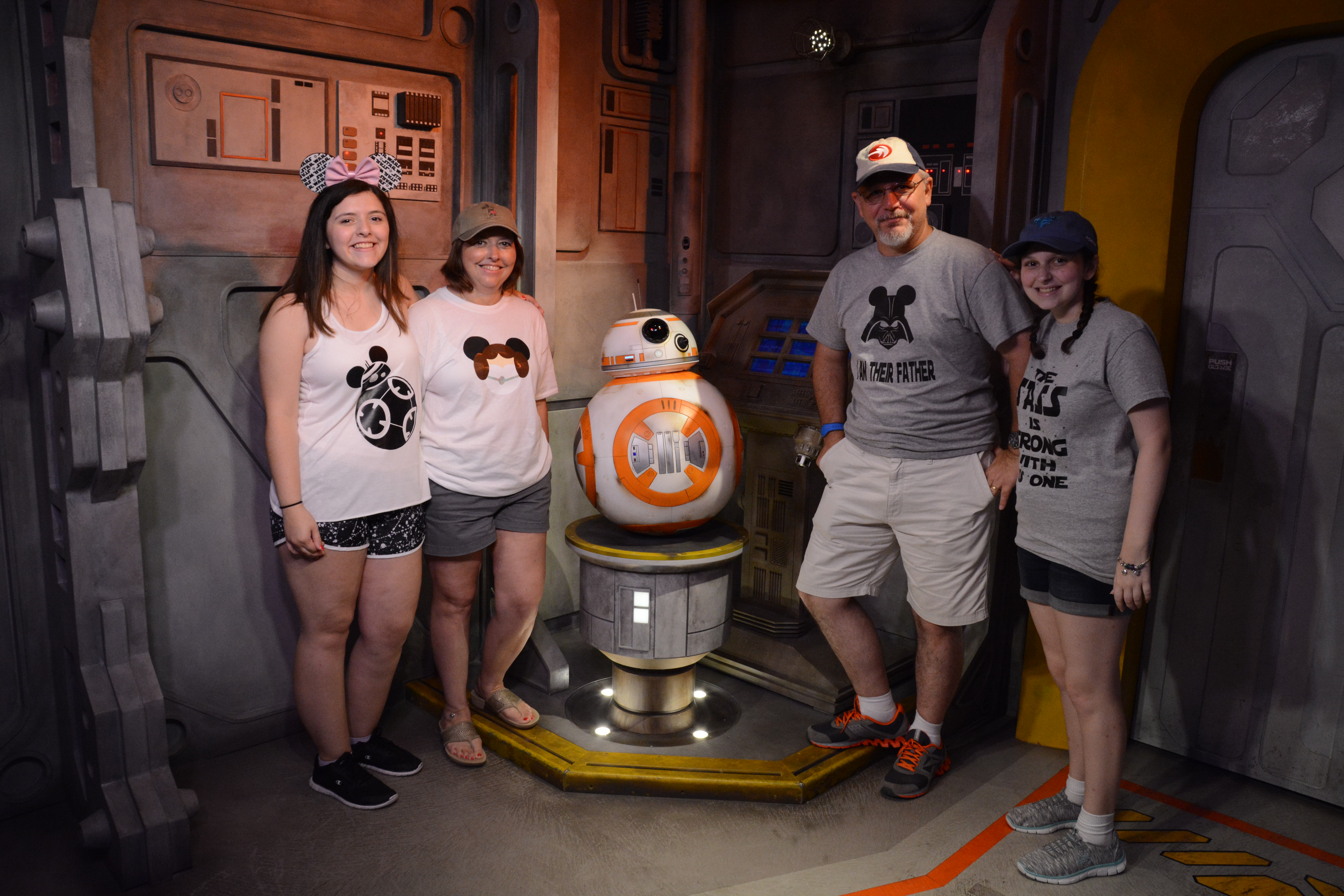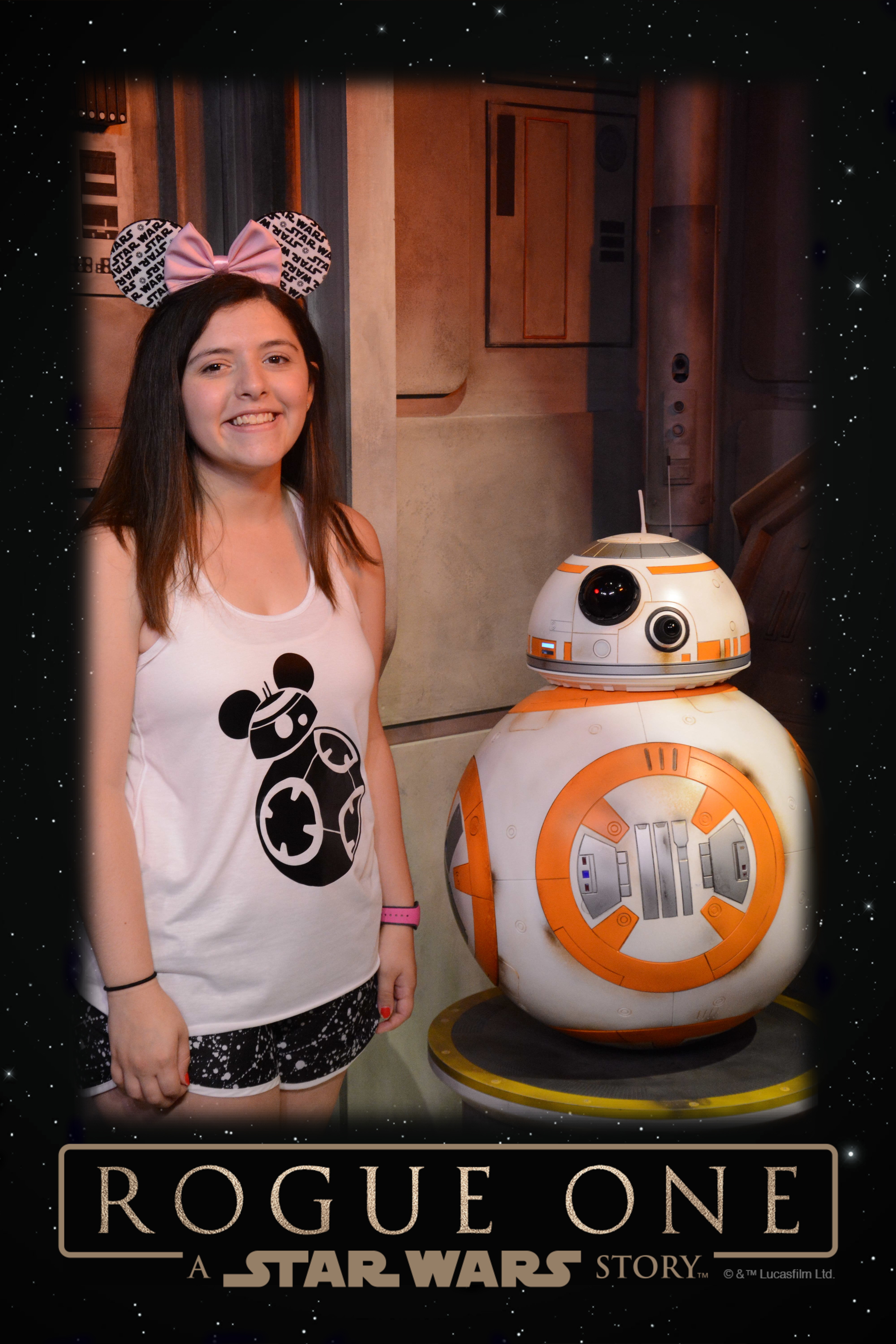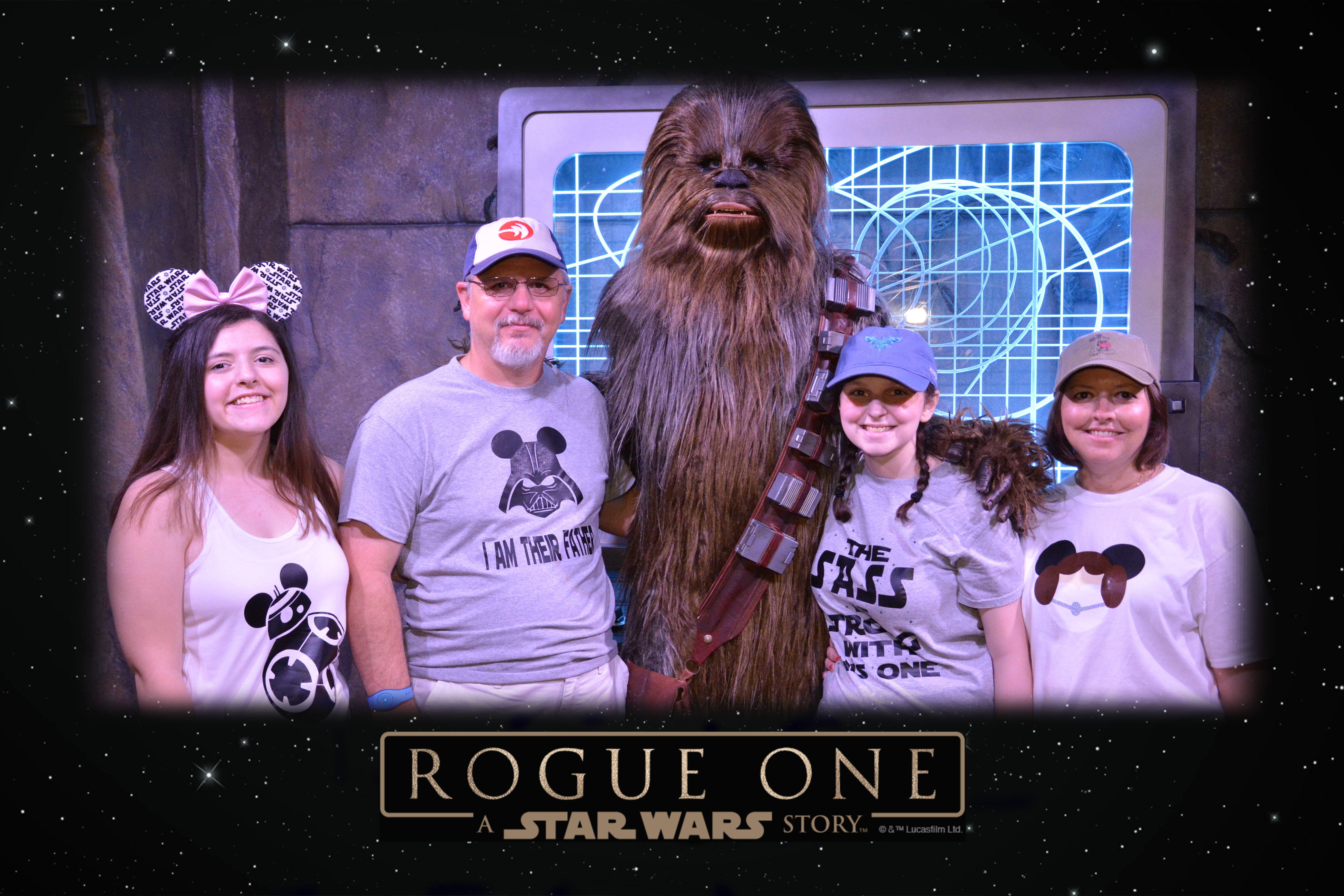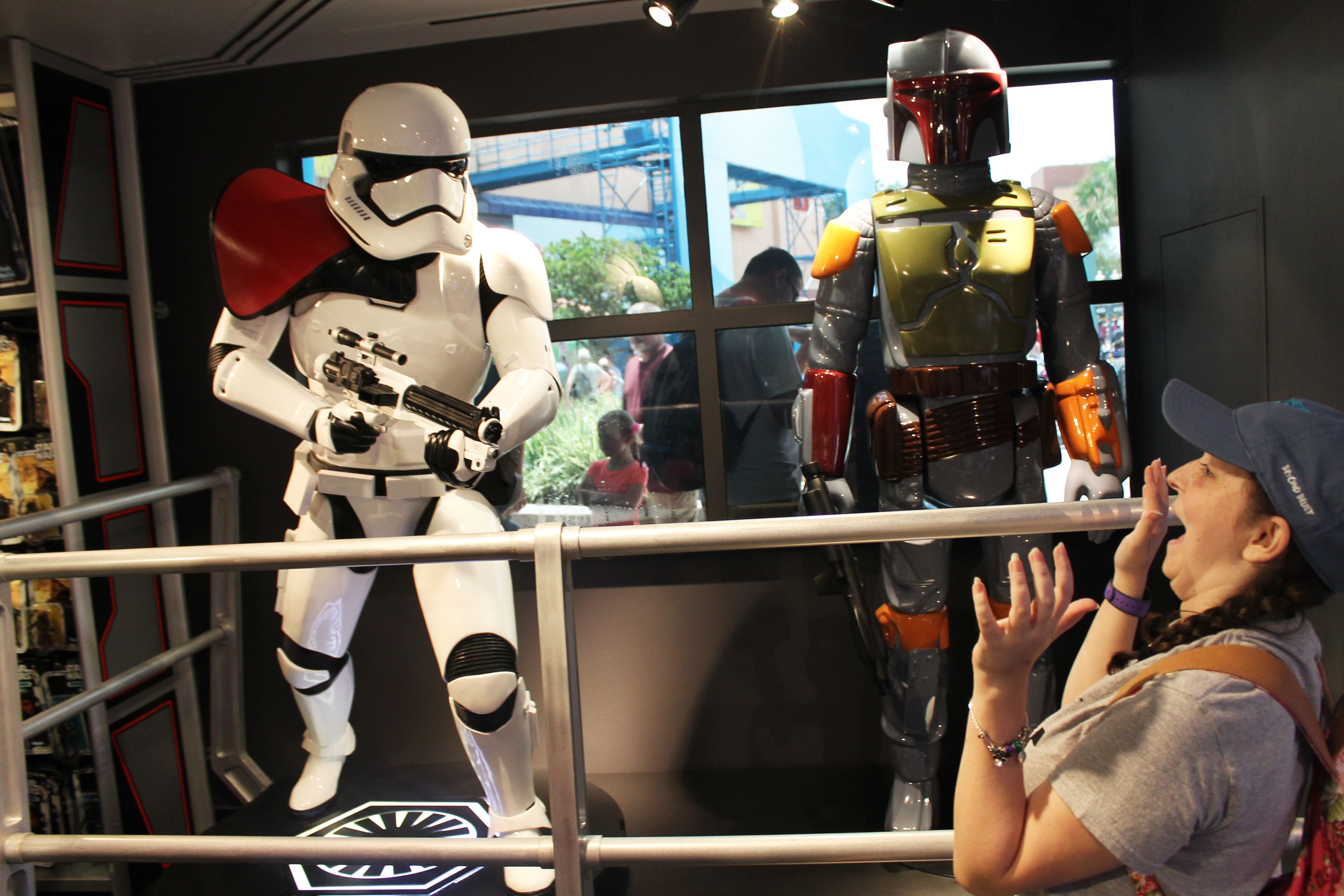 We then hopped over to the Star Wars Launch Bay and met a couple of familiar (and one scary)  faces! To be honest, I was really nervous to meet Kylo Ren. Silly, I know but like he really just kinda freaks me out. The cast members were all so serious and I knew that he was going to say something about my shirt (which he did "your loyalty to the resistance is foolish.")! It was kinda funny actually, I just felt super awkward (which you can totally see in the pics!).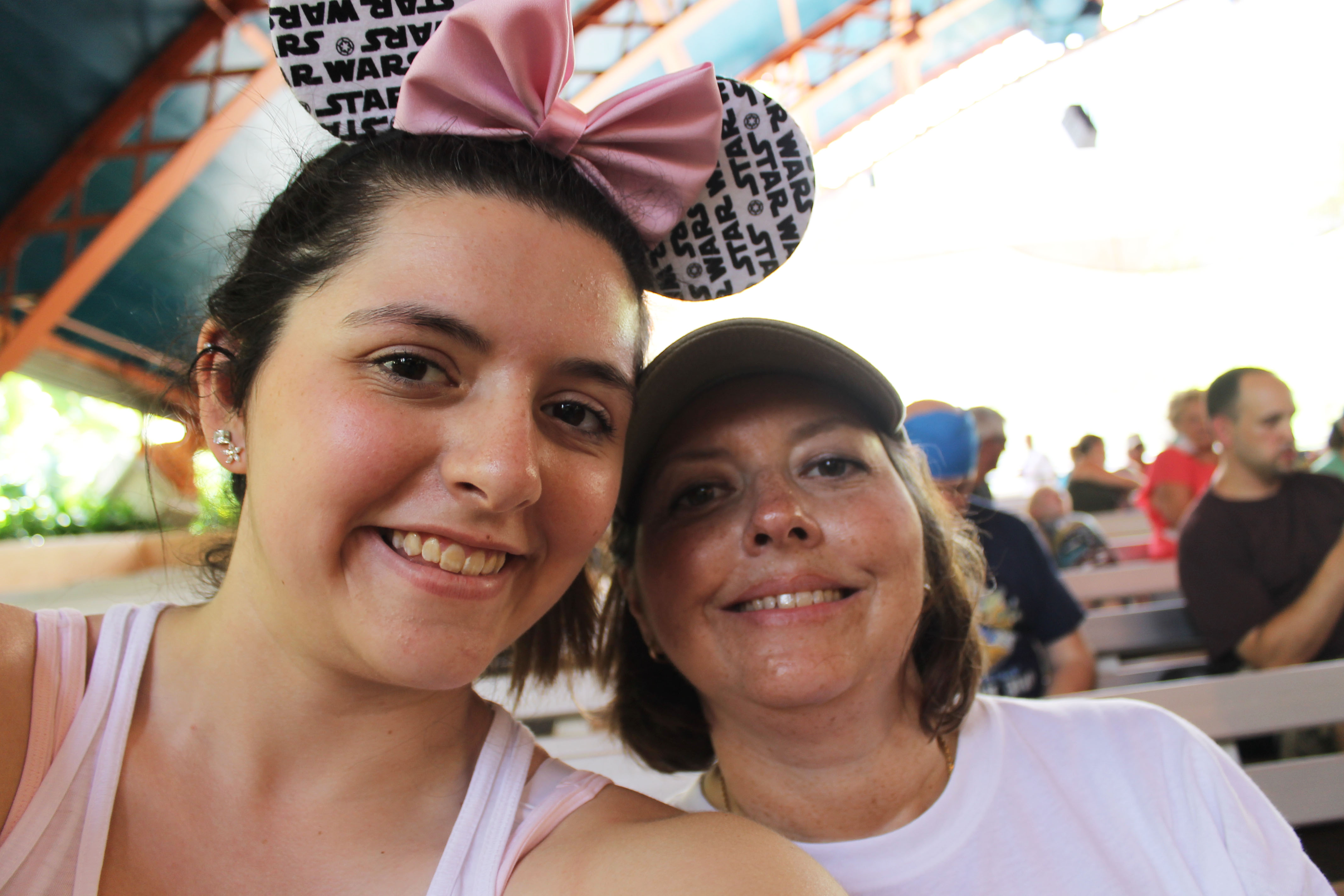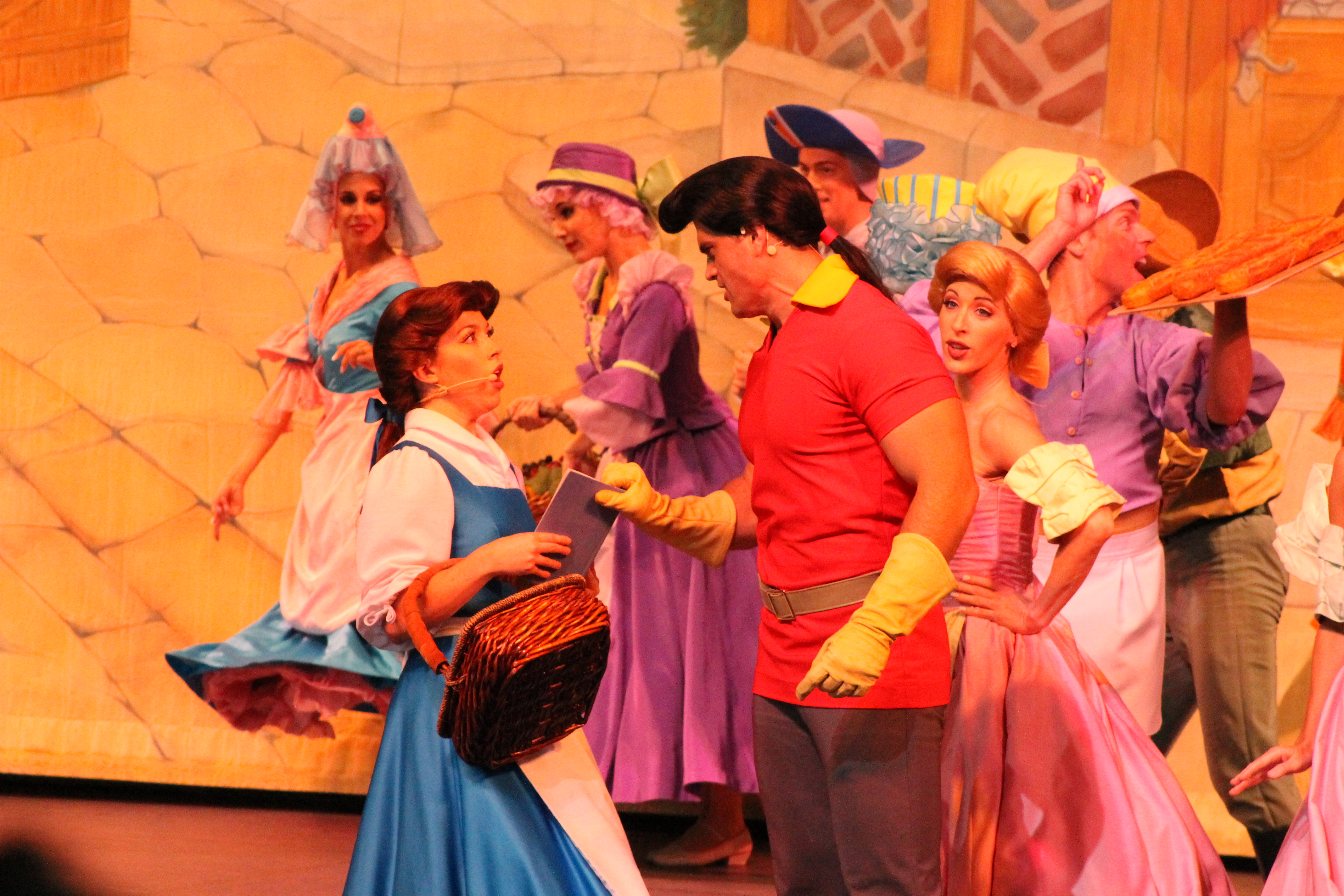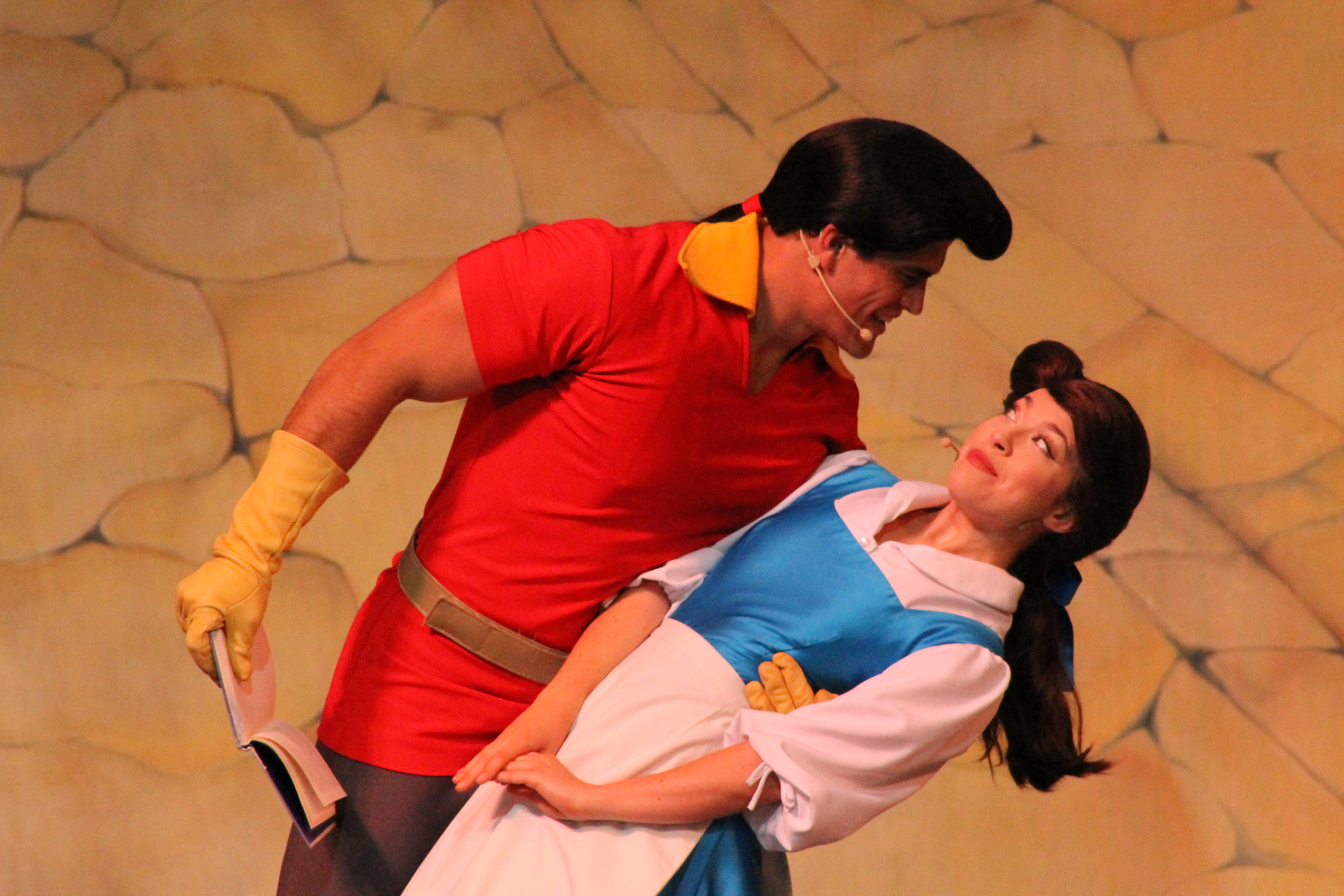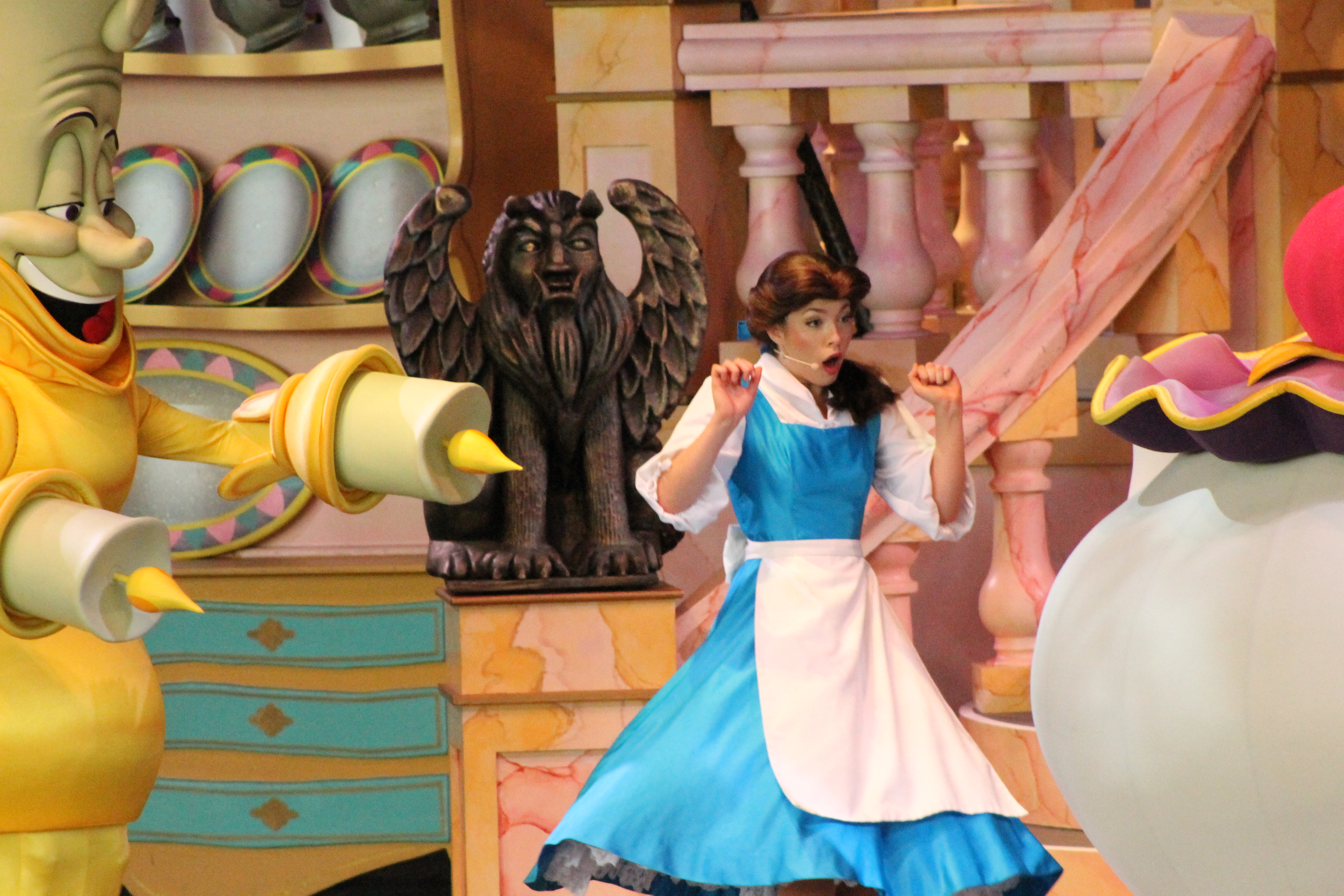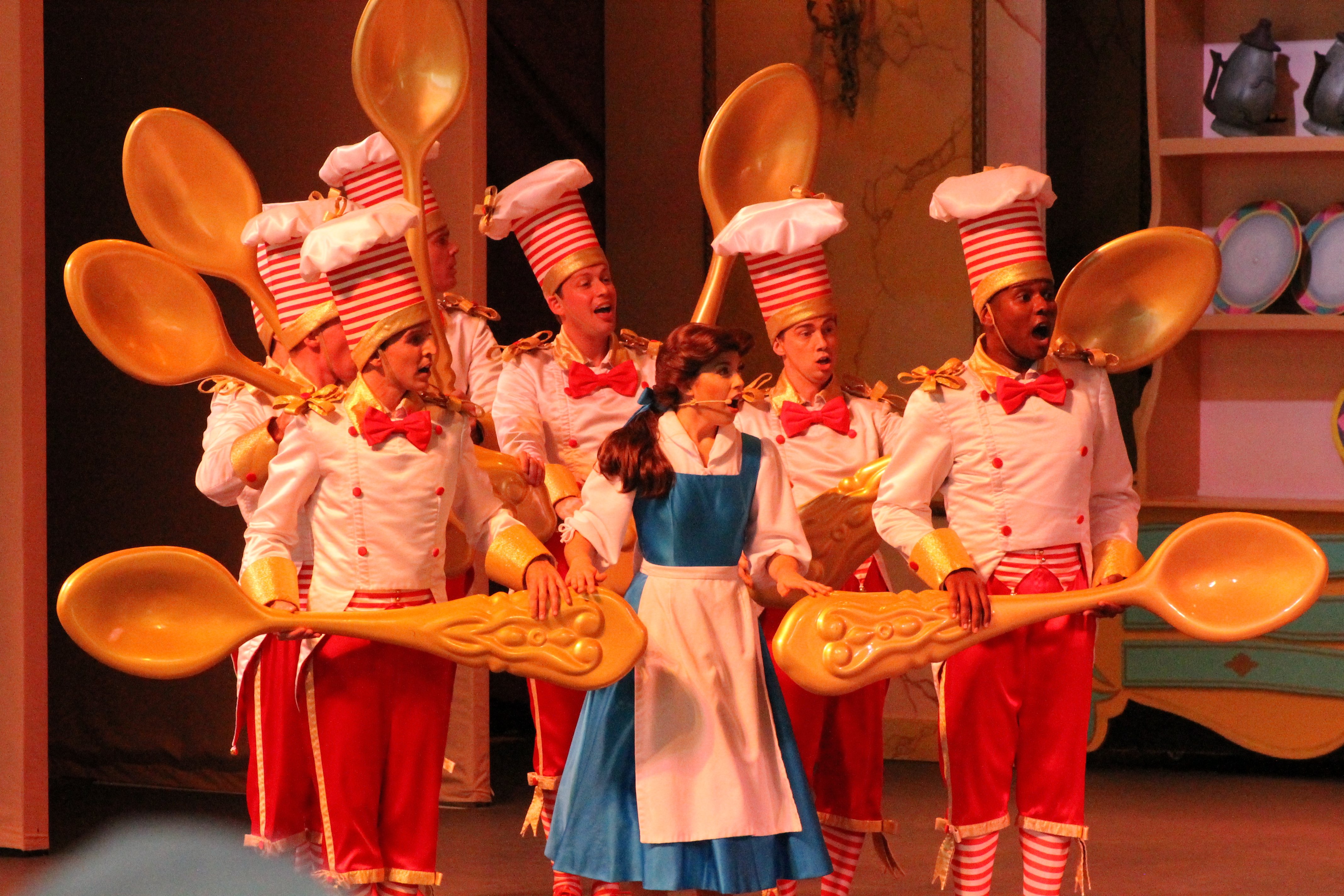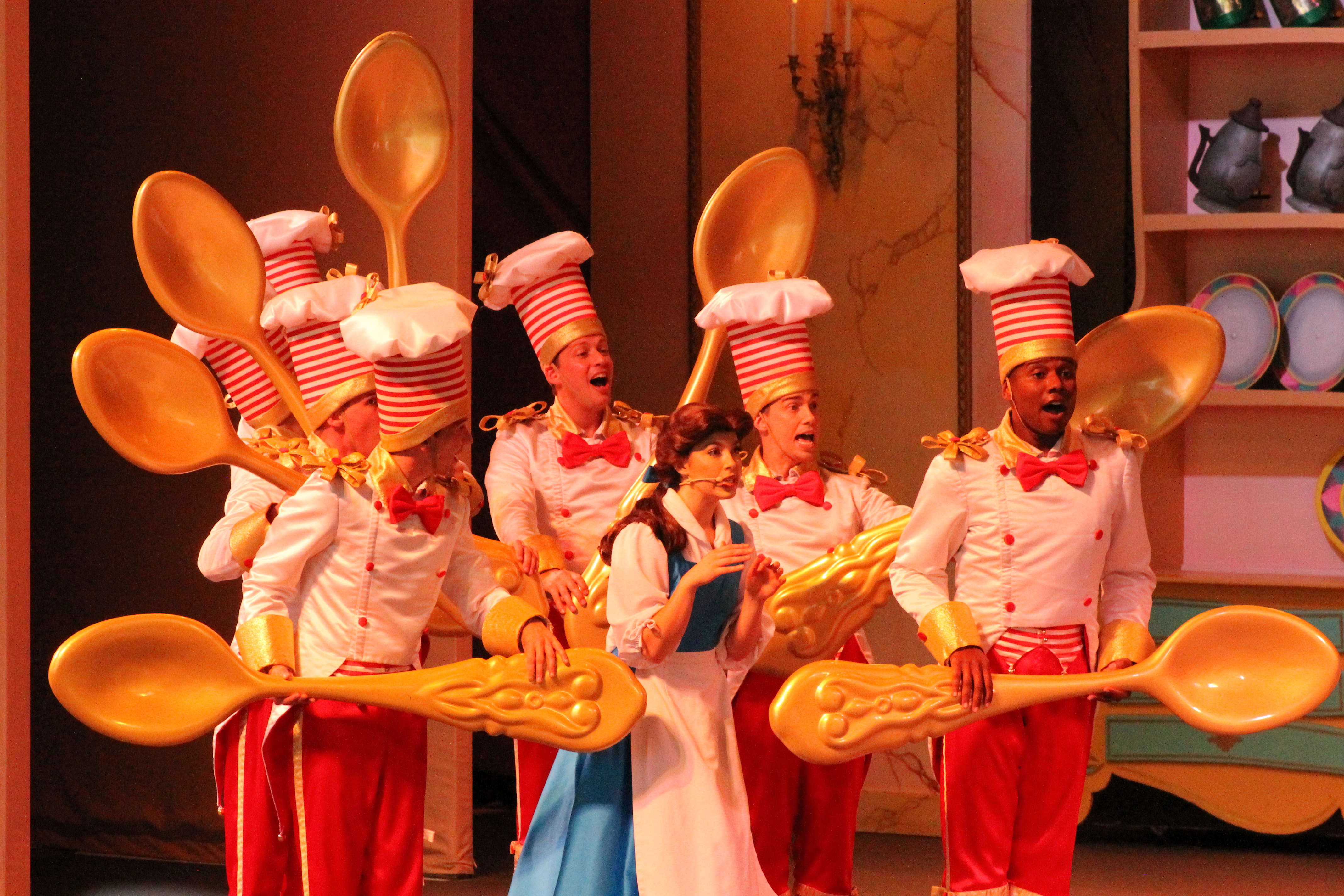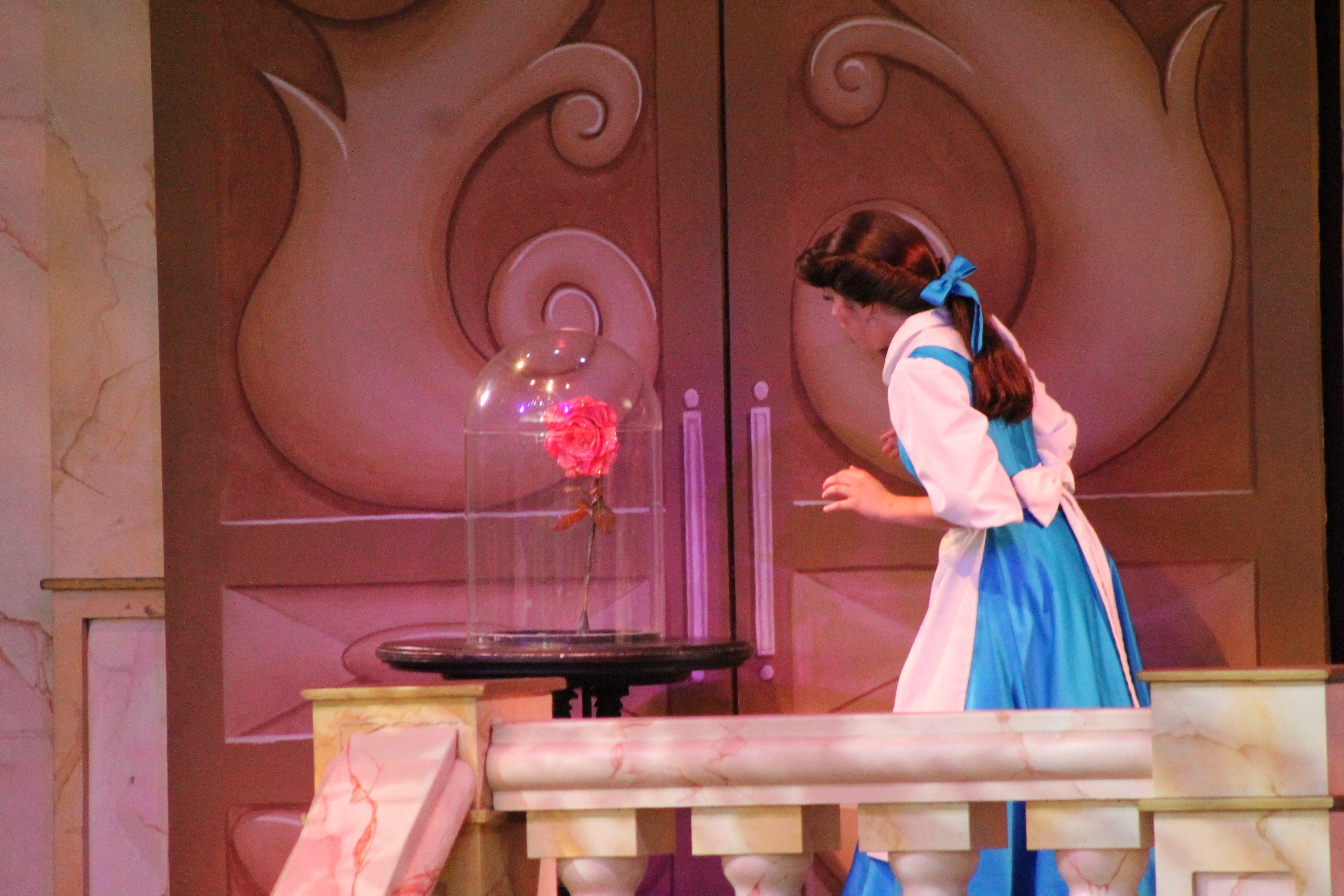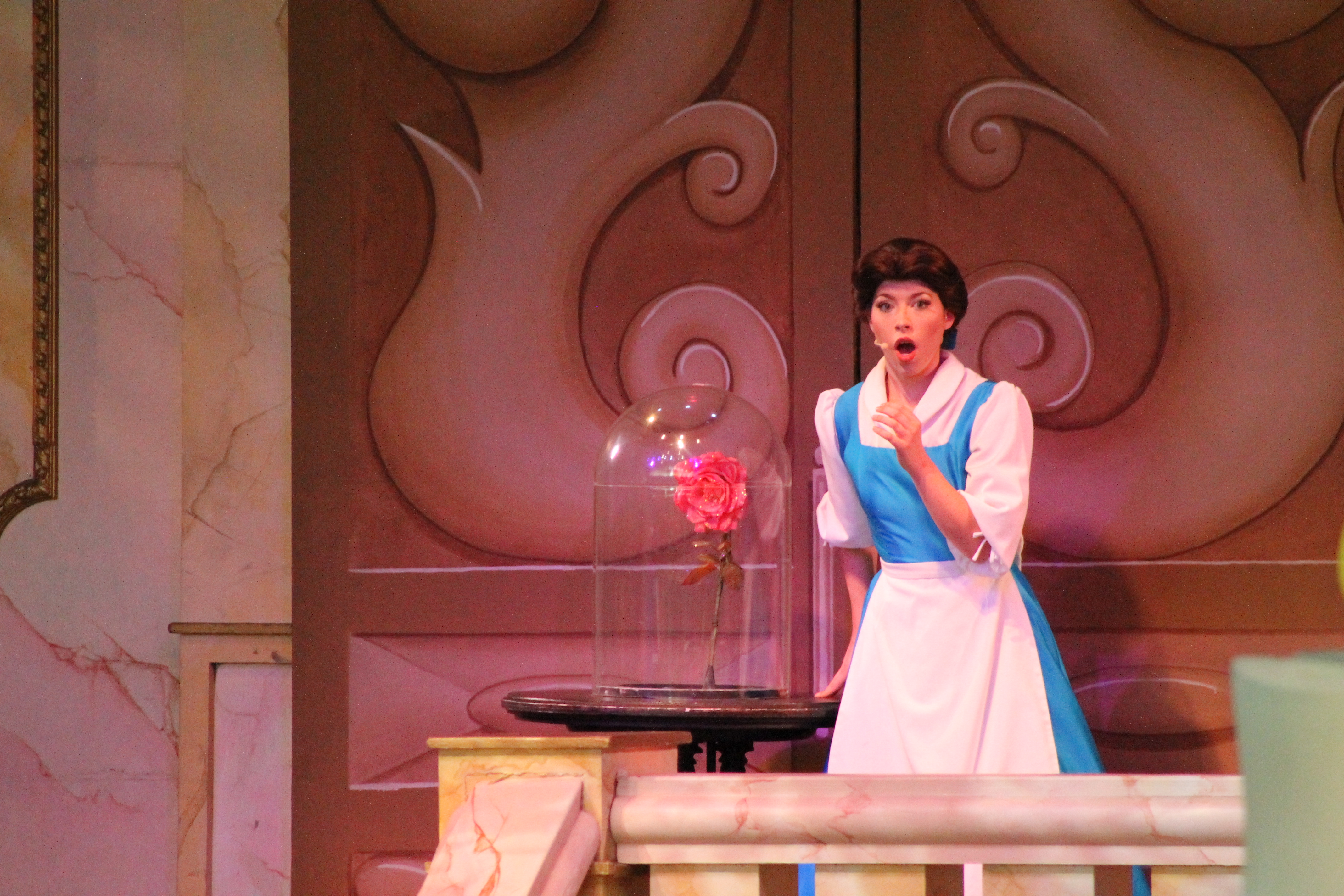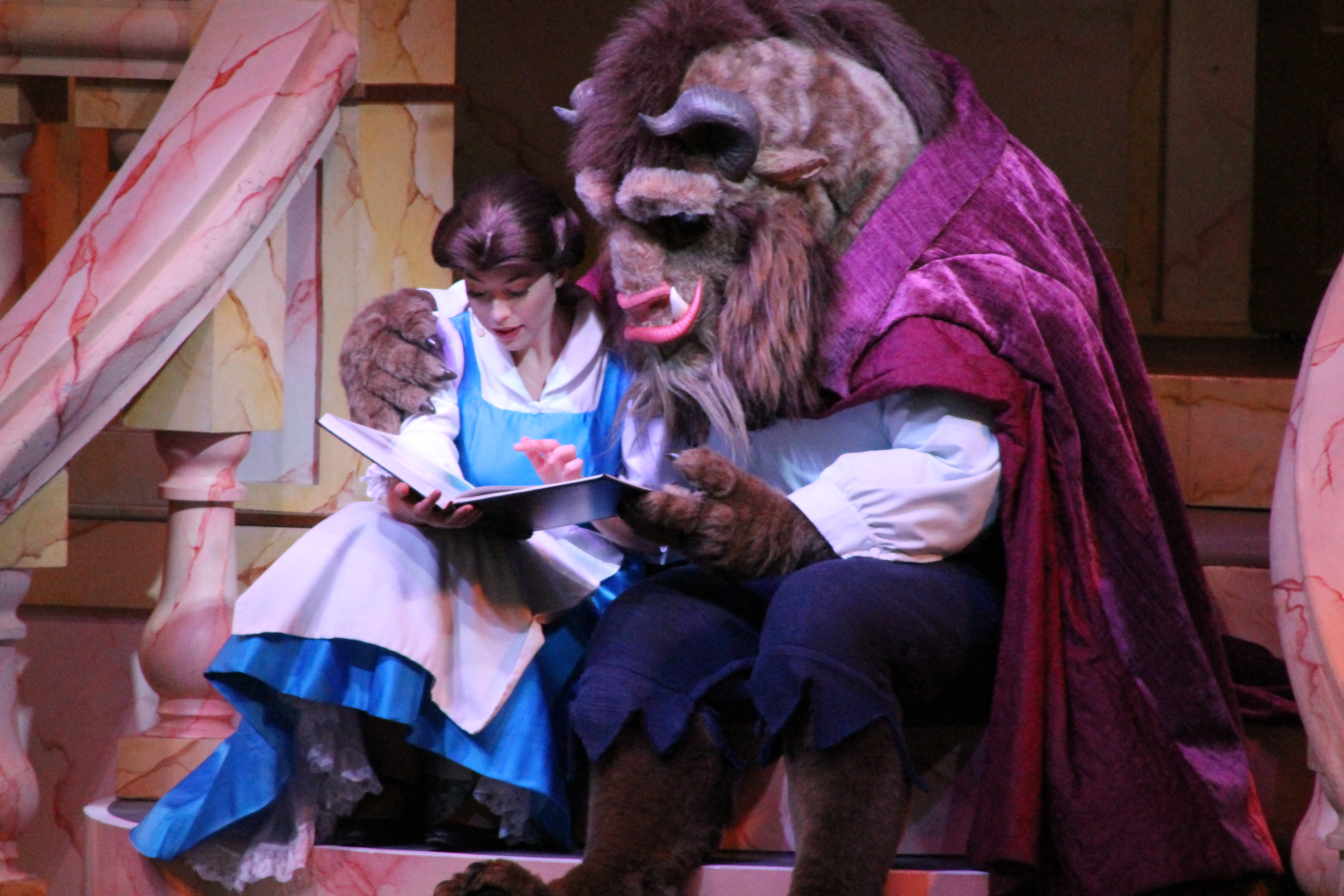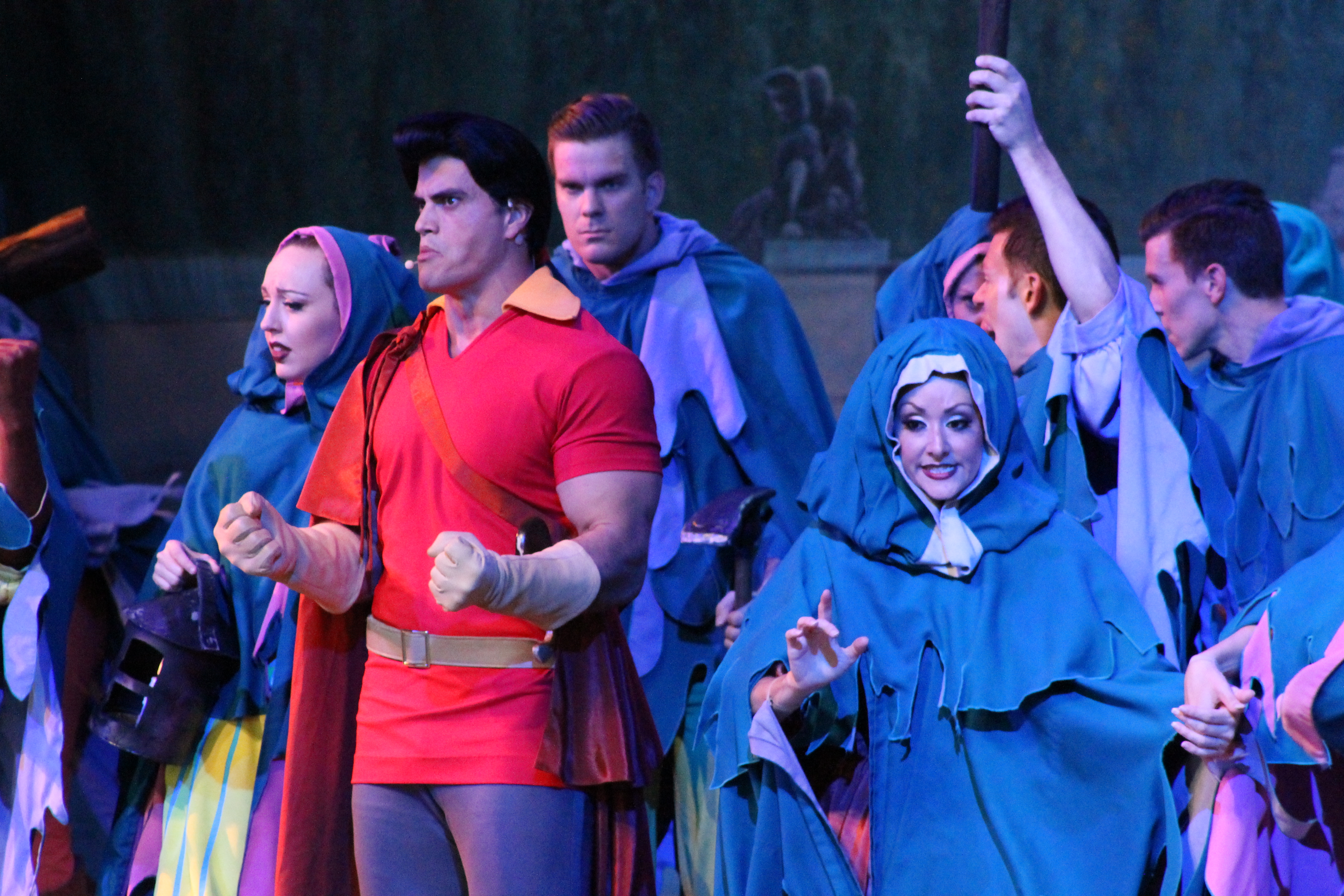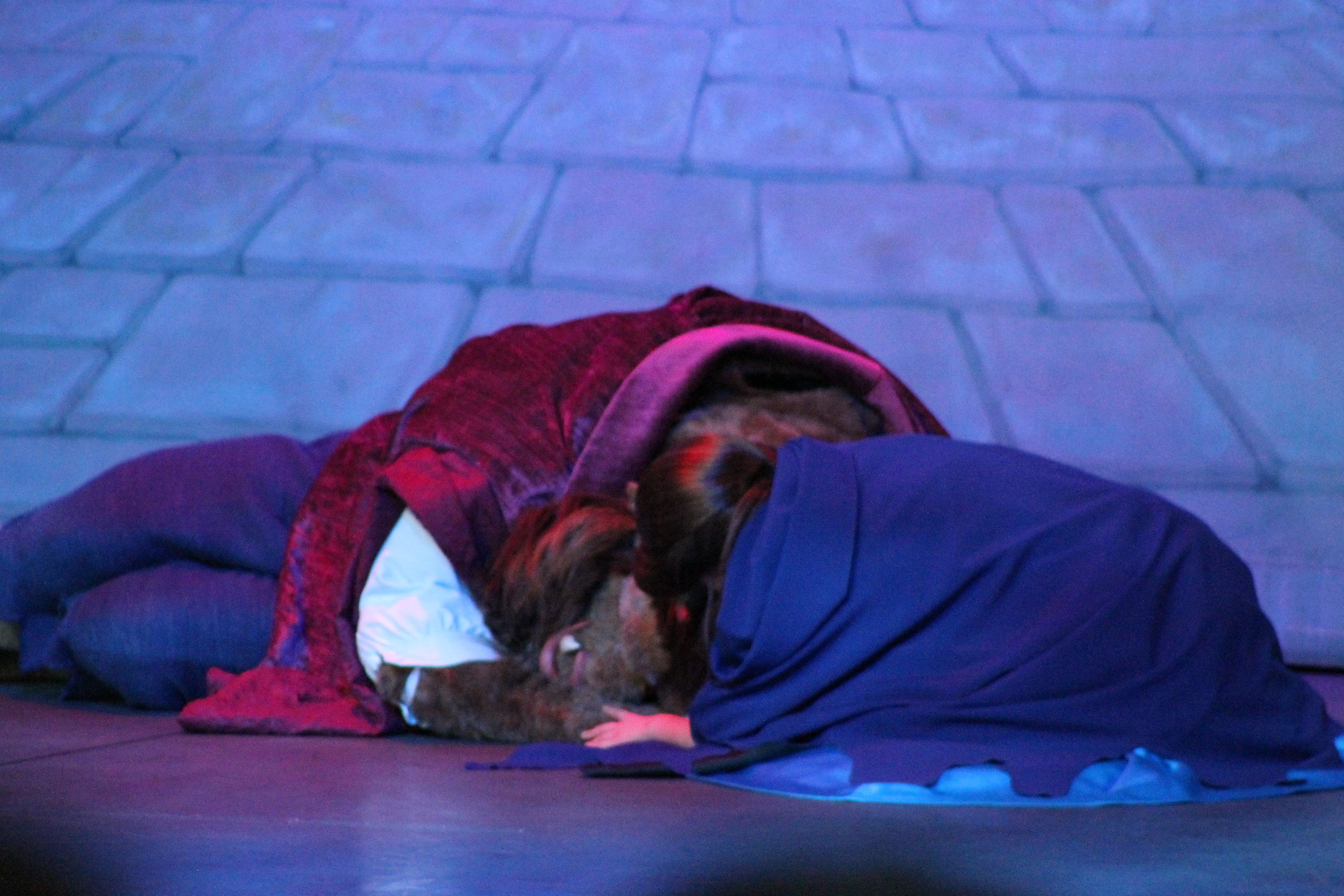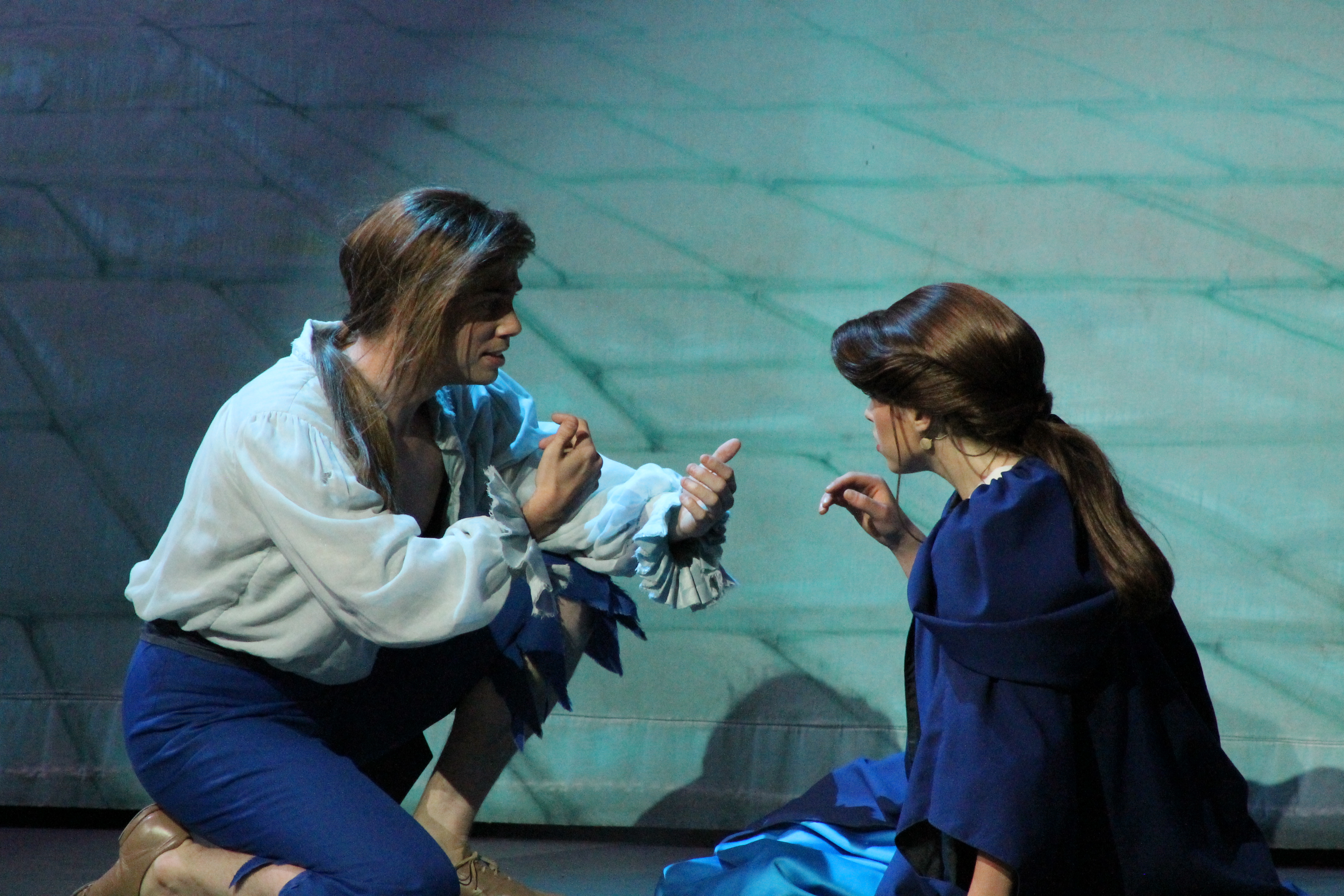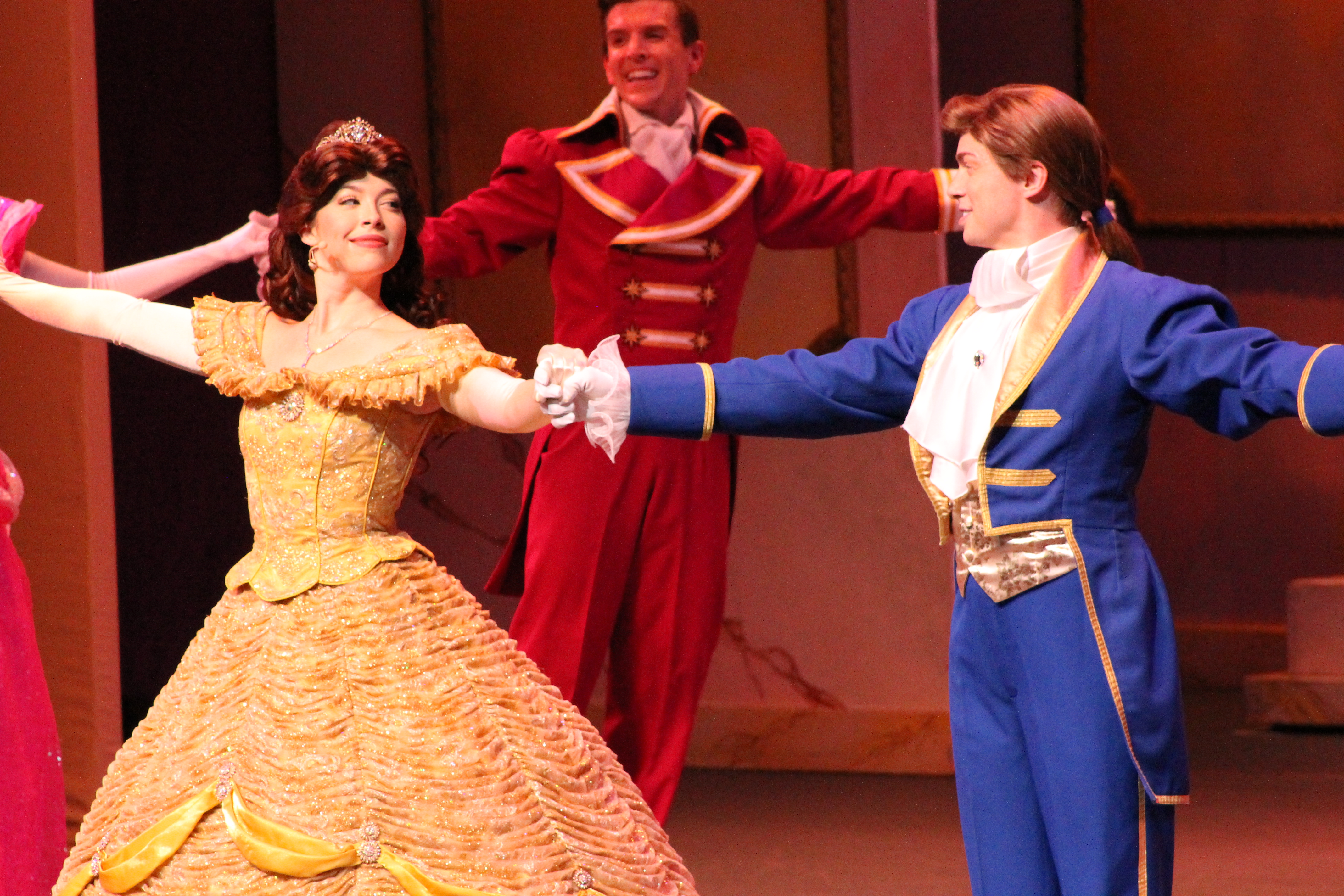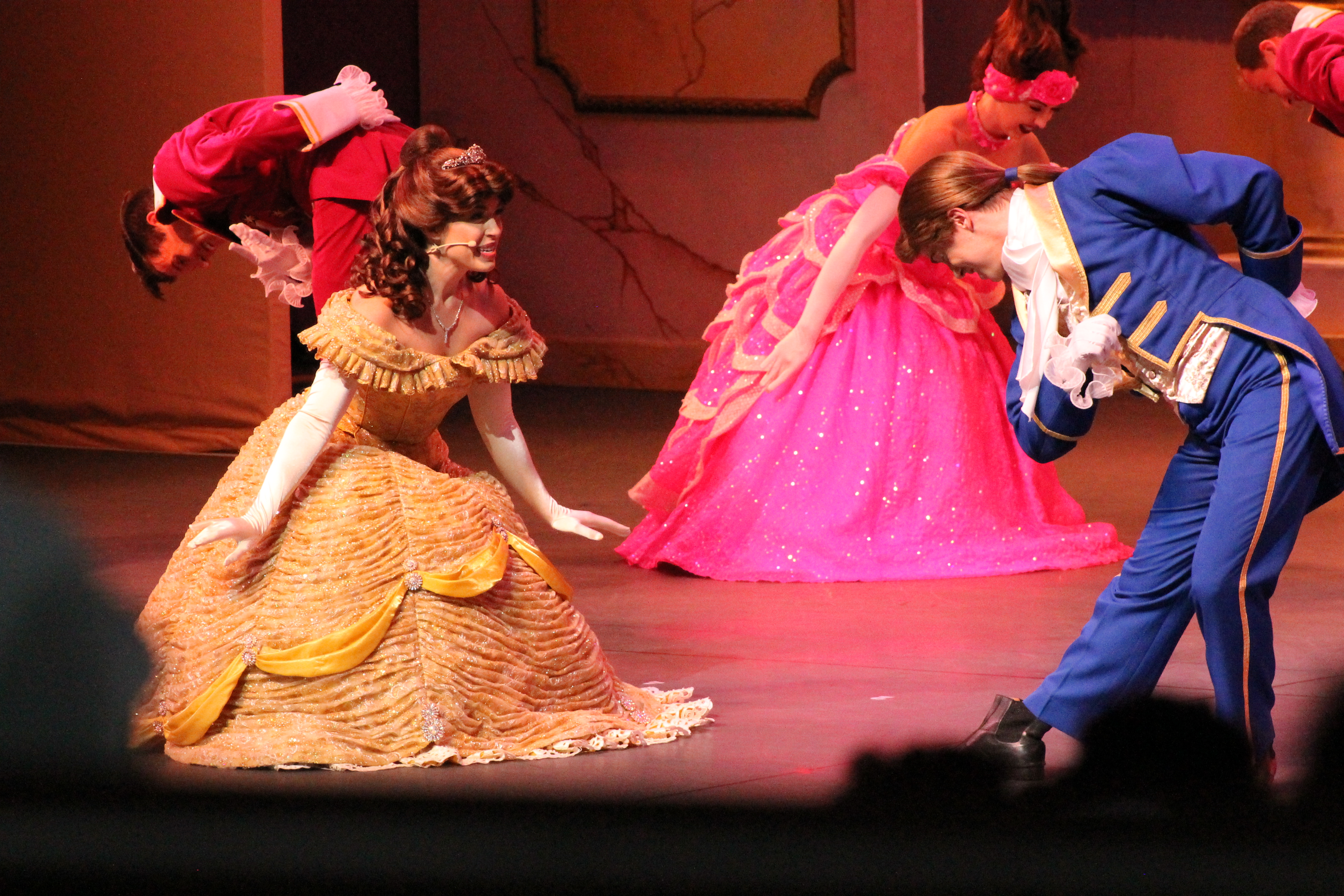 After our meeting with the Rebels and some of the Empire, we went on down and rode Rockin' Rollercoaster (all time fave)! Mom and I decided to watch the Beauty and the Beast live show. Belle is my favorite and I watched the movie alllll the time when I was little! The show was amazing and we sang along to every song.
As the show ended, we realized it was pouring down rain. Well not quite pouring….yet. We had reservations at the Sci-fi Dine-in theater so we started walking toward where we thought it was. But then on of Florida's infamous pop-up storms well popped up and it was a torrential downpour complete with thunder and lightning. But since we were worried about being late for the reservation, we powered through….ankle deep puddles and rain that didn't let up at all, we got there and then froze all through lunch but it was a good lunch!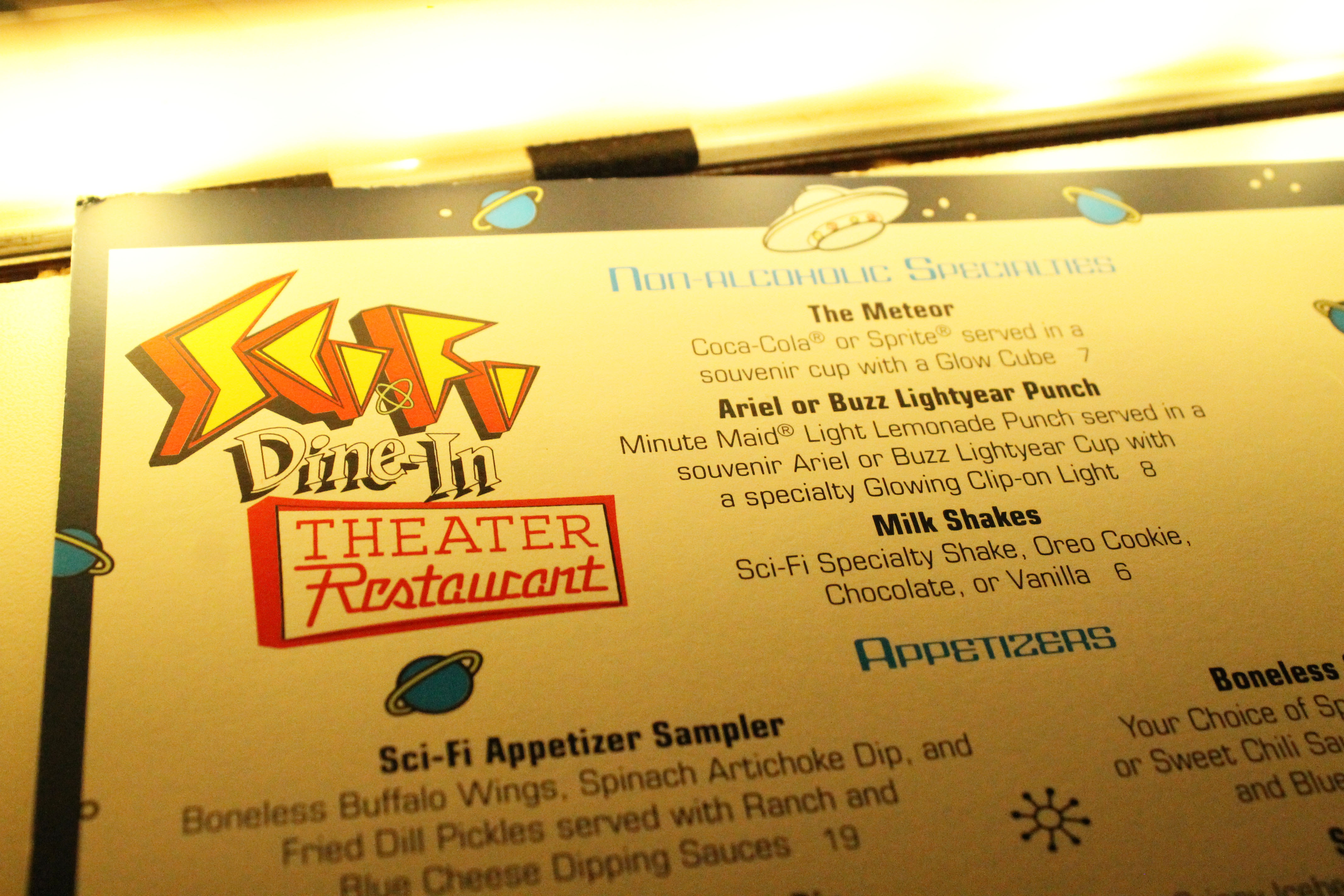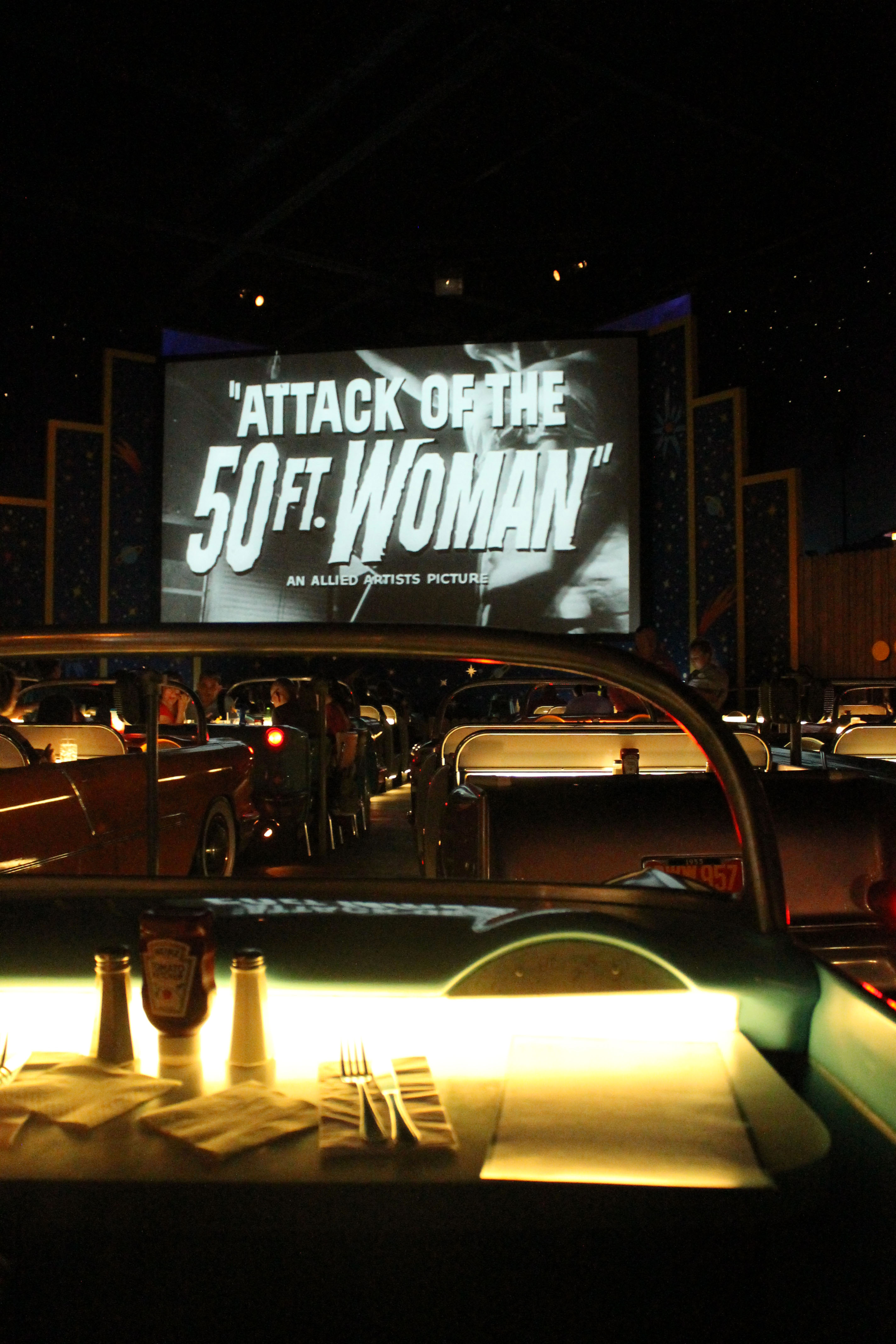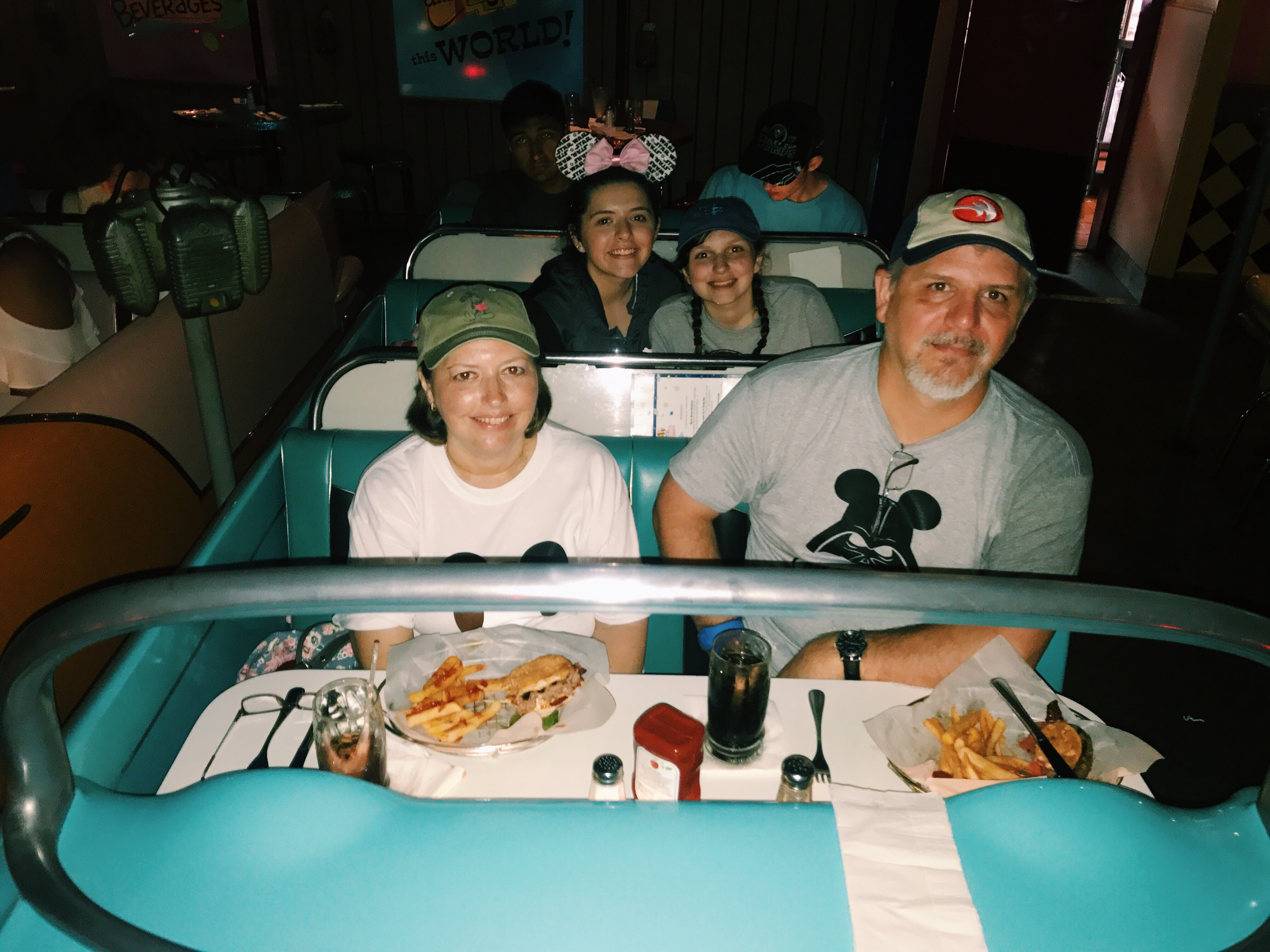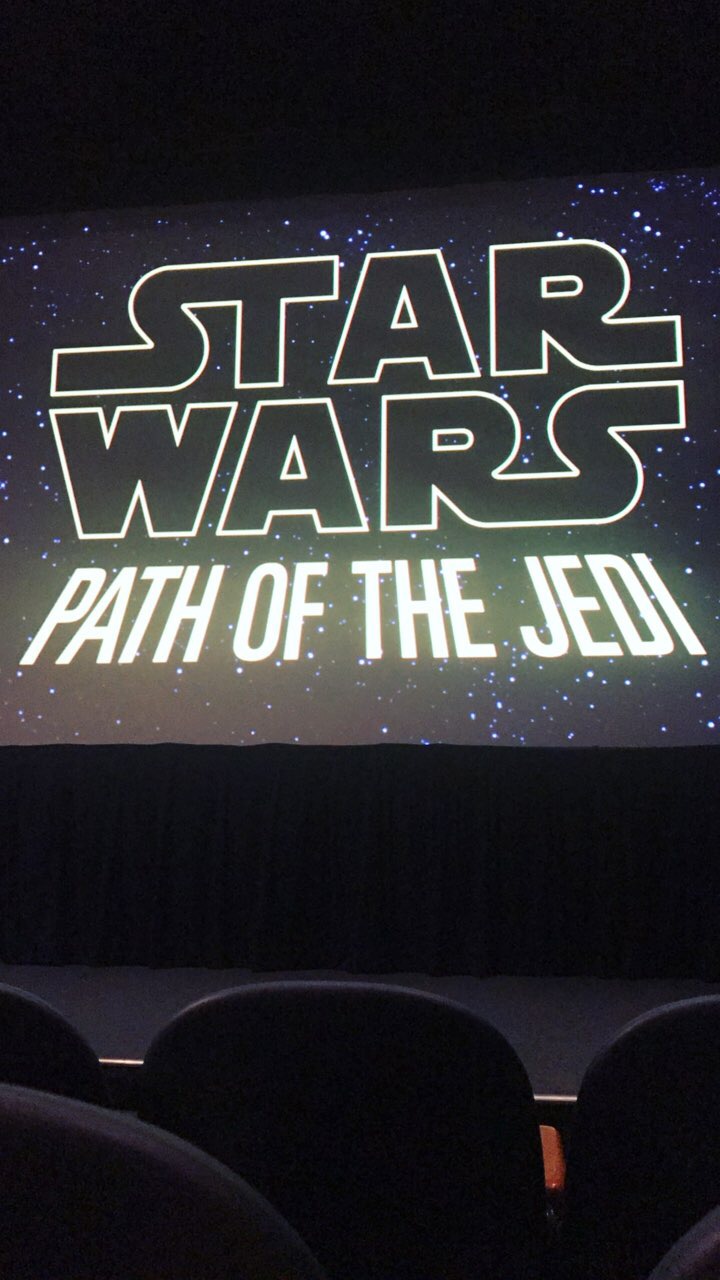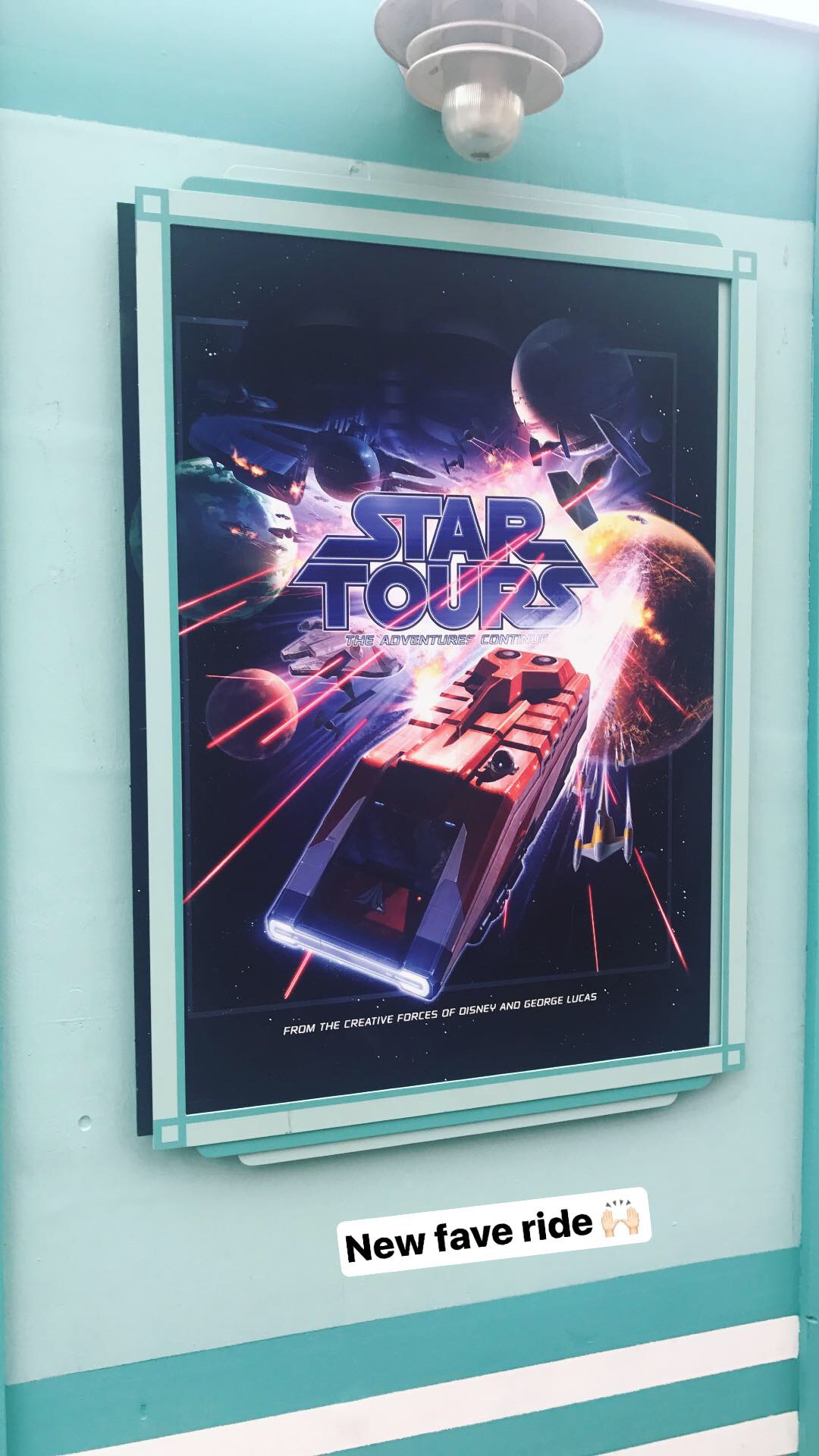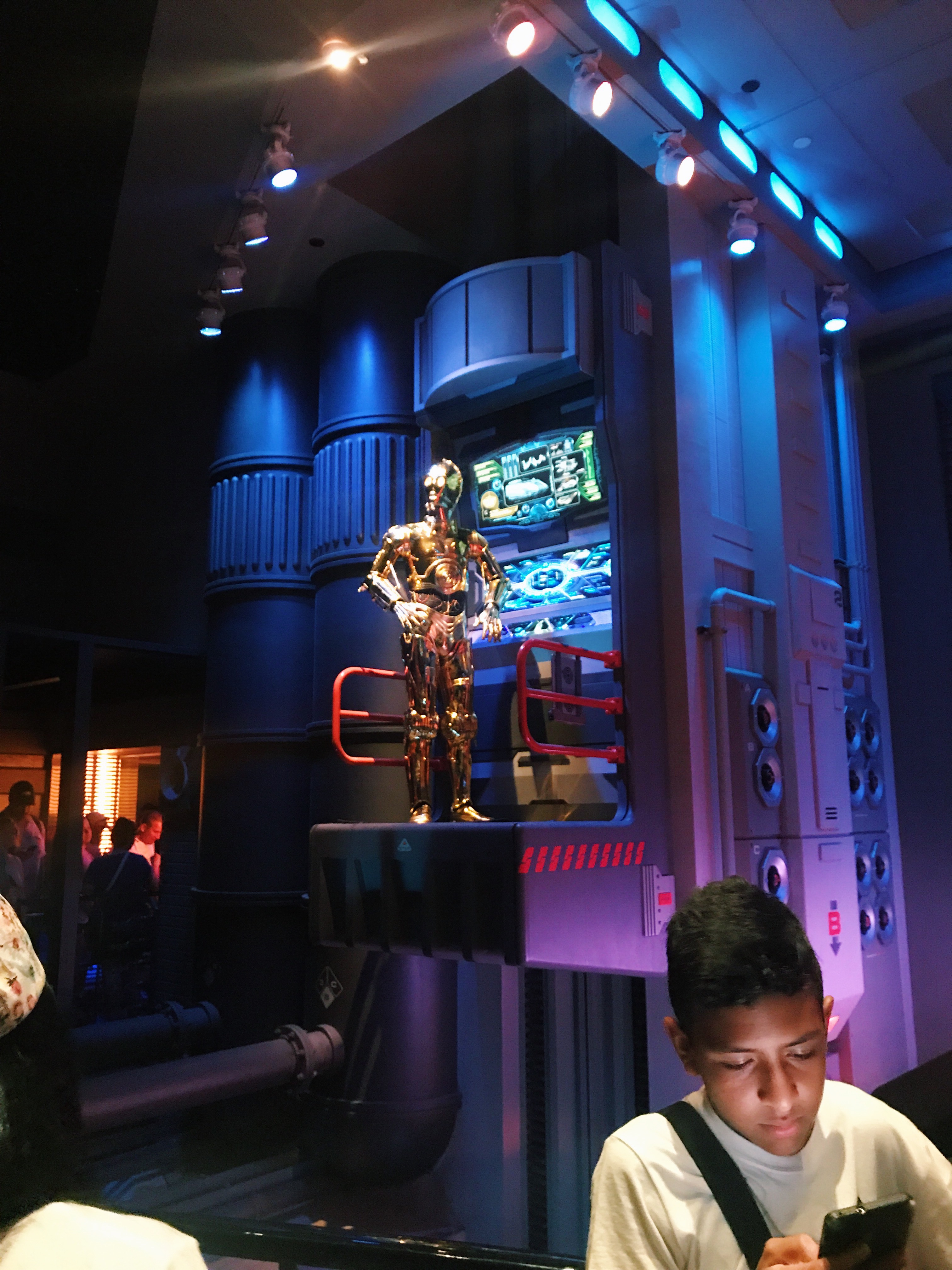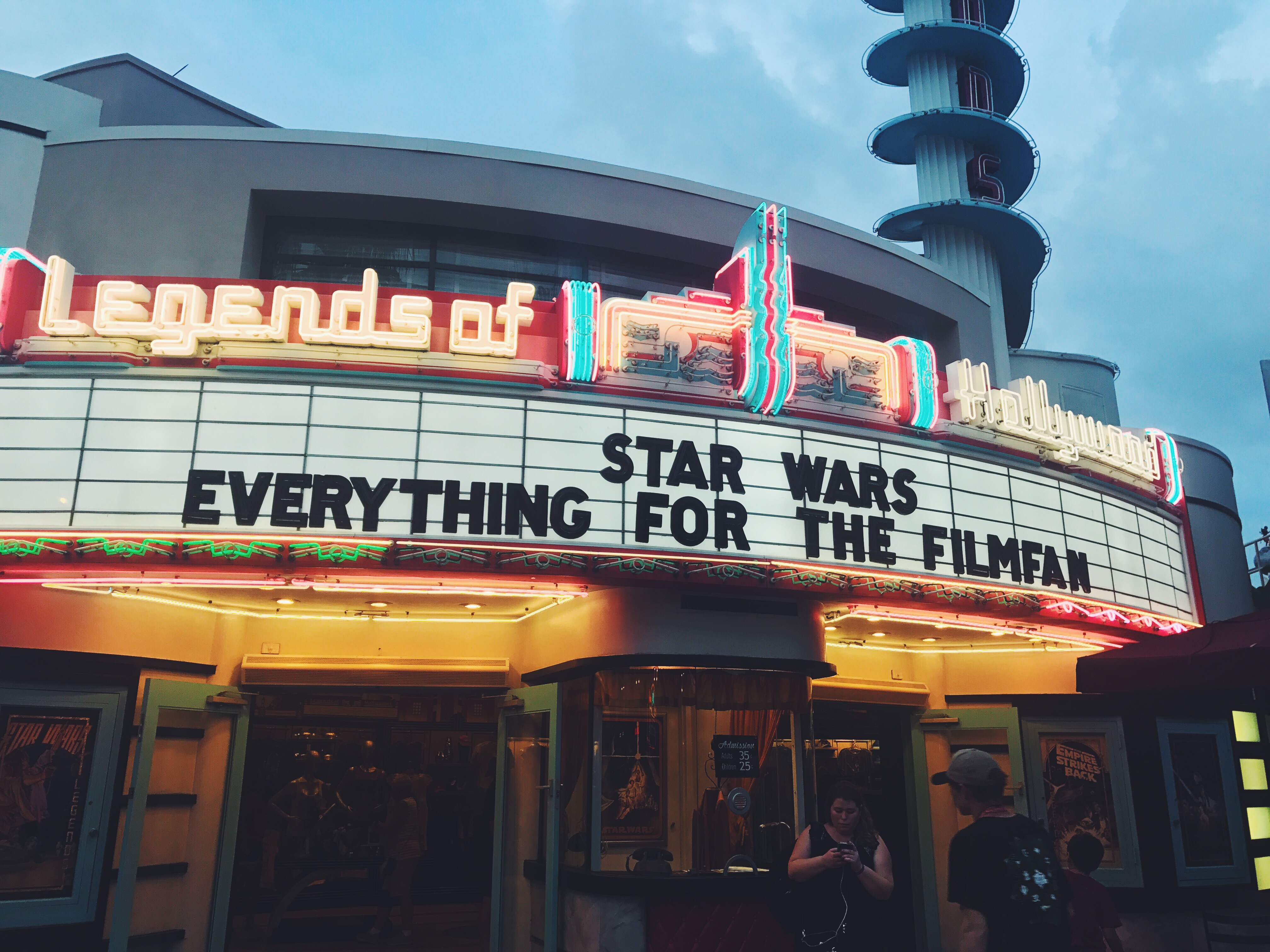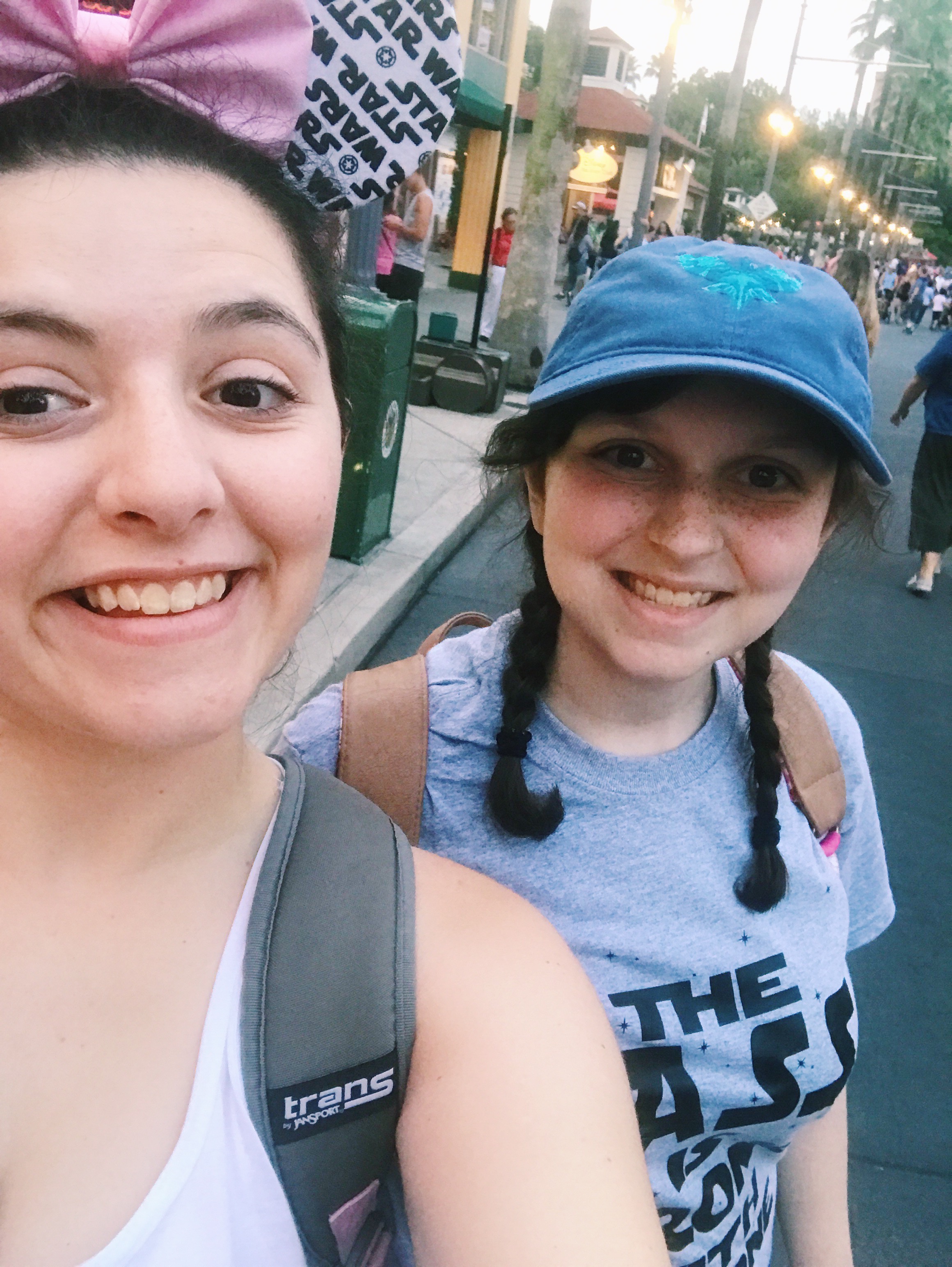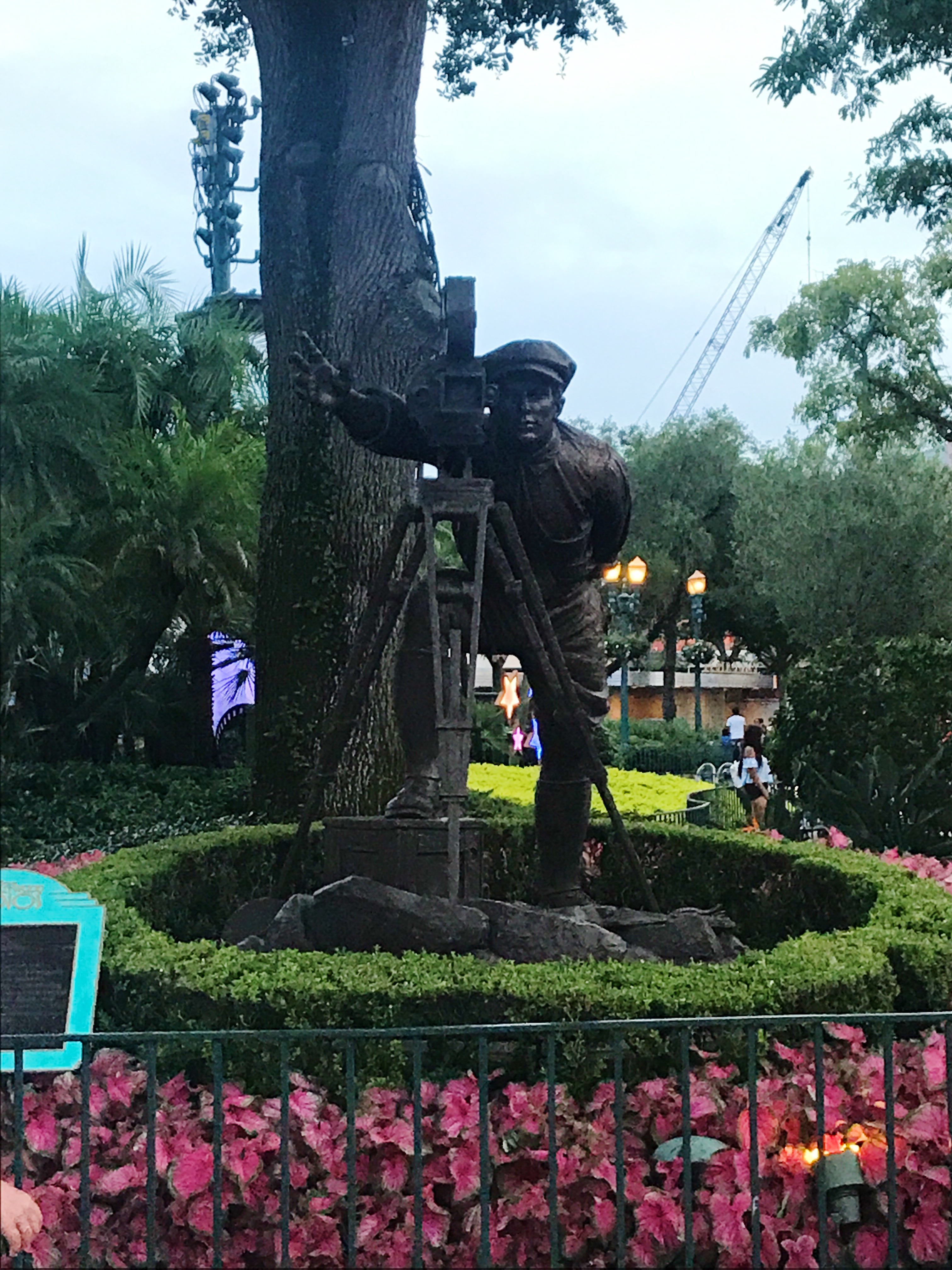 Then we made our way over to Star Tours, which was so cool. I love roller-coasters but I also love simulated rides. Add that with my love of Star Wars and boom, we got a hit. We went back later to ride it again because the wait time was really short and were happily surprised that it was a different experience! It made us love it even more.
We also watched the Indiana Jones Stunt Spectacular (because I guess I just really love Harrison Ford movies but who doesn't? And who doesn't like Indiana Jones?). It was really kind of cool to see in a live audience and a nice chance to rest your feet. I think it's worth checking out if you love the movies!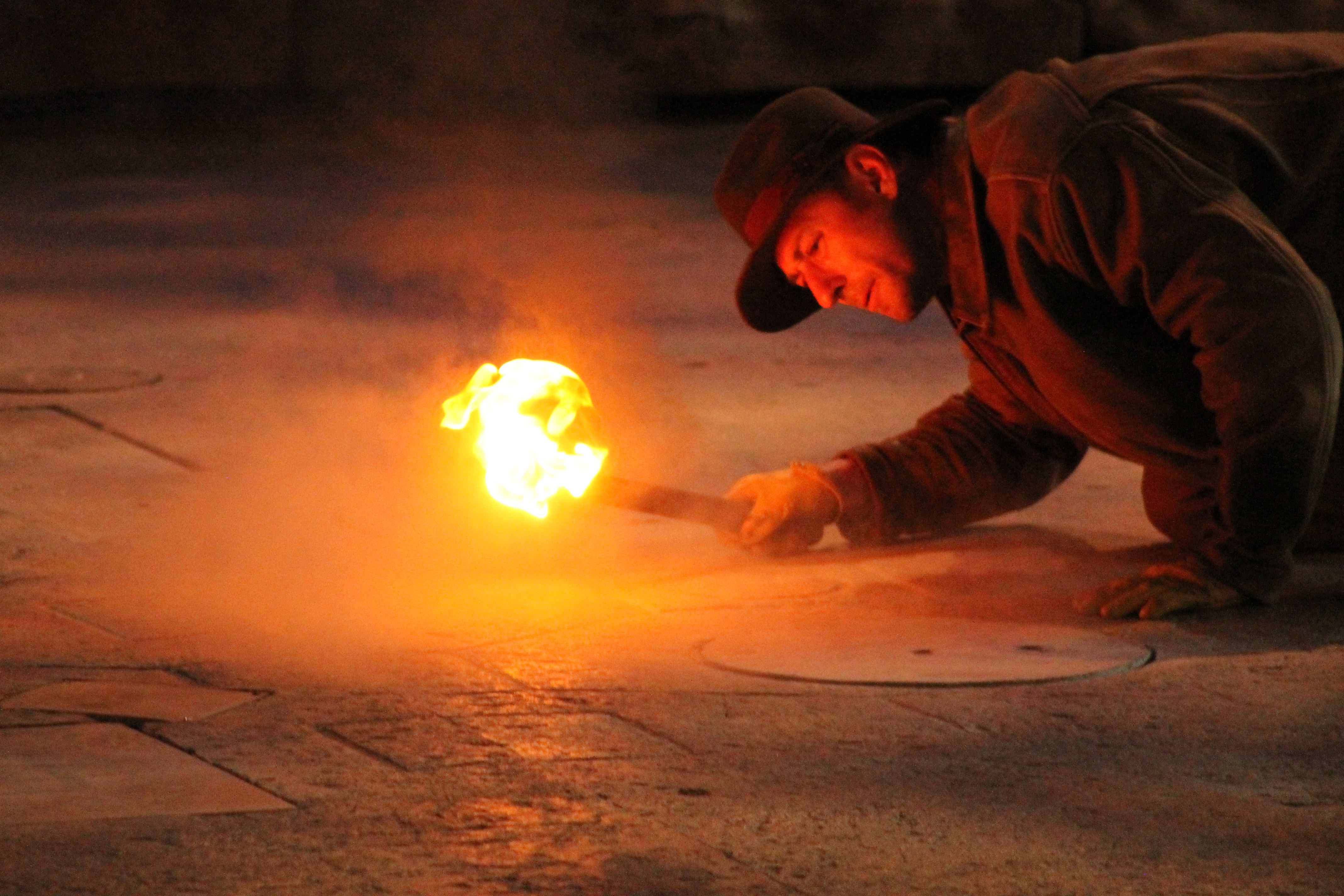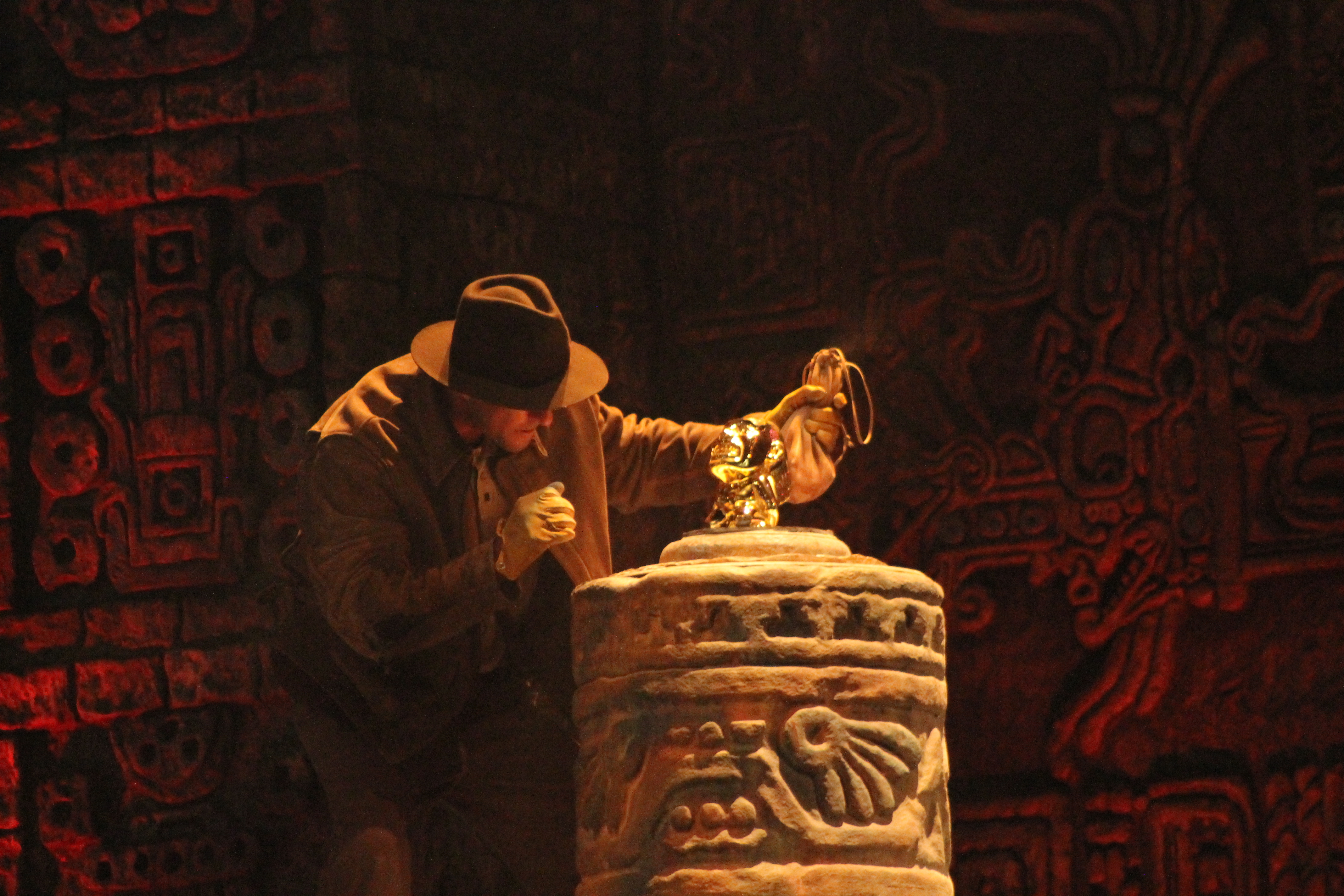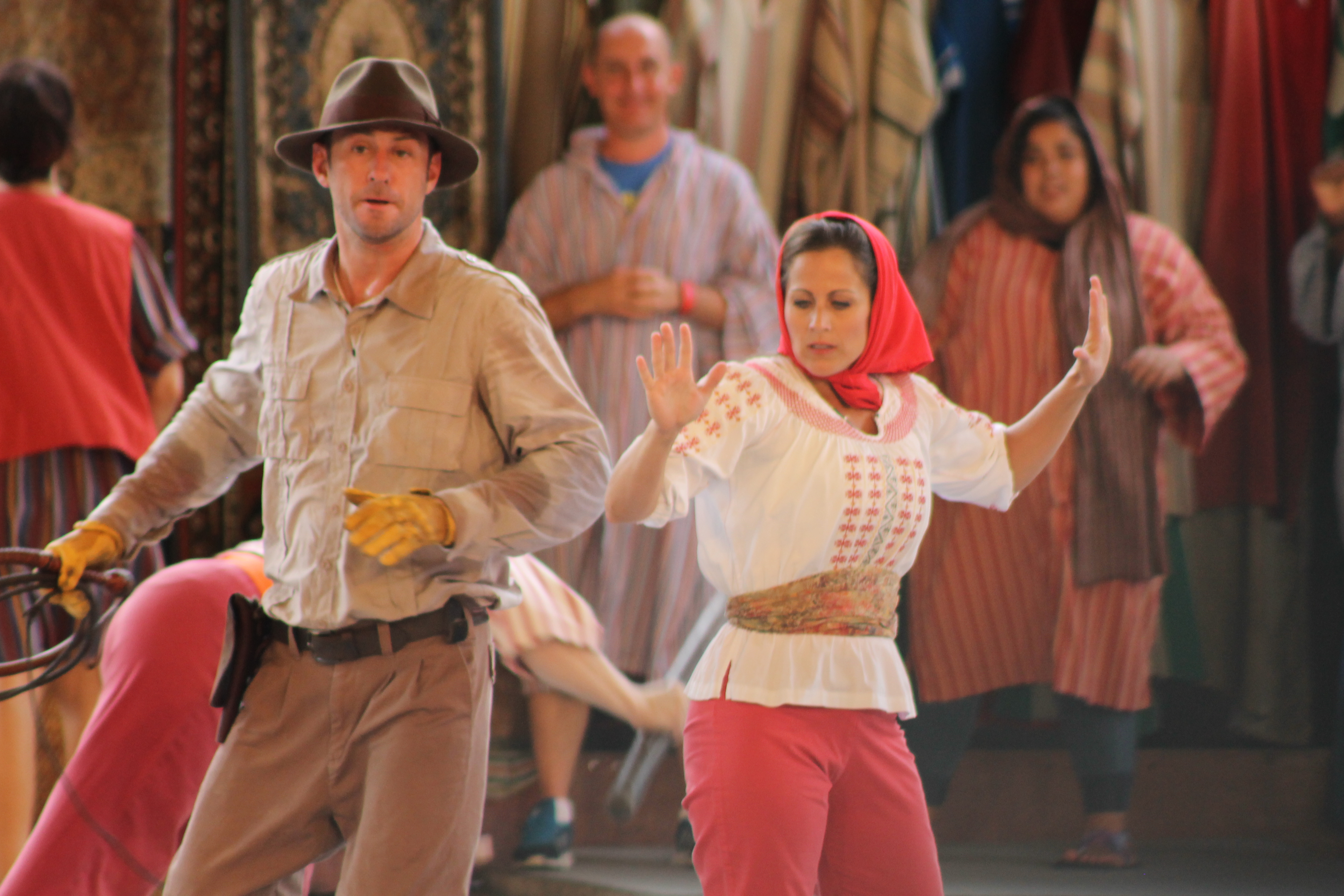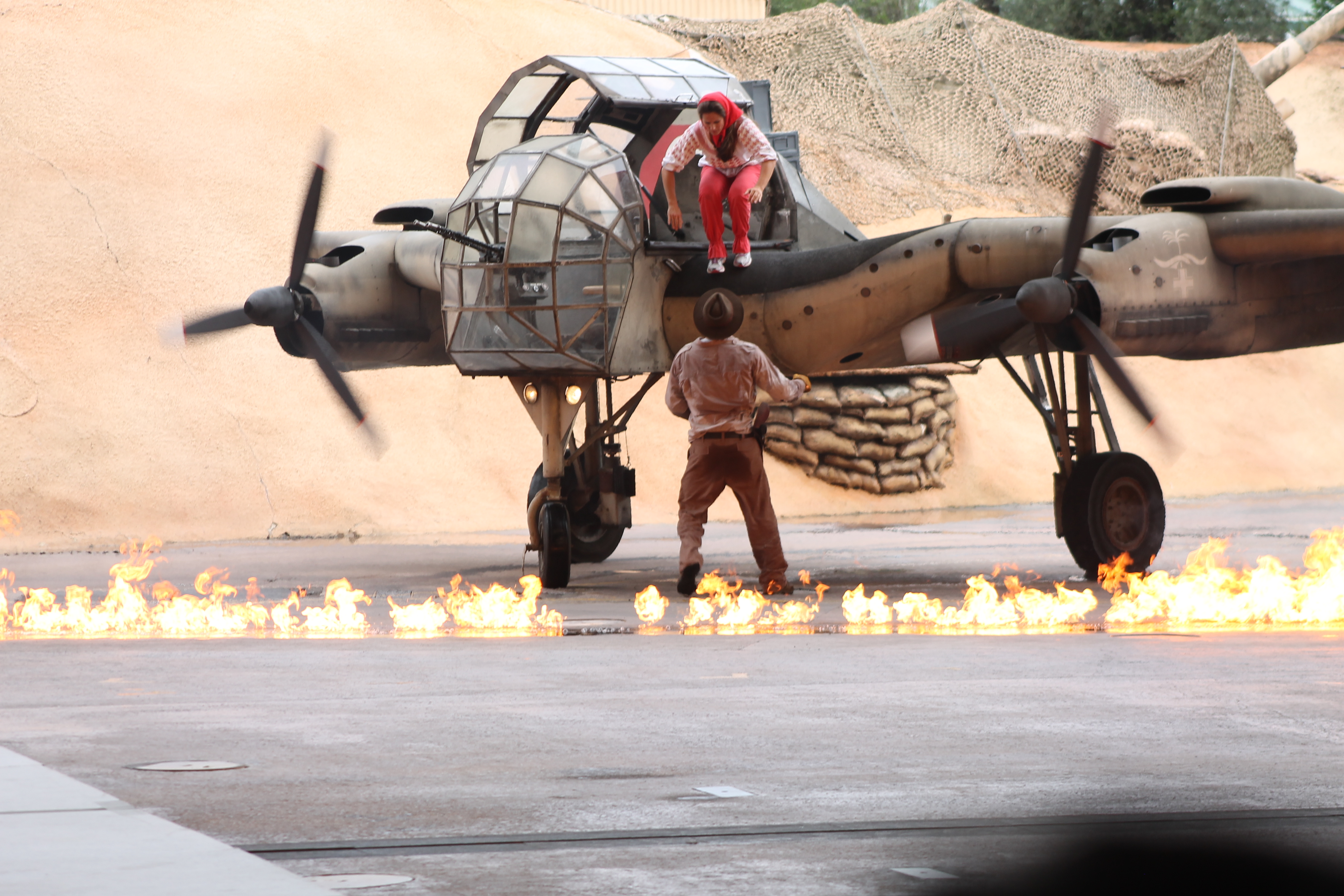 To end the night, I really wanted to see the Star Wars nighttime fireworks show and it was amazing!! I cried (surprise again). It was kind of immersive and was really cool. Before that there was another show about all the Disney movies and it was amazing too! While we waited, a cast member stood in front of the ground where we were sitting and told stories from him working at Disney and some cool facts about the parks. He was really fun to listen to!!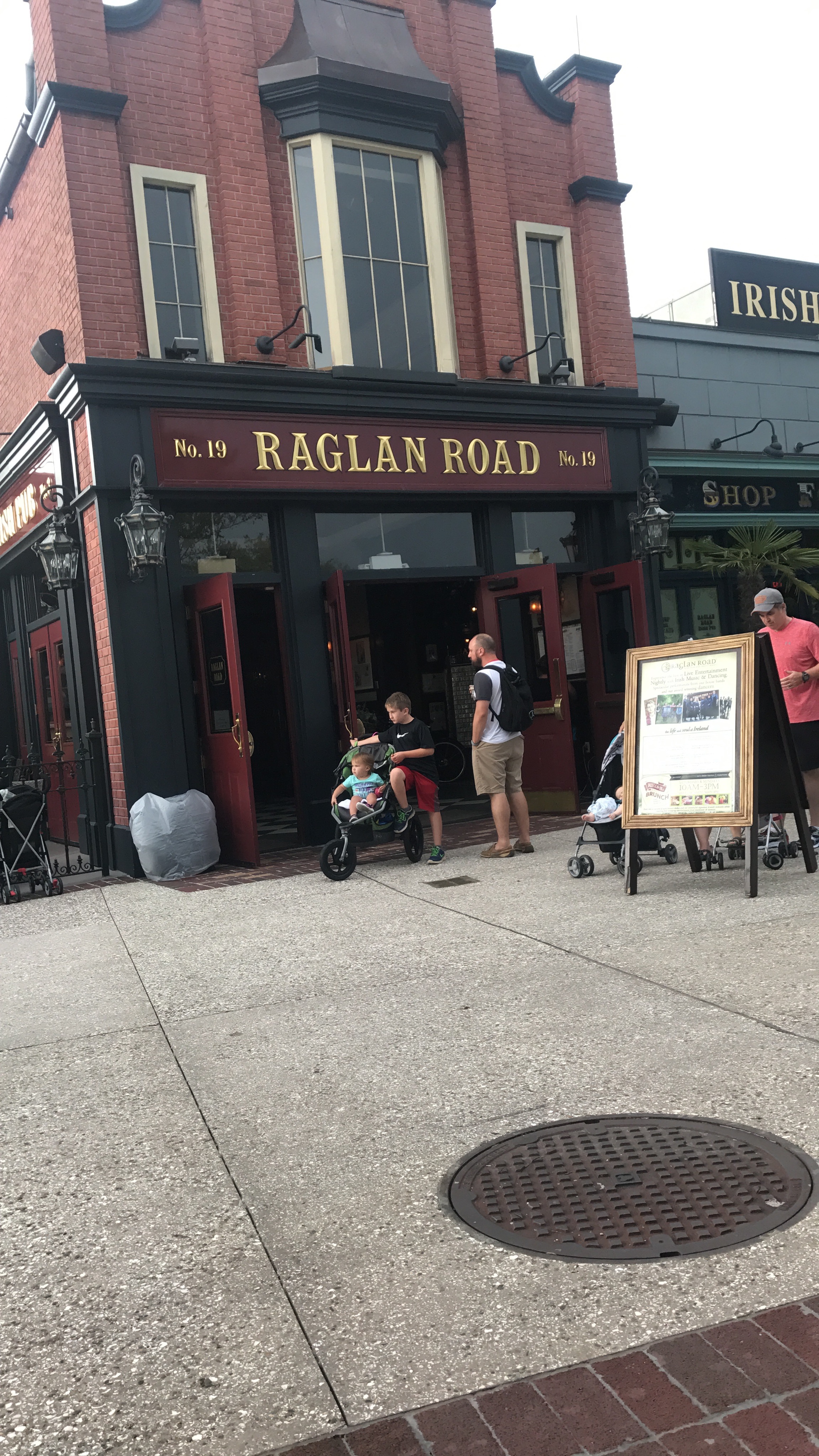 Here's a picture of Raglan Road like I promised!! It was honestly amazing.
Well that's the second to last day in Disney! Check back later for the last day in Magic Kingdom!
What's your favorite old movie? Or do you even like old movies? Let me know in the comments!
xoxo Ariana