Hey guys! We made it to the worst/best day in a Disney vacation. That is the last day. The best because Disney duh. The worst because you go through the whole day knowing your getting your last dose of Disney magic for awhile! In case you missed it, I've been sharing my Disney trip days with you! Follow along on the last day at the Magic Kingdom!
Also, forgive me for failing as a blogger, but I opted for comfort on the last day with gym shorts and a tshirt! I wanted to be able to focus on all the magic and needed to be comfortable completely! I did keep the Disney spirit with my Mickey shirt though!
Magic Kingdom, Animal Kingdom, EPCOT, Hollywood Studios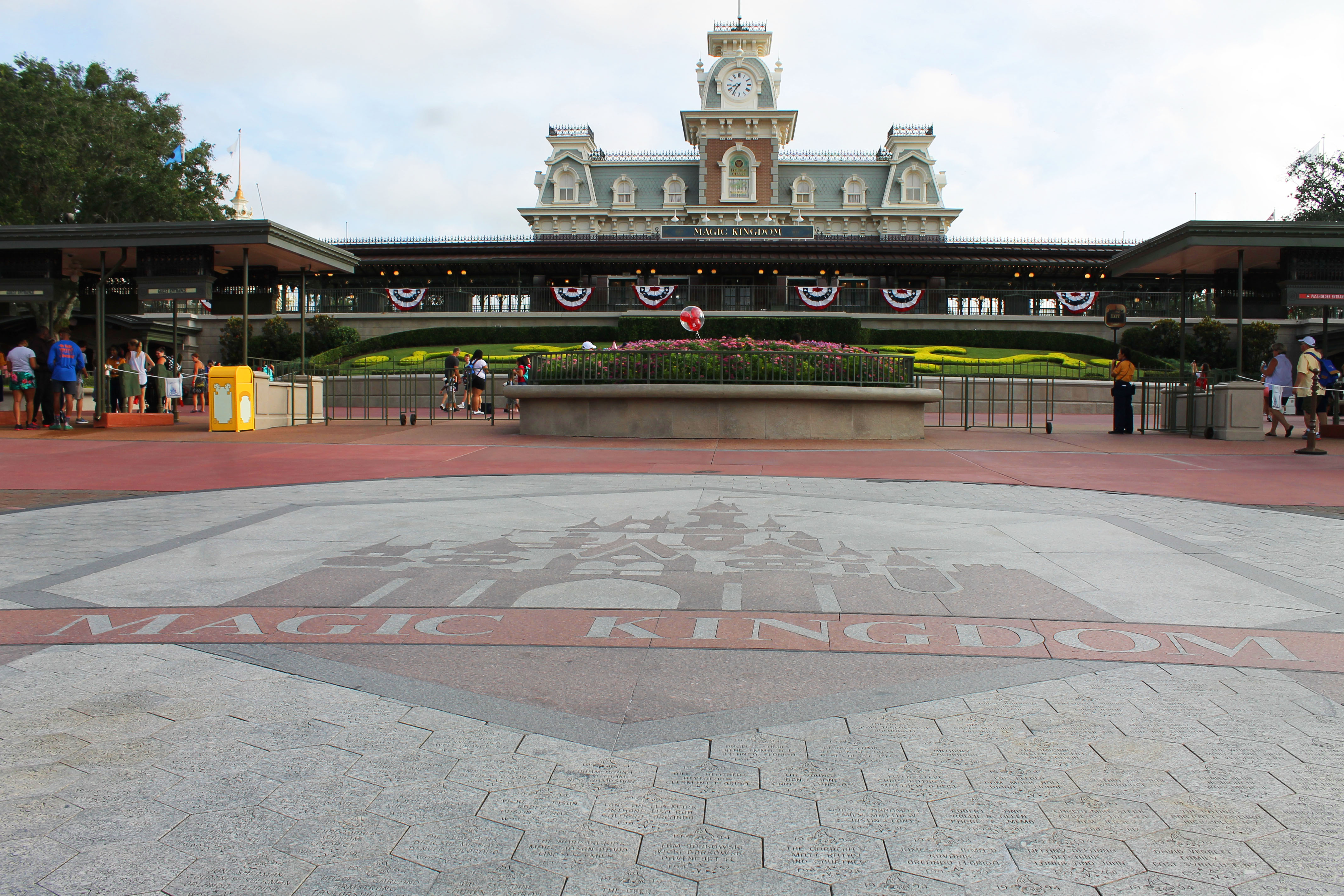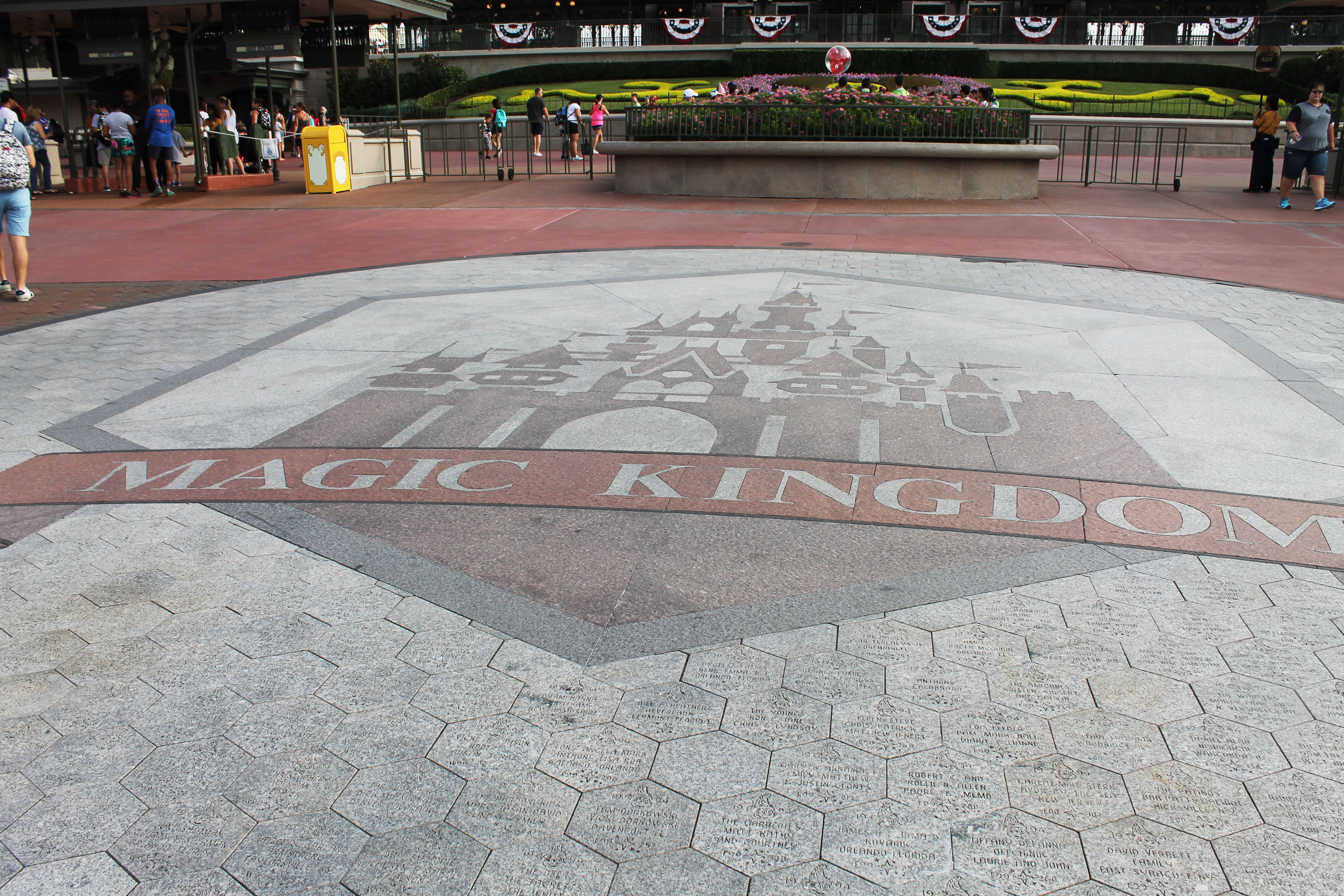 We hopped off the shuttle bright and early ready to soak in the last bits of this wonderful and magical trip! I was ESPECIALLY excited because we had breakfast reservations at Be Our Guest! I tried to hard to get dinner reservations but alas….it just wasn't meant to be this time! Honestly, it didn't even upset me that much because I just wanted to get in the door and see everything! Also, I was really excited for the French breakfast food (which was oh so yummy)!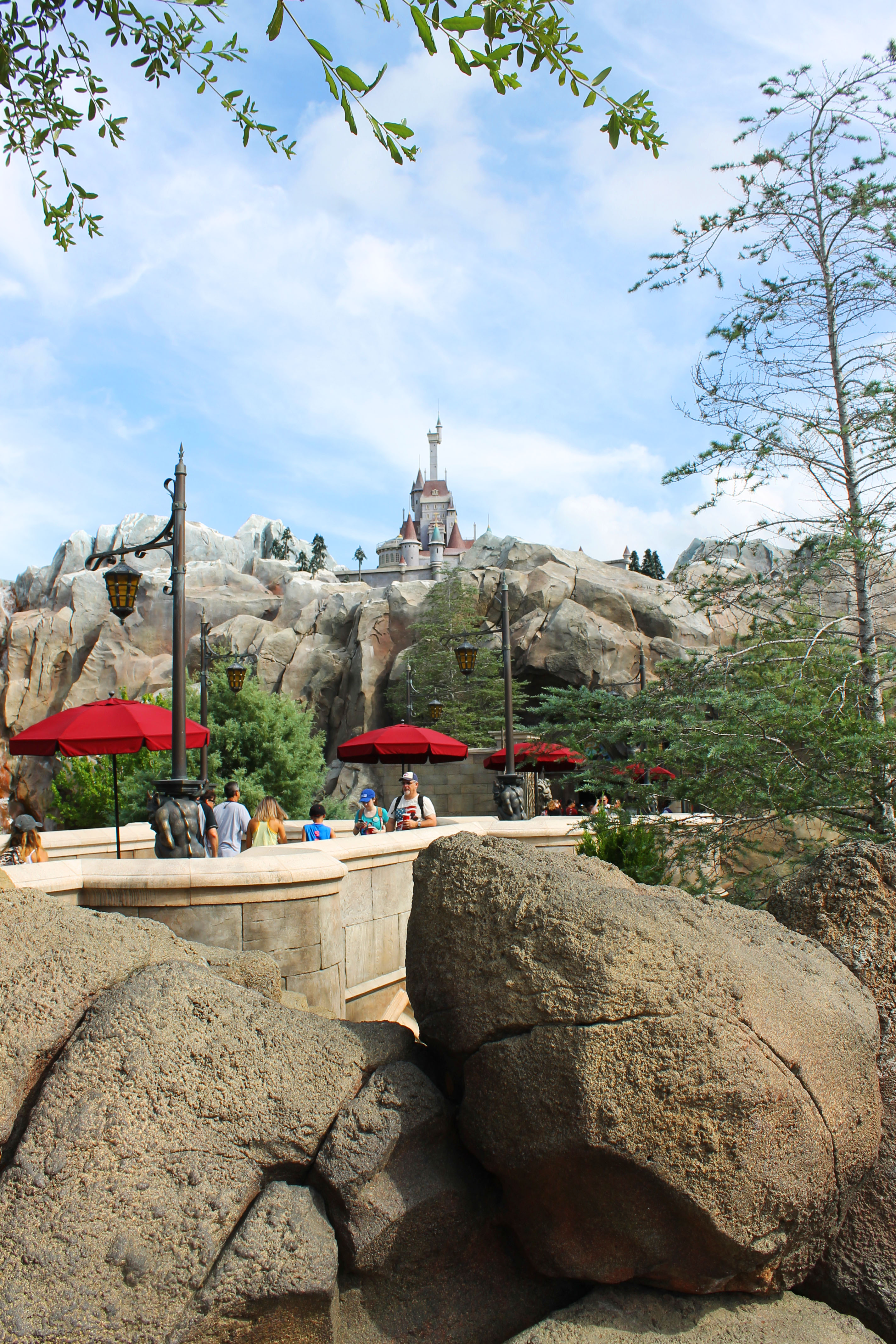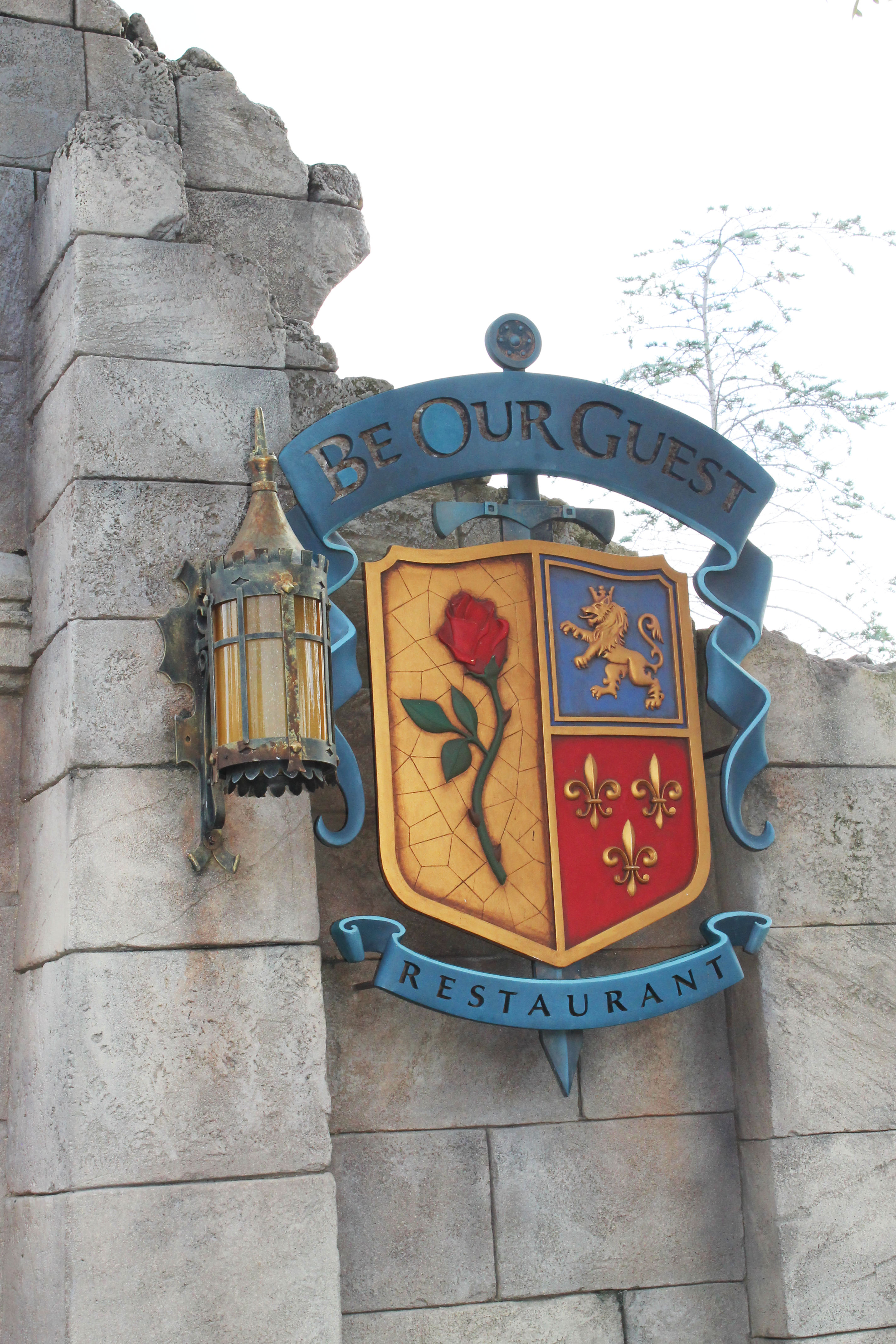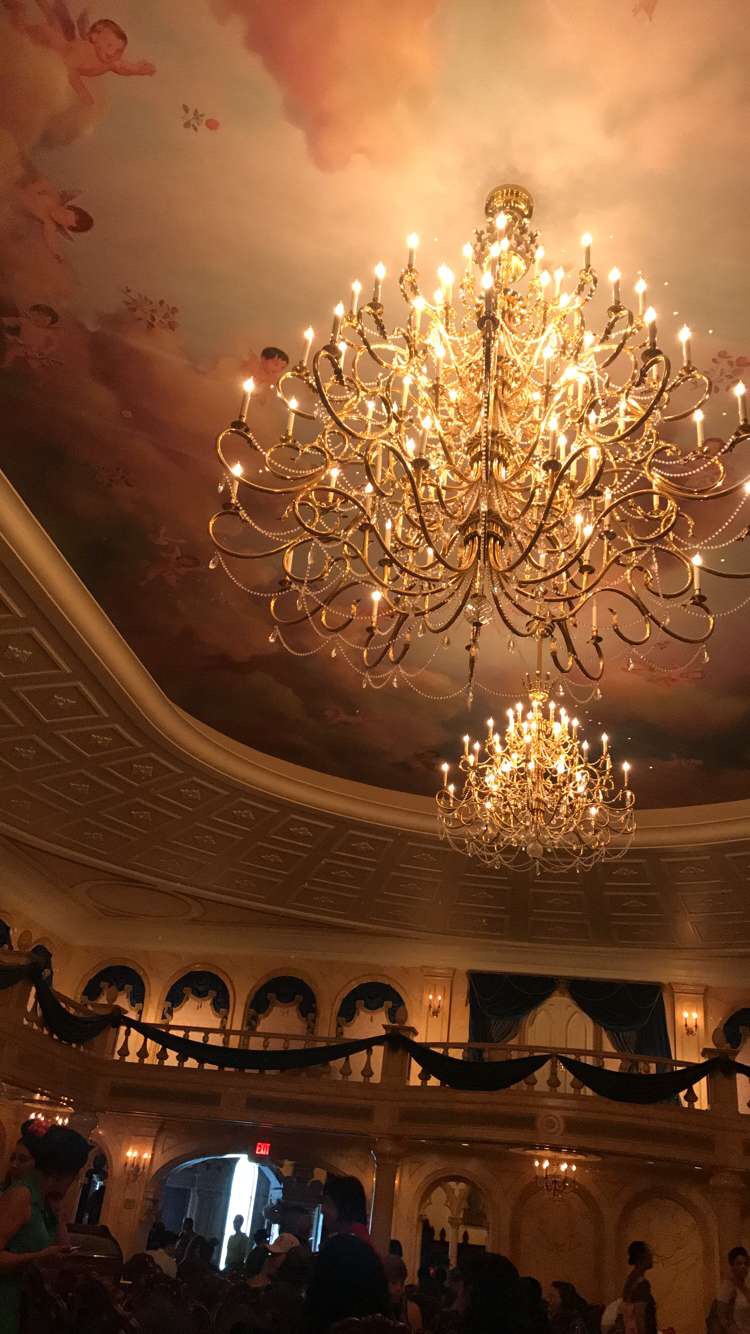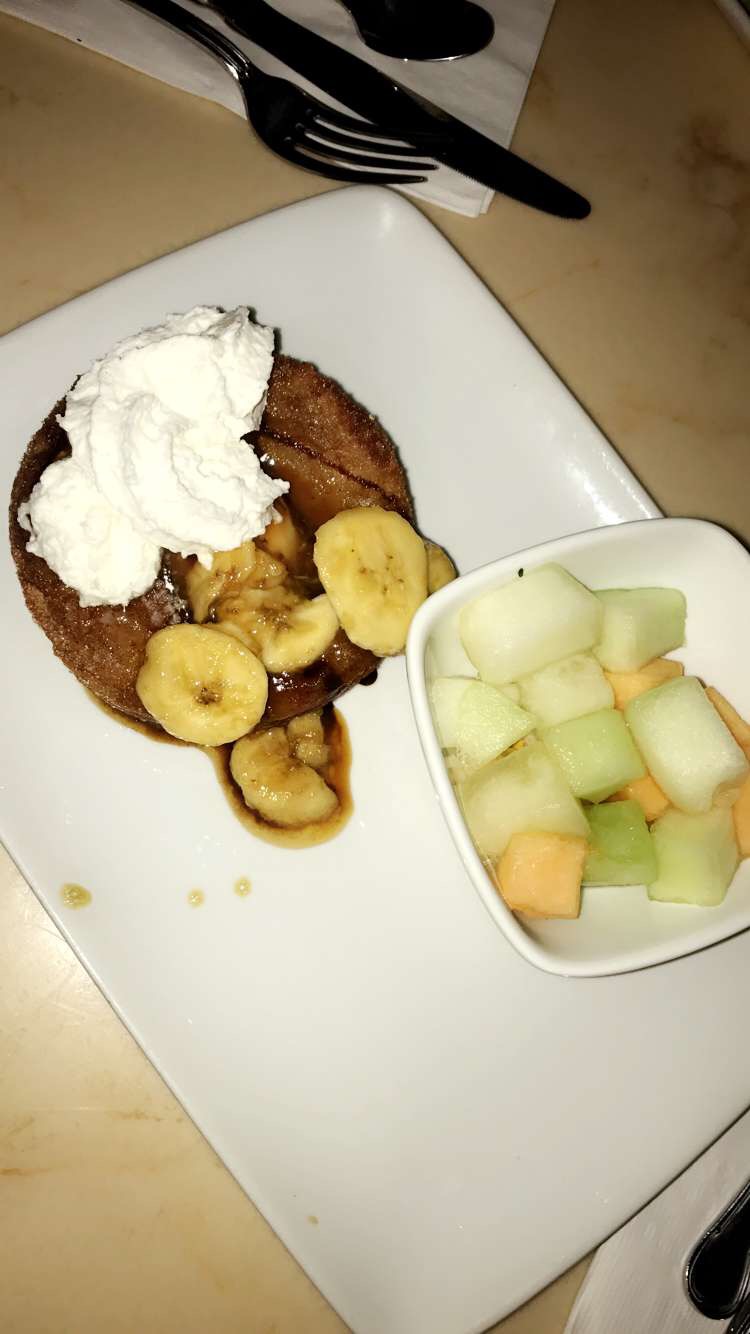 I ordered the Croissant  Doughnut and it was marvelous. I'm craving one right now thinking about it!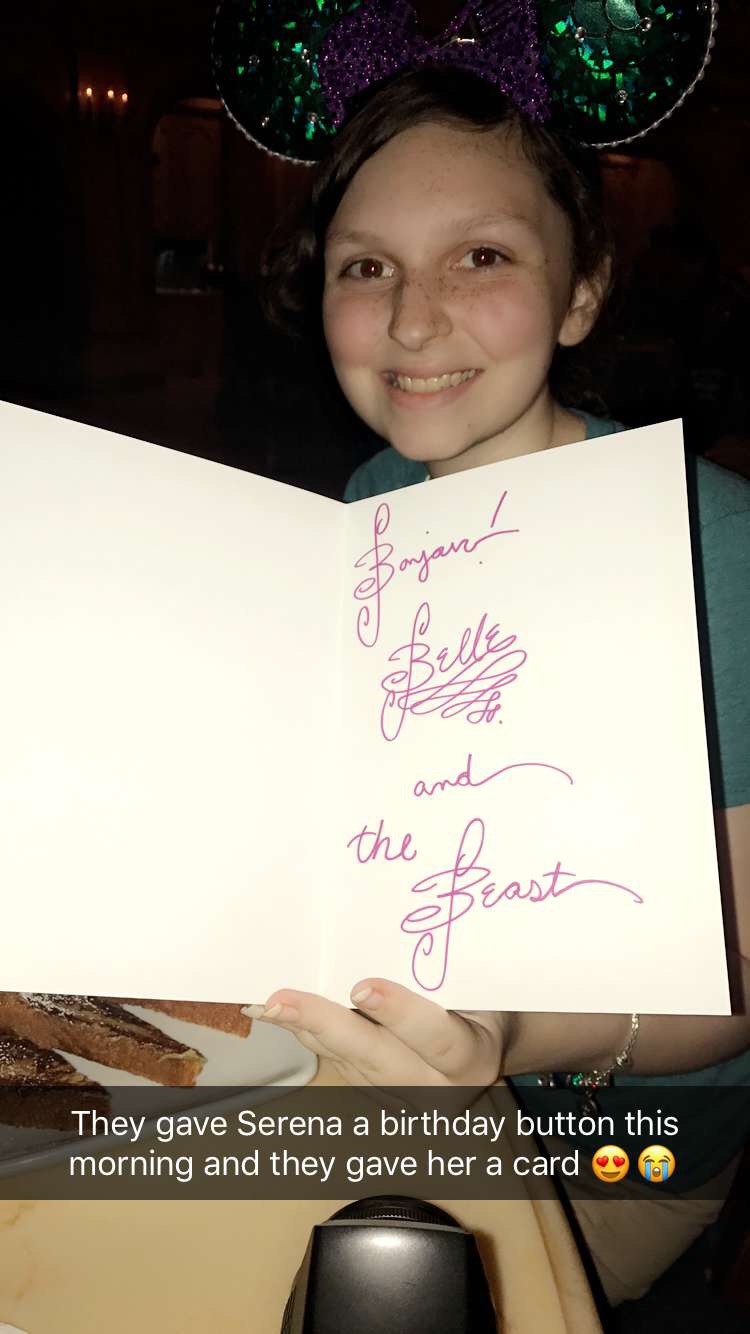 That morning as we were leaving our resort gift shop, the lady behind the counter complimented Serena's ears! She told her that they were a gift from me for her birthday back in May and the lady gave her a birthday button to wear for the day! Disney customer service is my absolute fave! So Serena received a birthday card from Belle and the Beast at breakfast!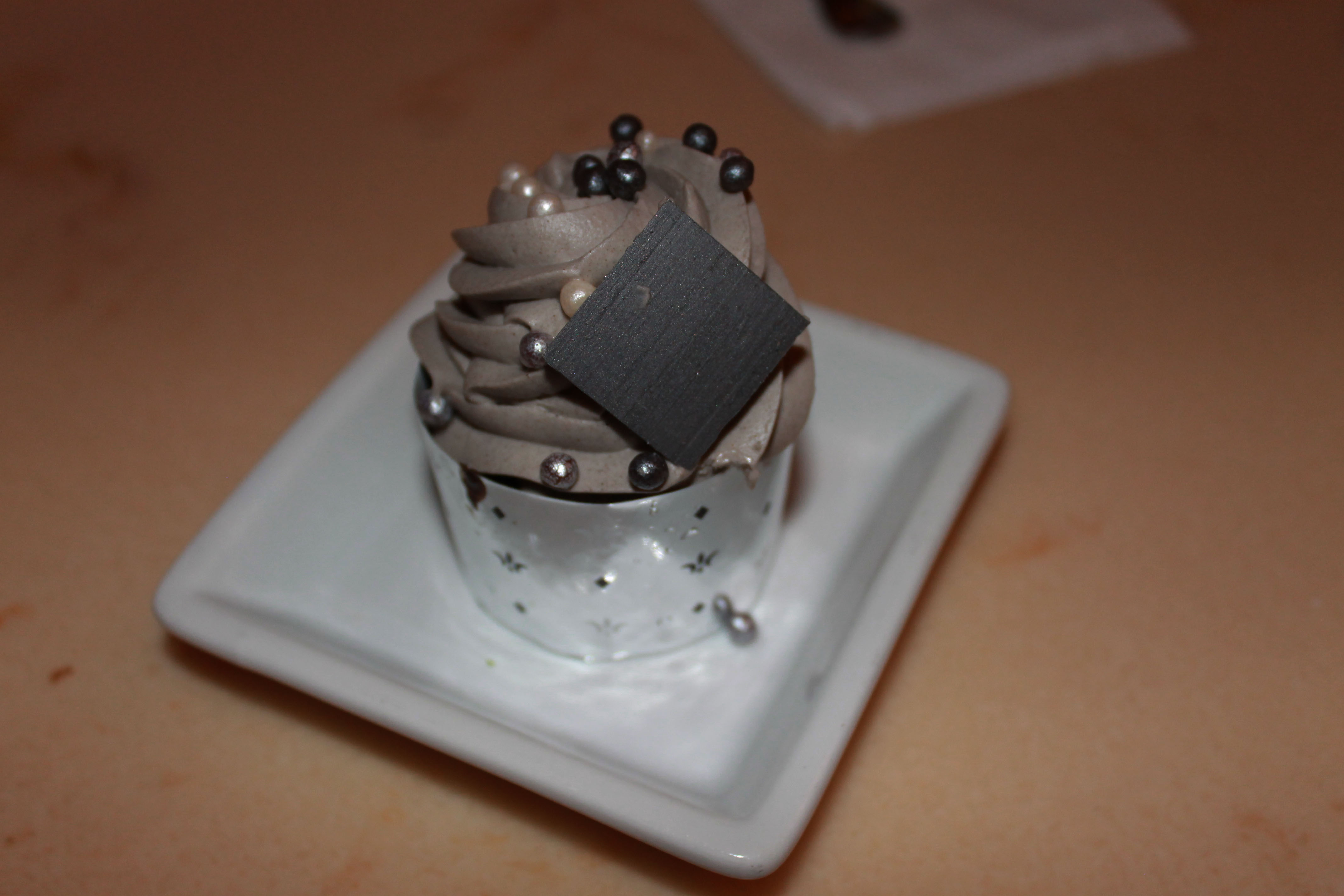 Of course, I couldn't eat at Be Our Guest and not try the Grey Stuff! It was quite delicious!!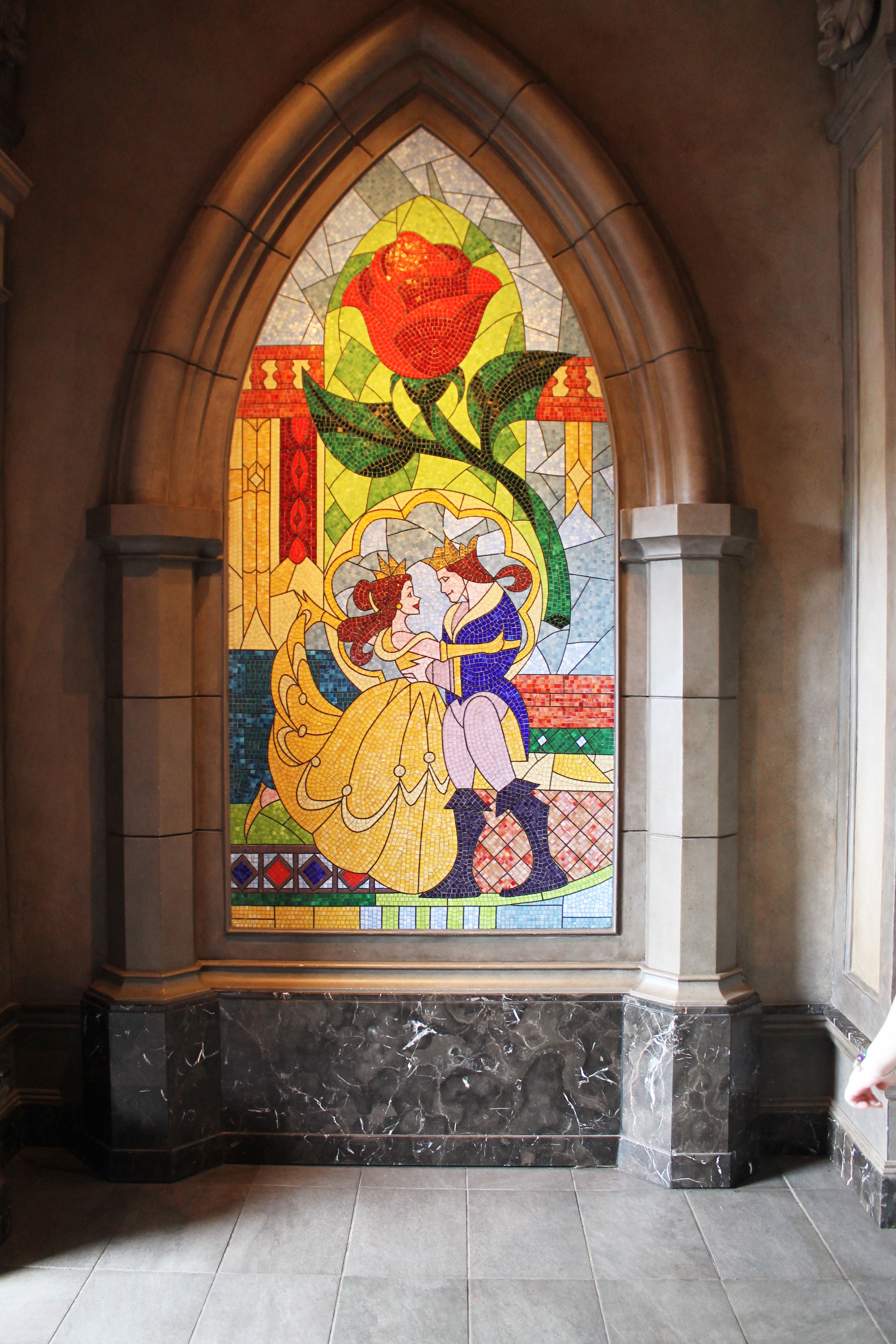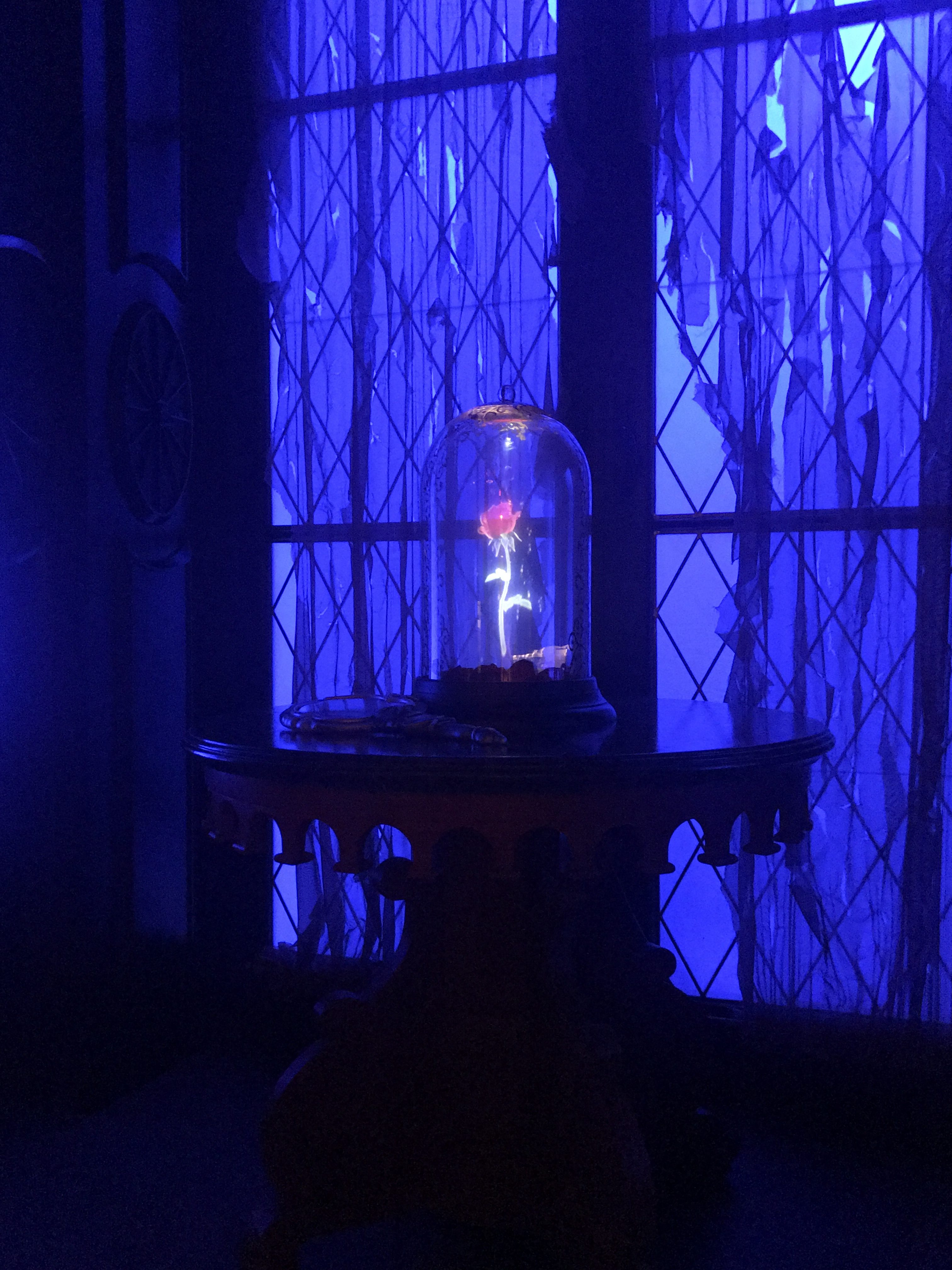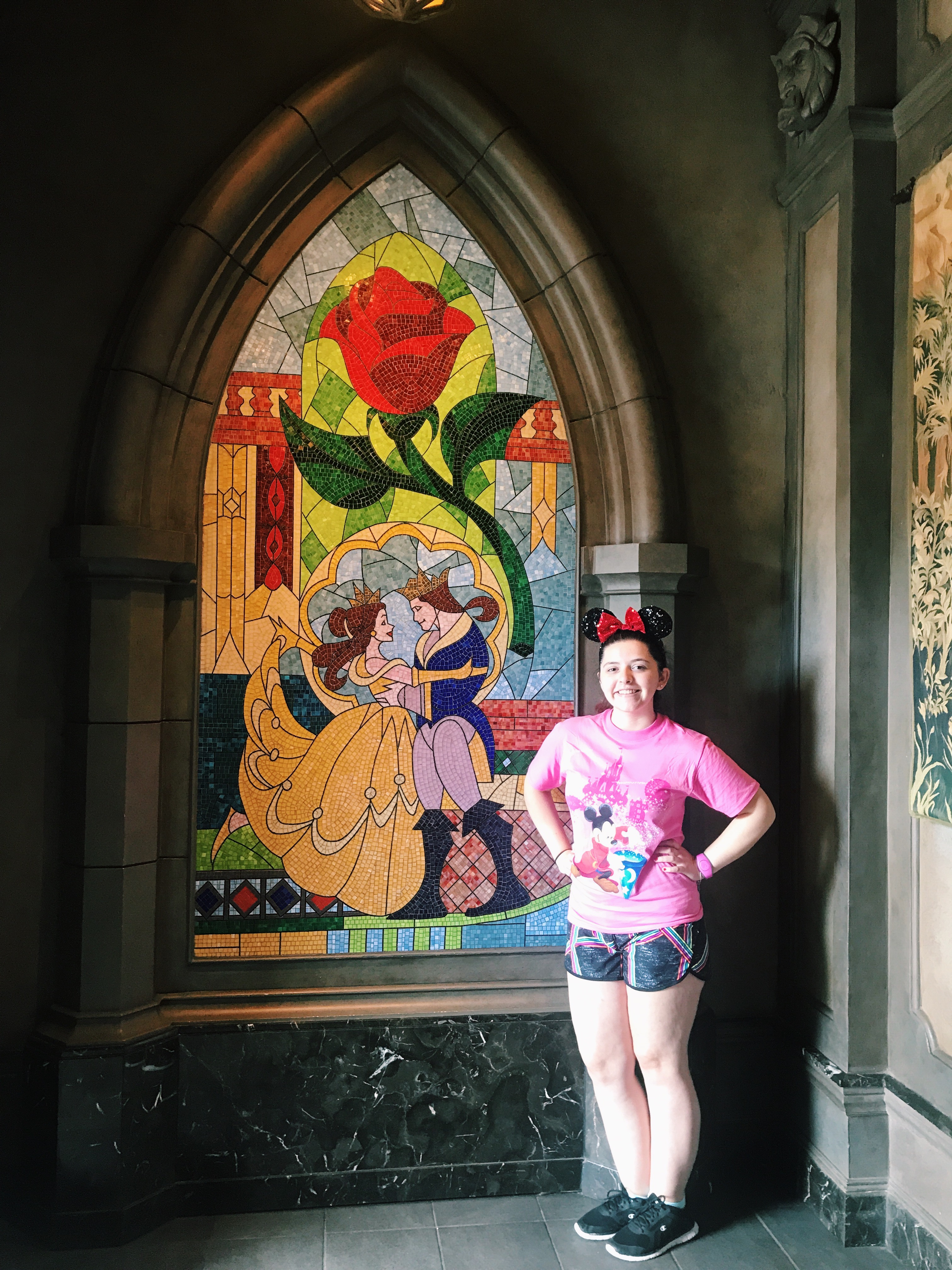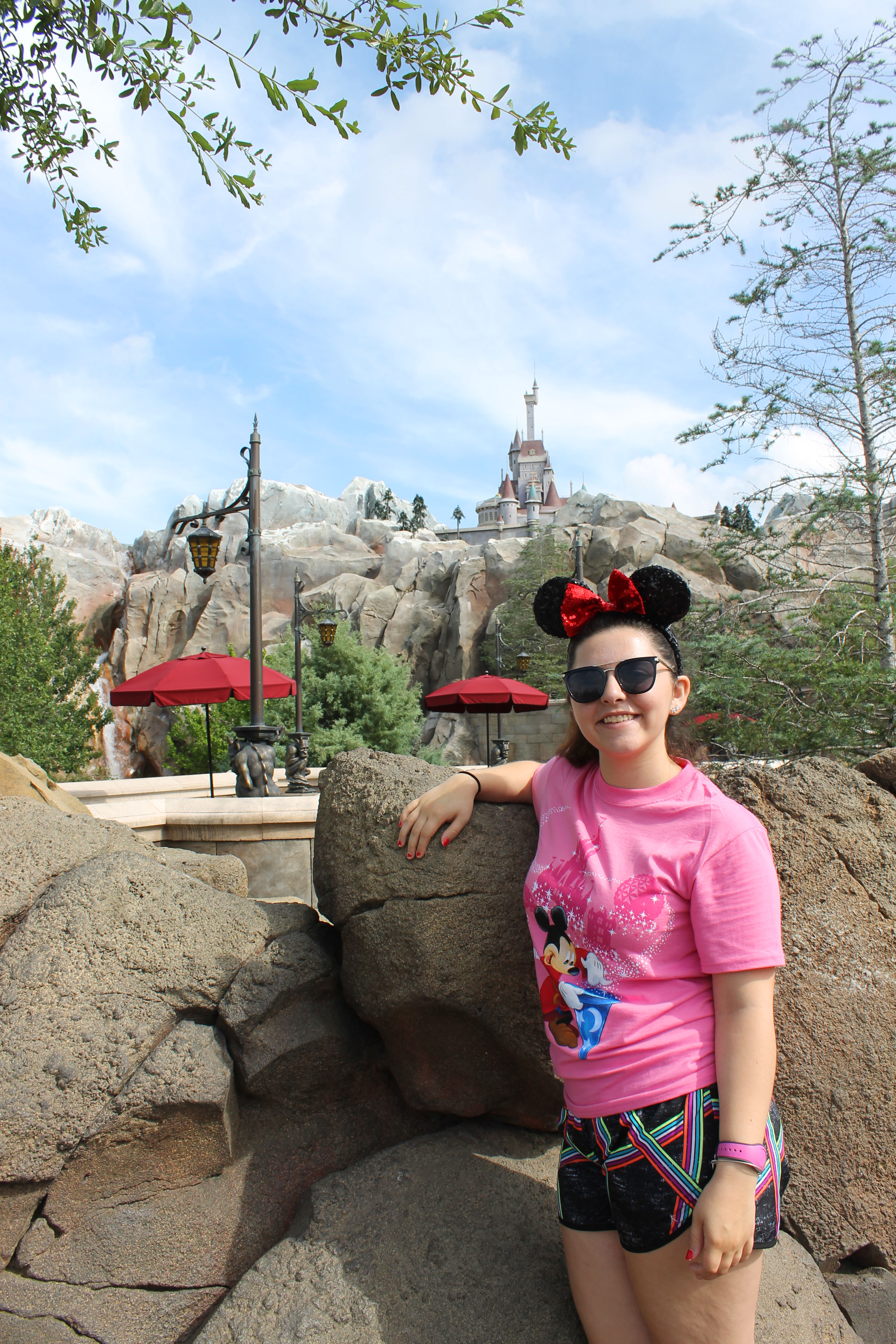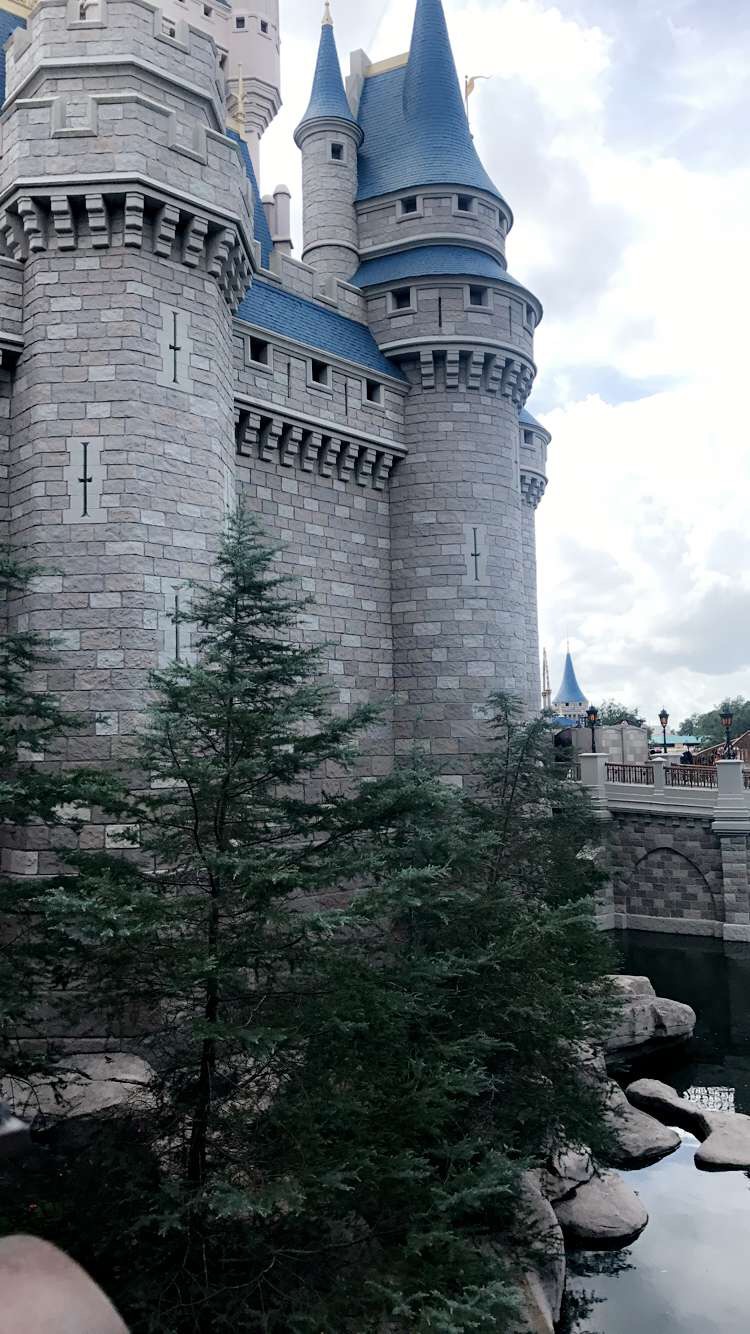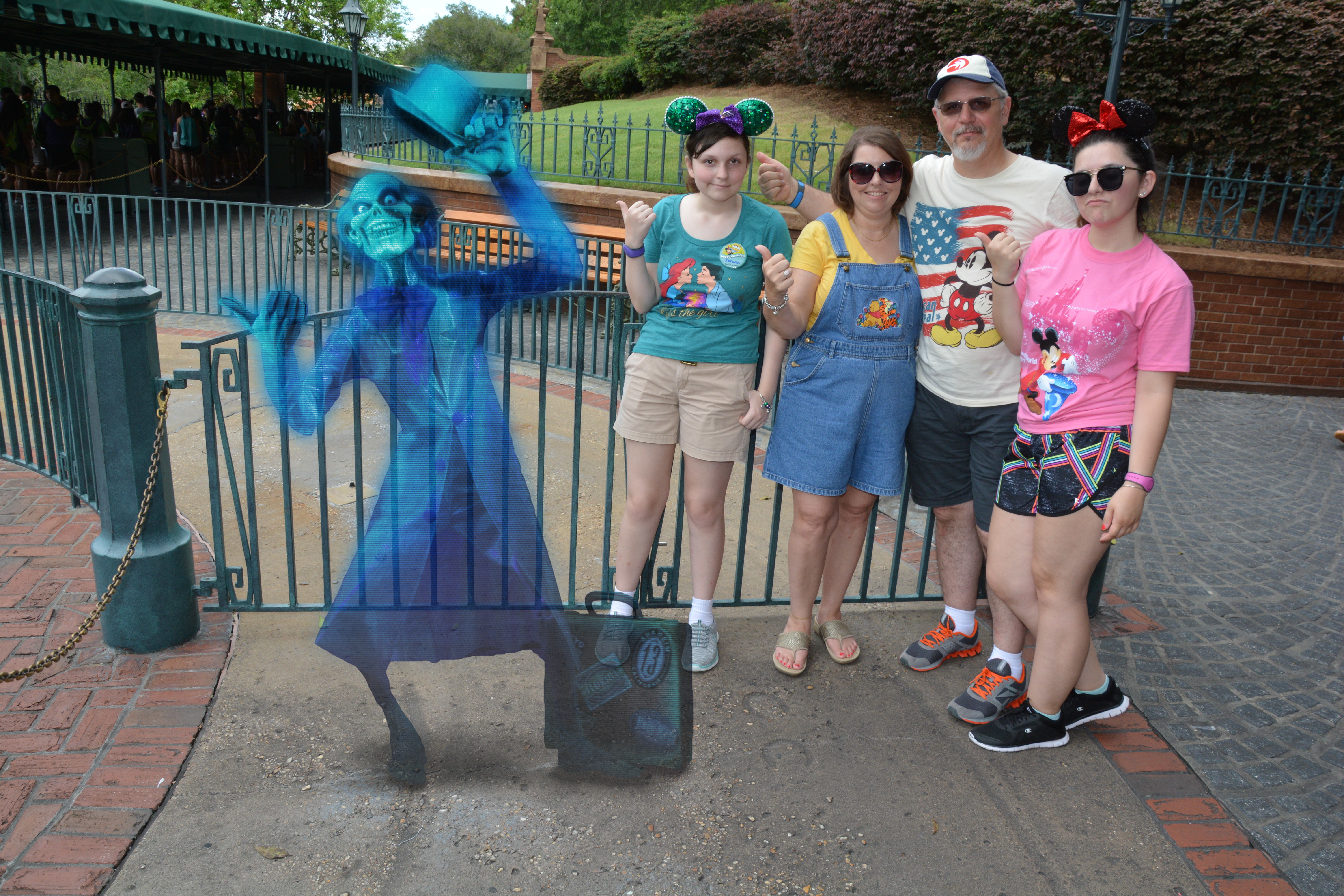 We picked up a hitchhiking ghost!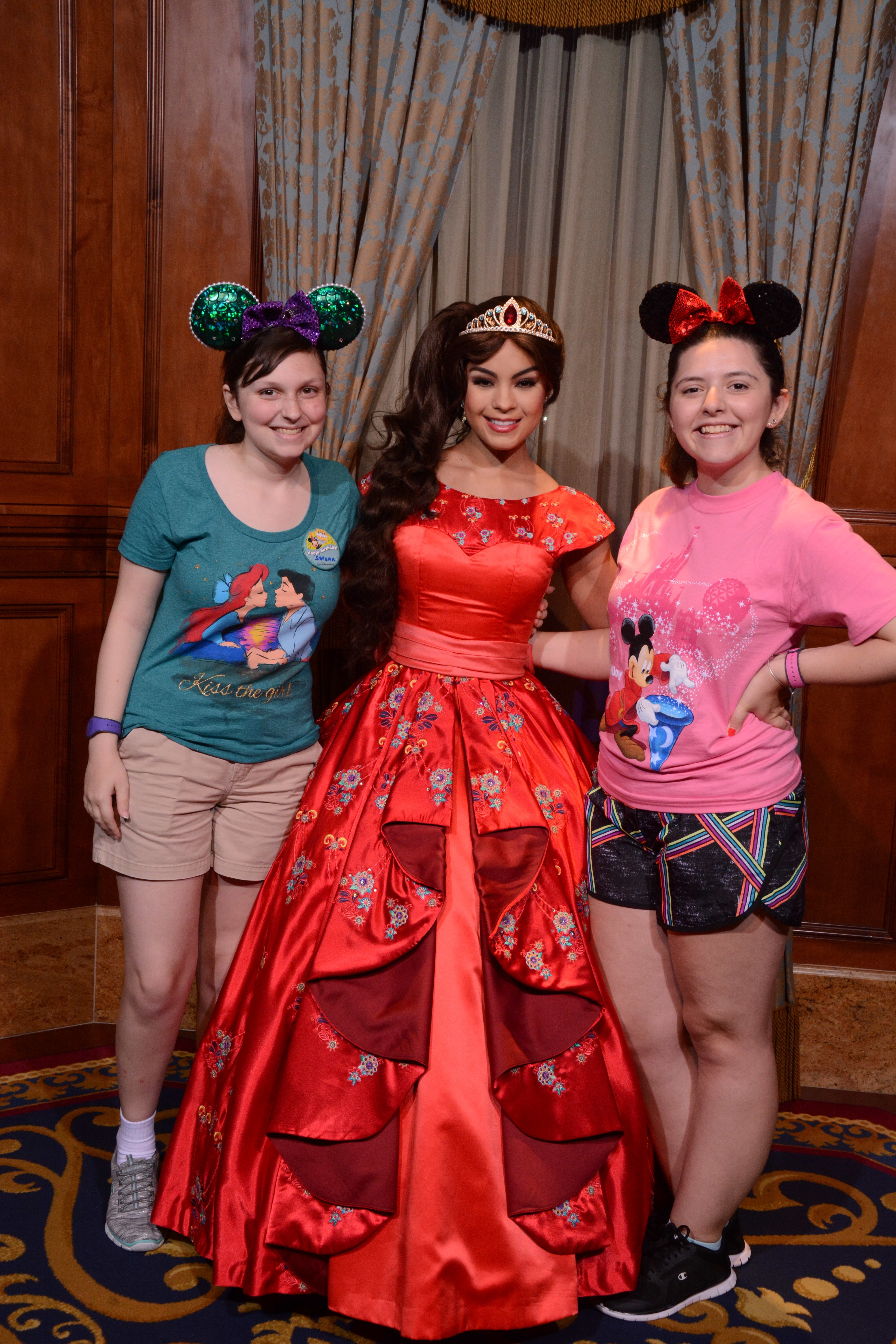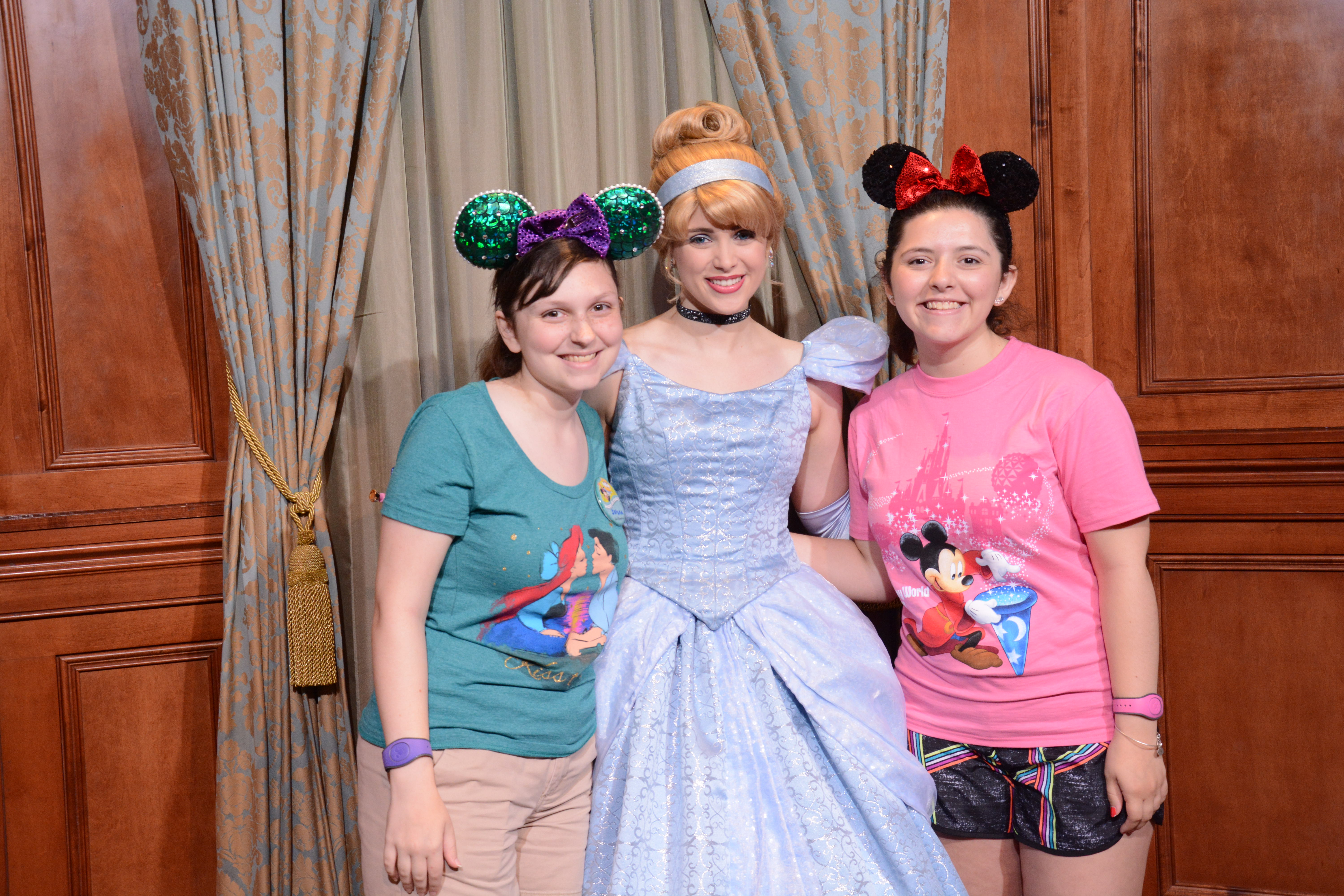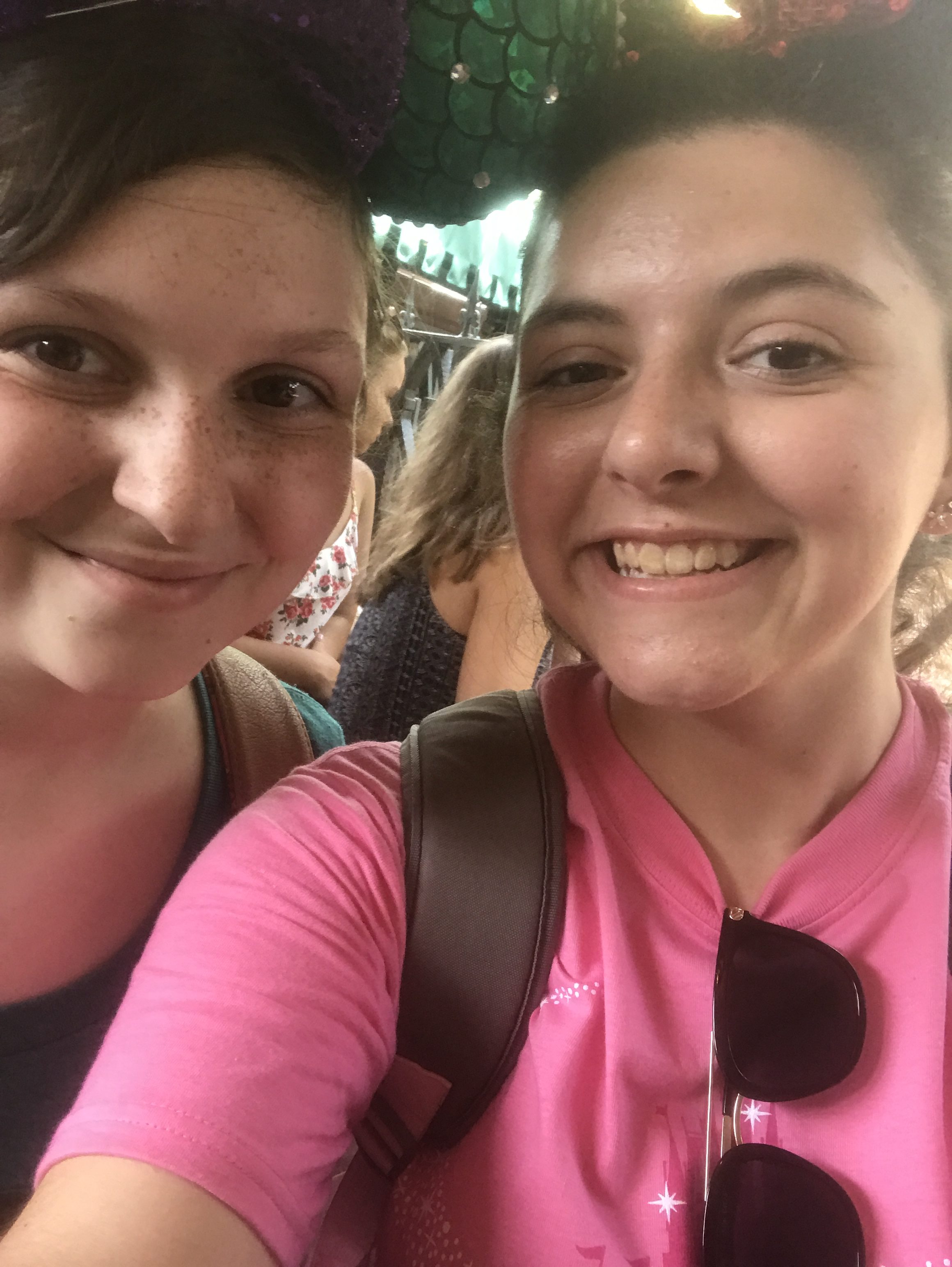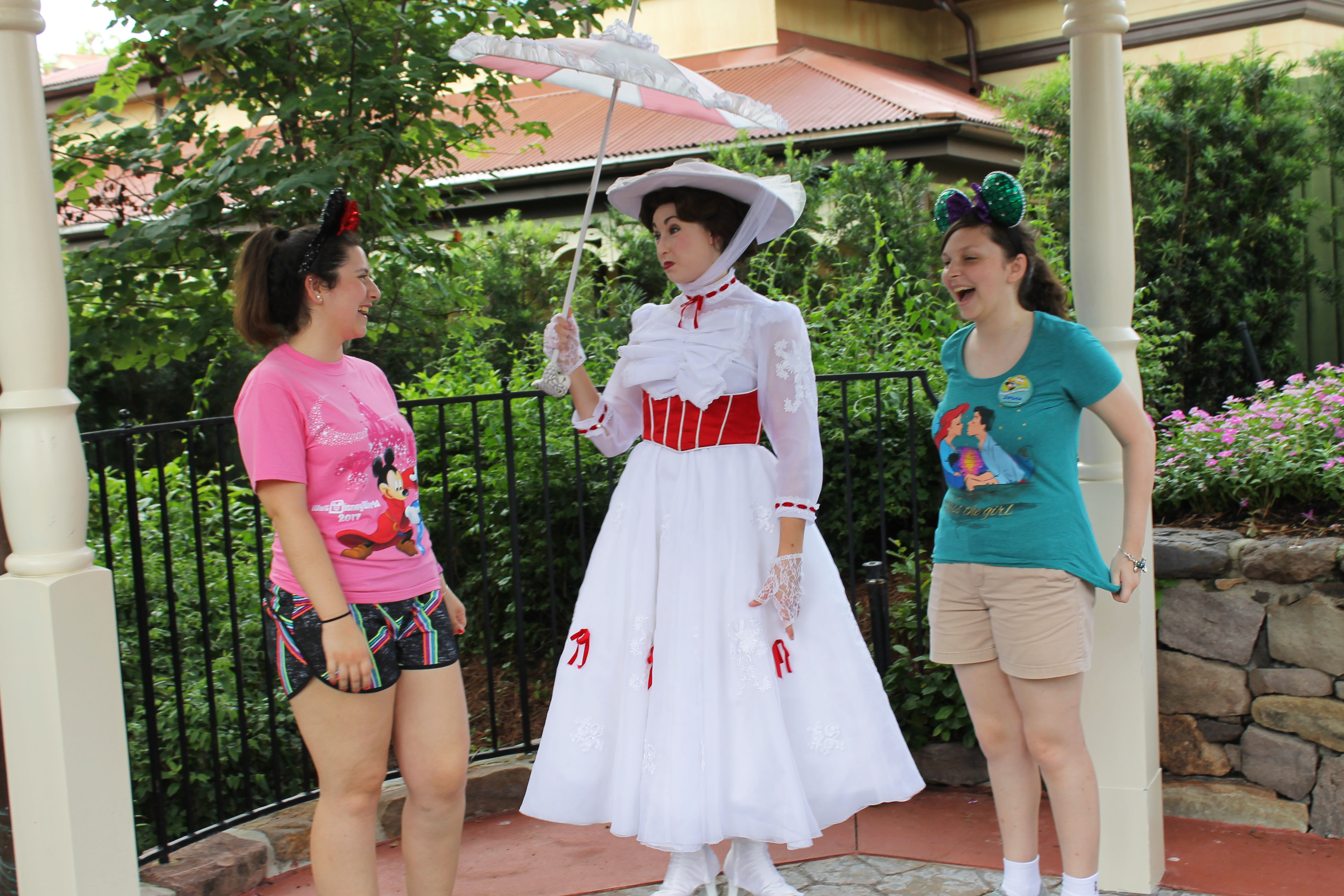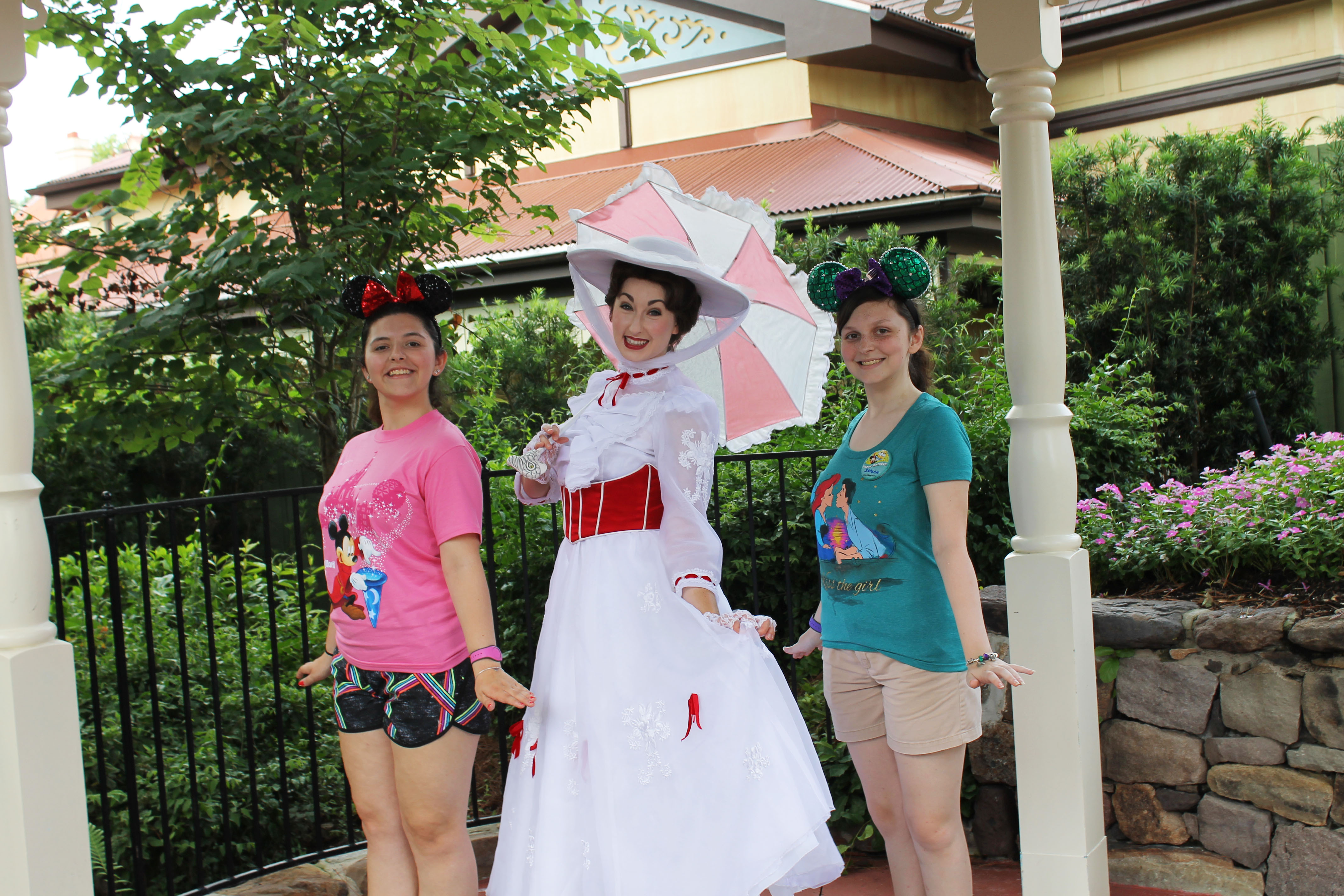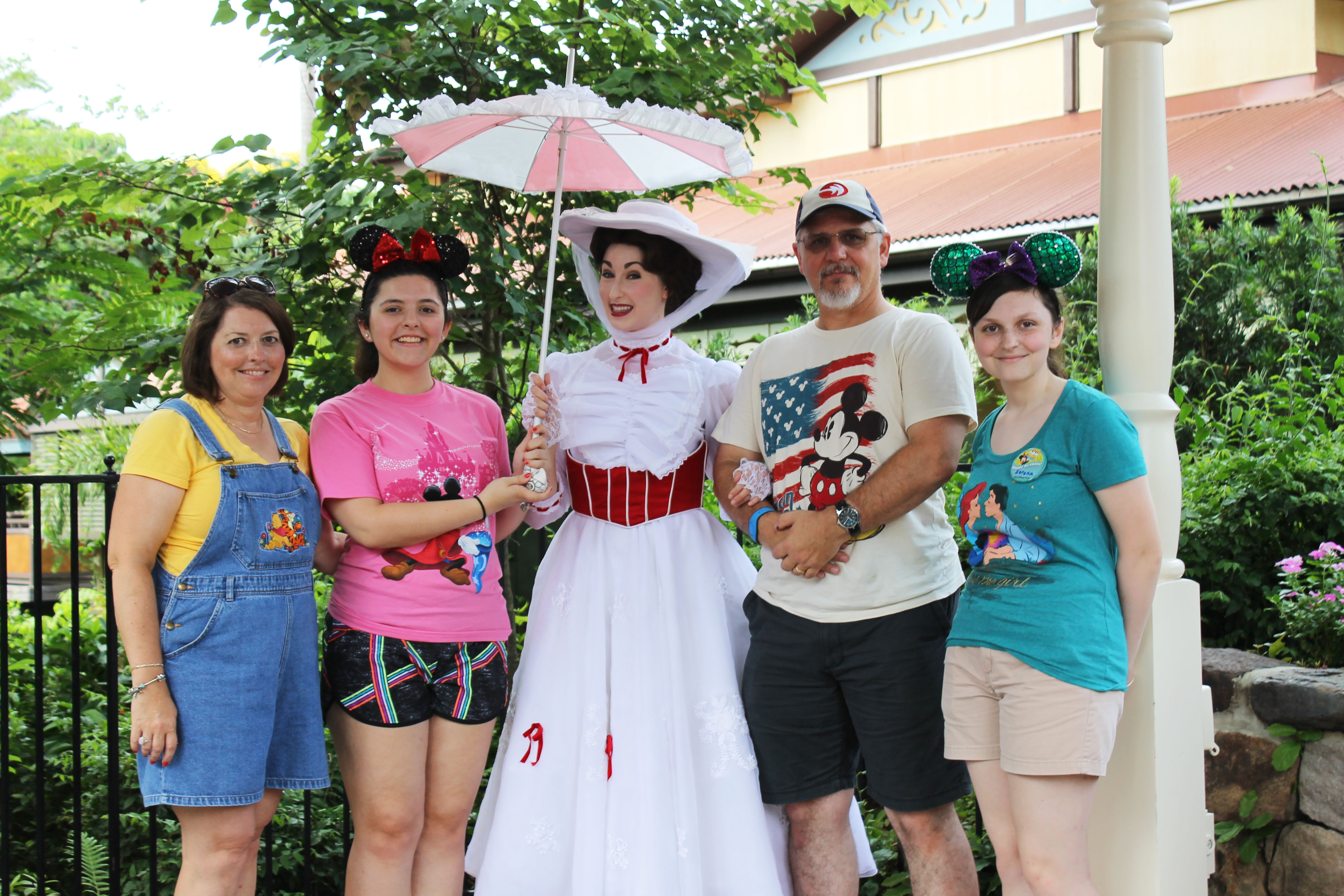 We just so happened to bump into Mary Poppins! She was hidden away in a little gazebo kind of in Liberty Square. She's a favorite of ours, and especially my dad's favorite, and meeting her was practically perfect in every way! She asked about our favorite part in the film and had us pose like penguins! She also let me hold the handle of her parasol and I felt very honored!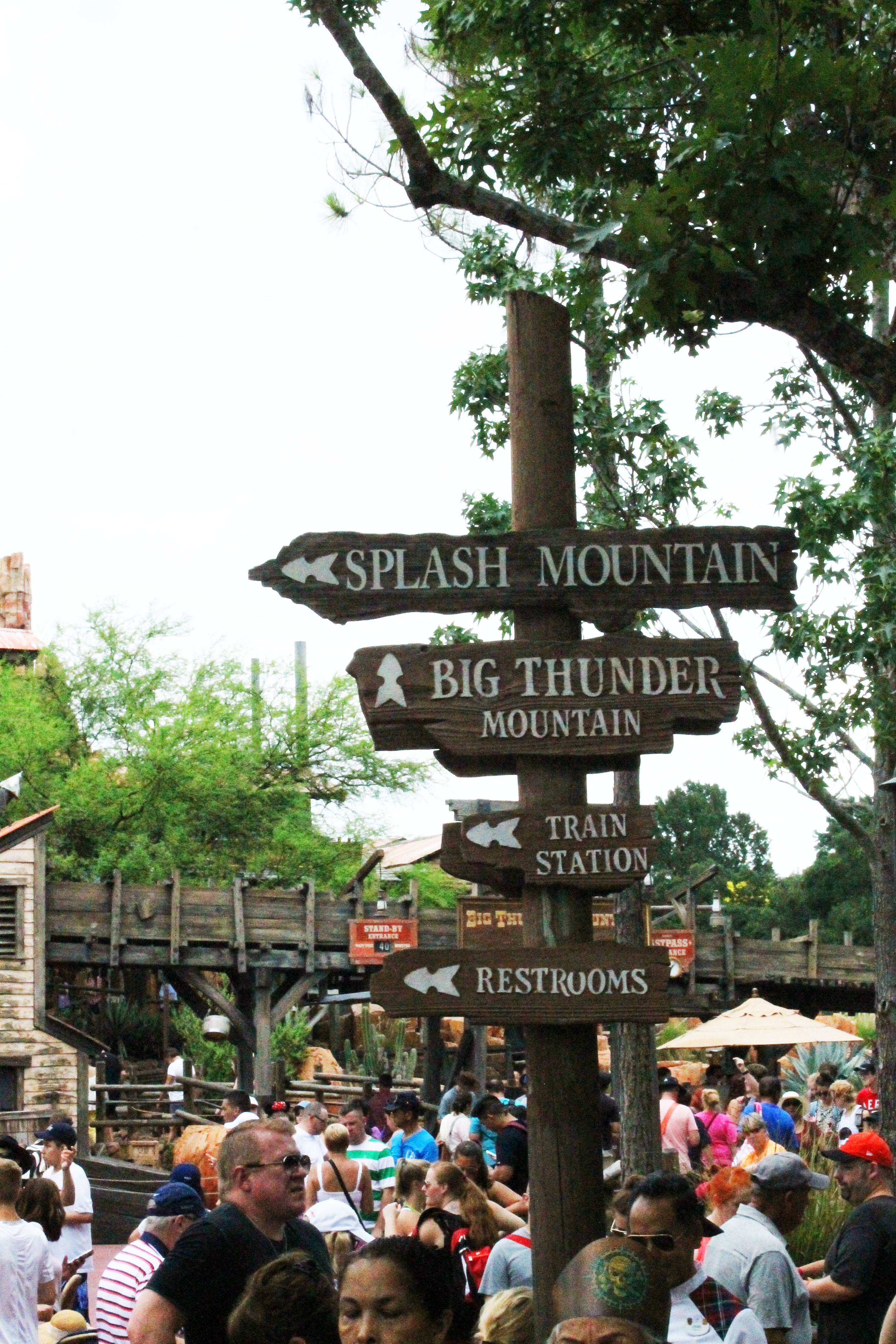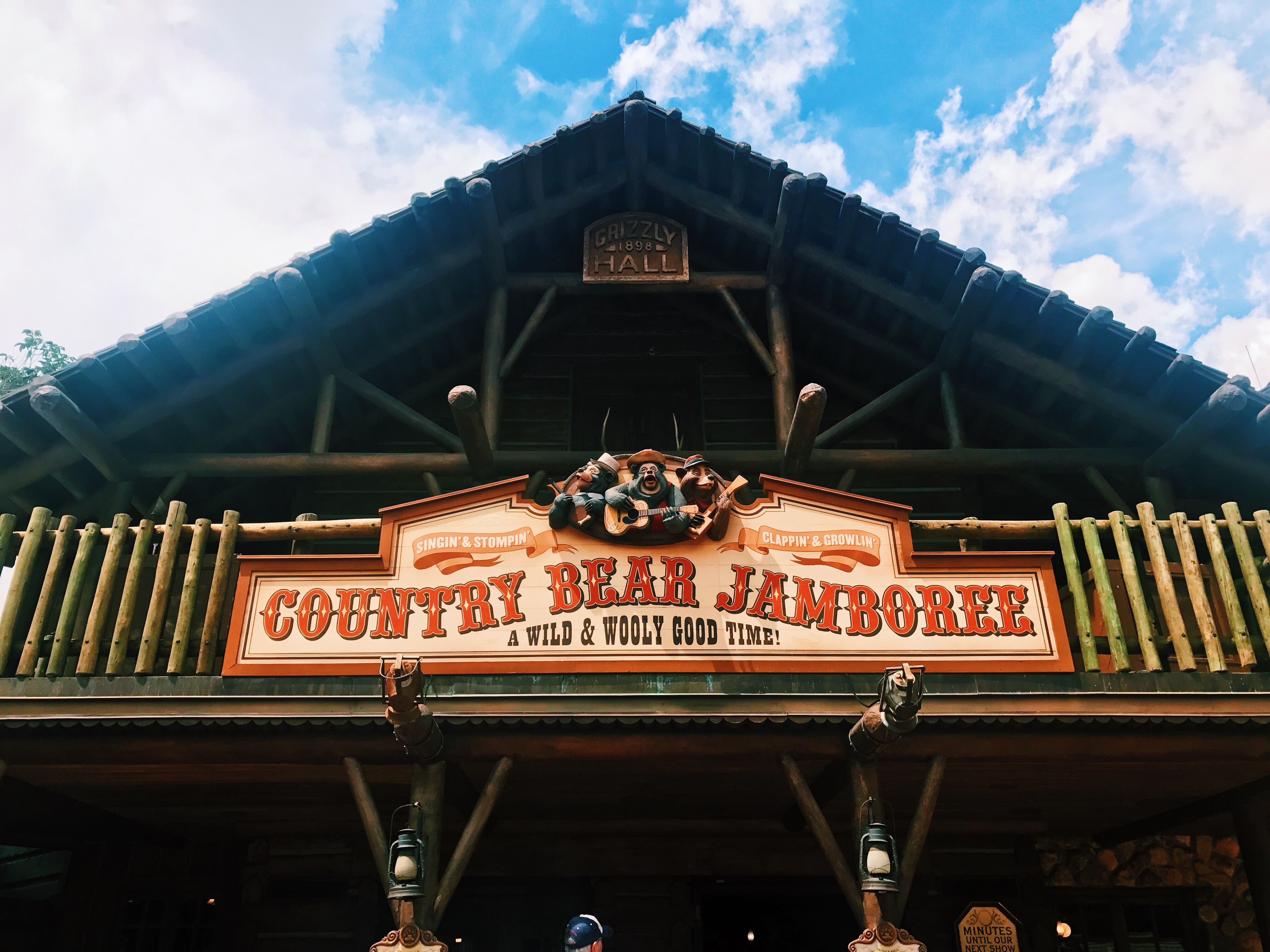 We headed over to Frontierland and watched the Country Bear Jamboree! A lot of people may think this attraction isn't the best but my sister and I loved it as a kid AND my parents loved it as a kid! So it's kind of a nostalgic favorite for our family! And apparently, a lot of other families because our showing was packed out with full smiles and laughs! We also rode Big Thunder Mountain Railroad, which I loveeeee!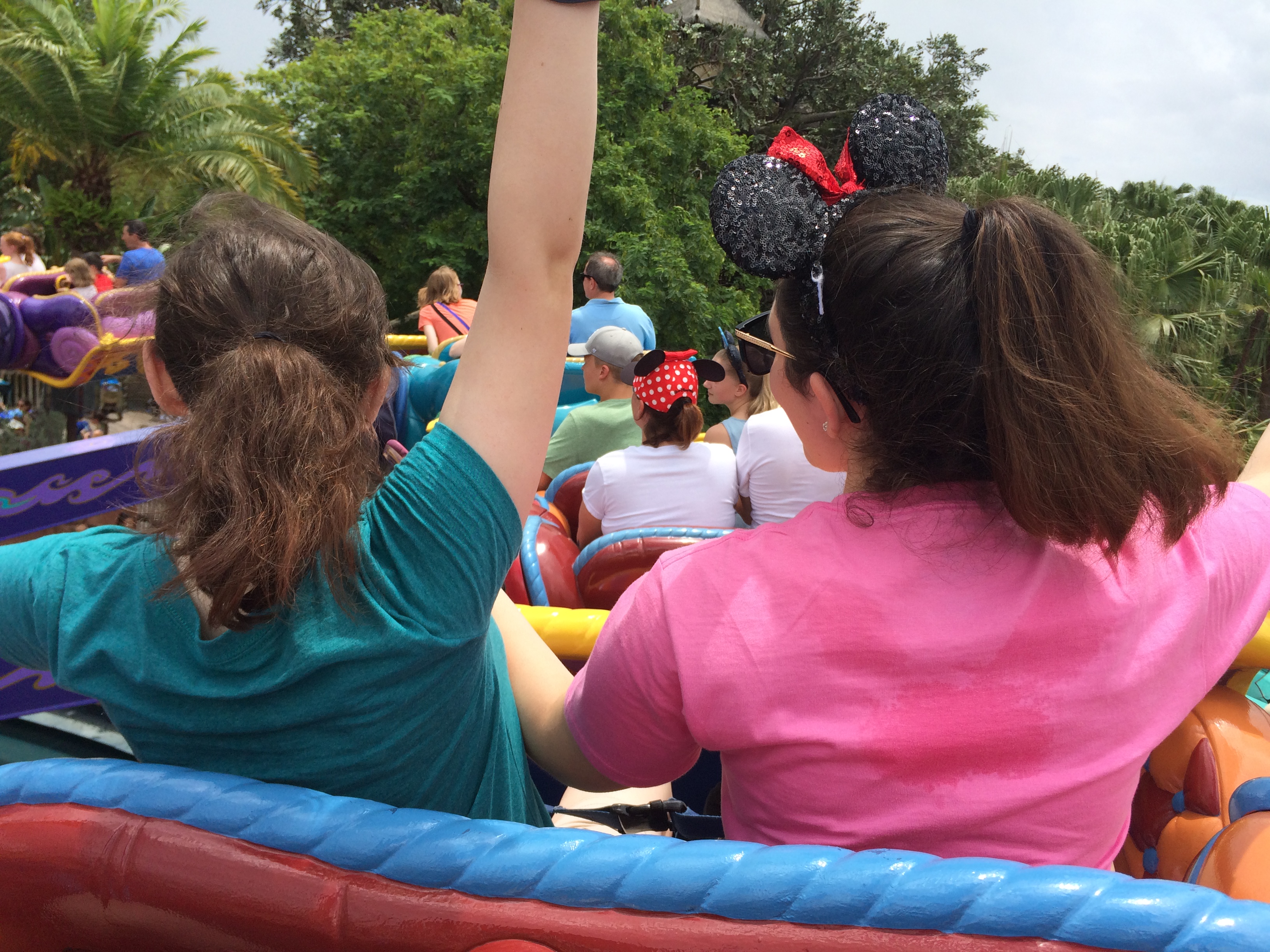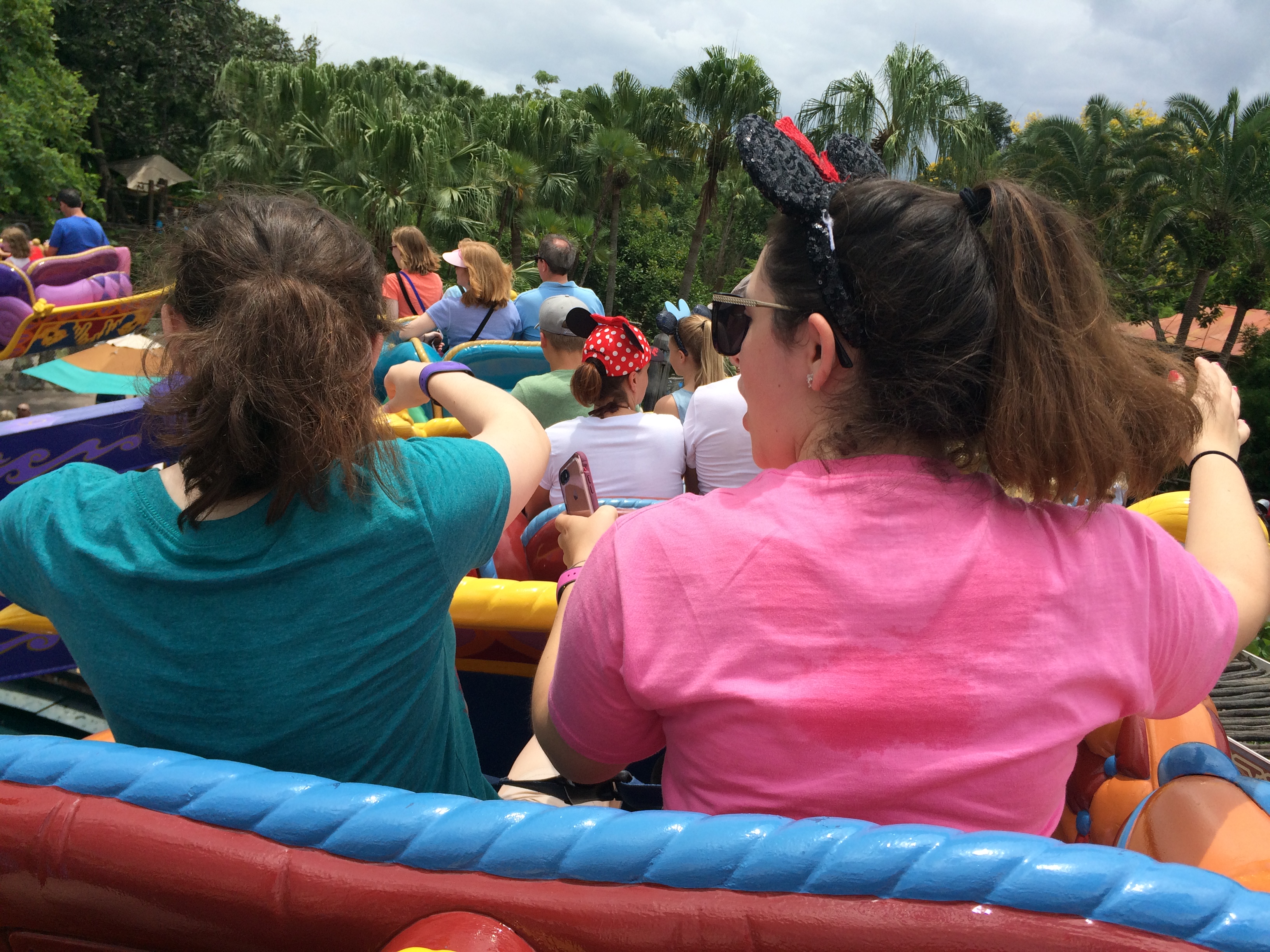 We tried to get in line to meet Aladdin and Jasmine but they cut off the line and gave us a time to come back. So we got on the Magic Carpet ride with the spitting camel and had soooo much fun! It looked like it was about to rain so we decided to go to the Tiki Room.  This used to be my Nana's favorite so we go as a tribute to her (and its so cute and cheesy!). After the Tiki Room, it had stopped raining. We tried to get in line again but they cut it off AGAIN. Y'all Aladdin and Jasmine are pretty popular! So we rode the Jungle Cruise, which I thought was hilarious! When I was little the jokes kind of went over my head but I laughed the whole time this year!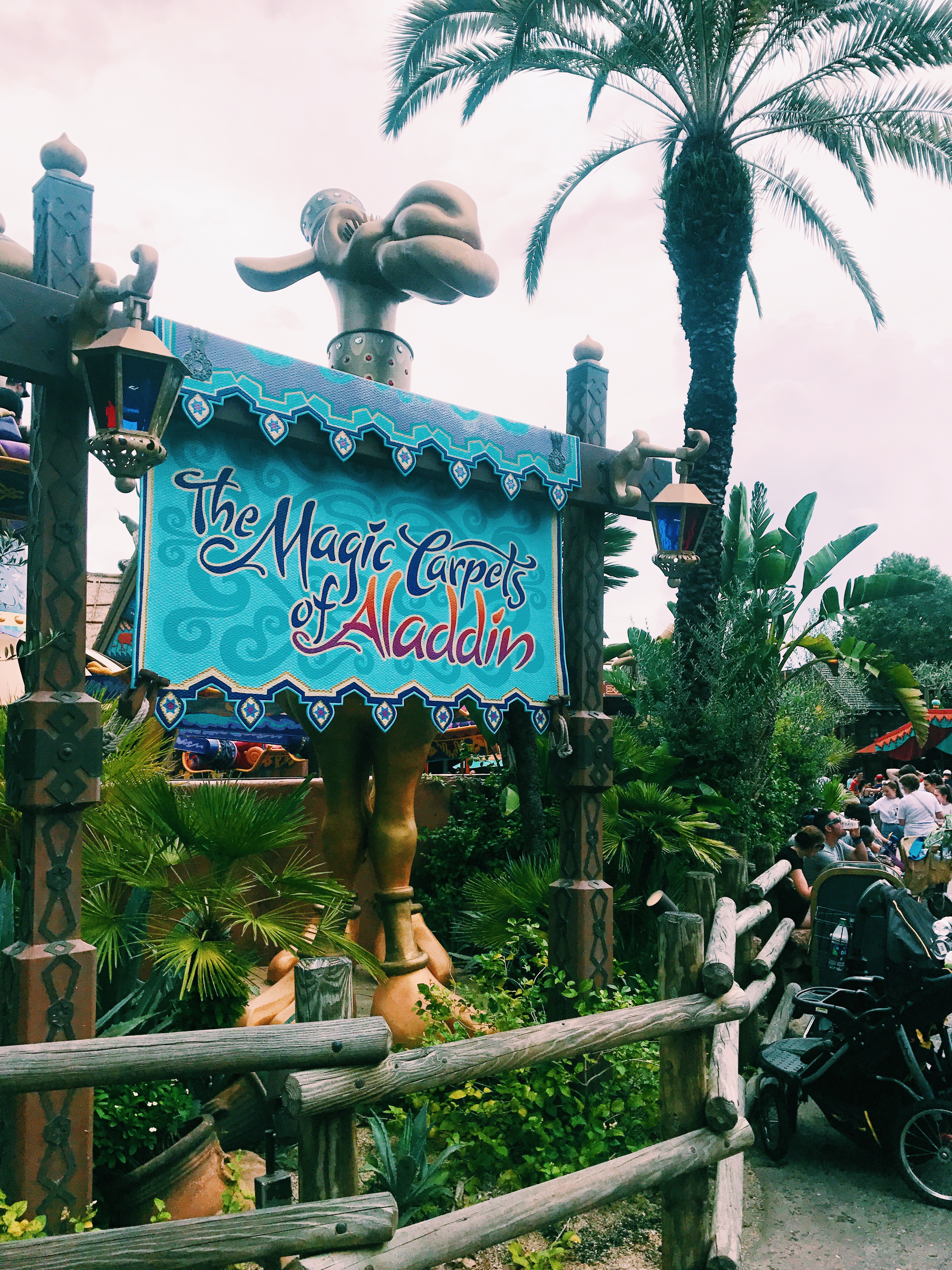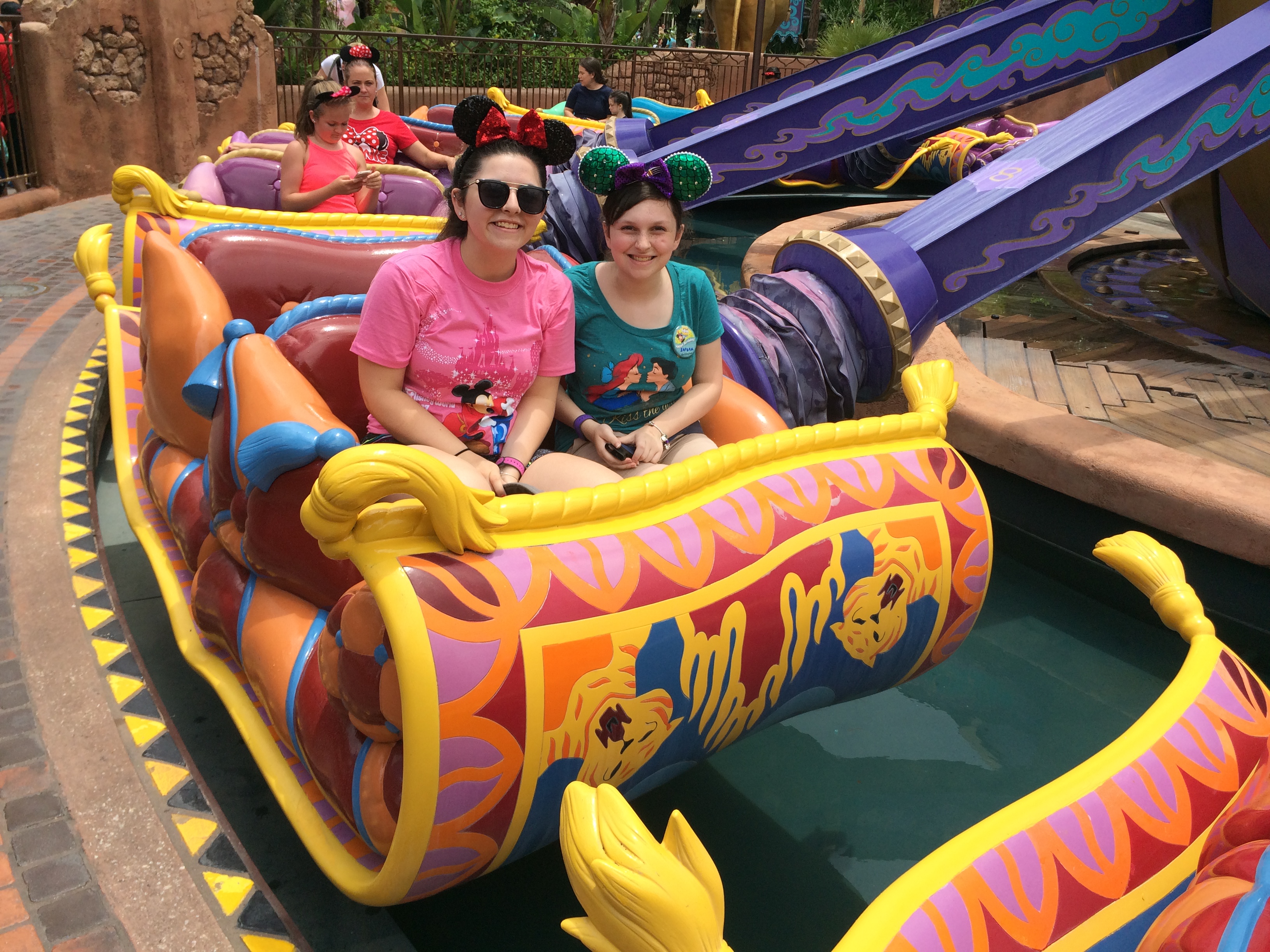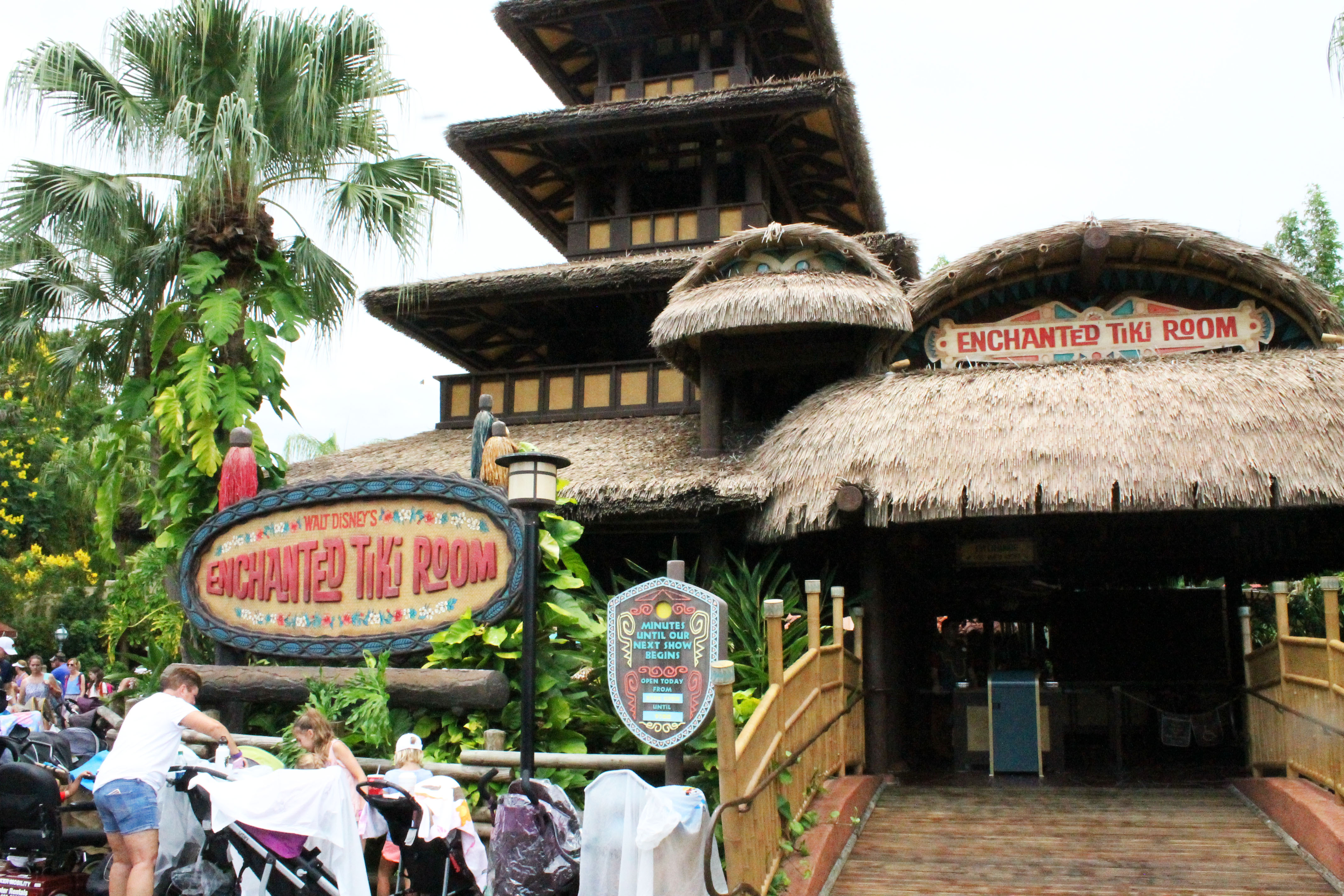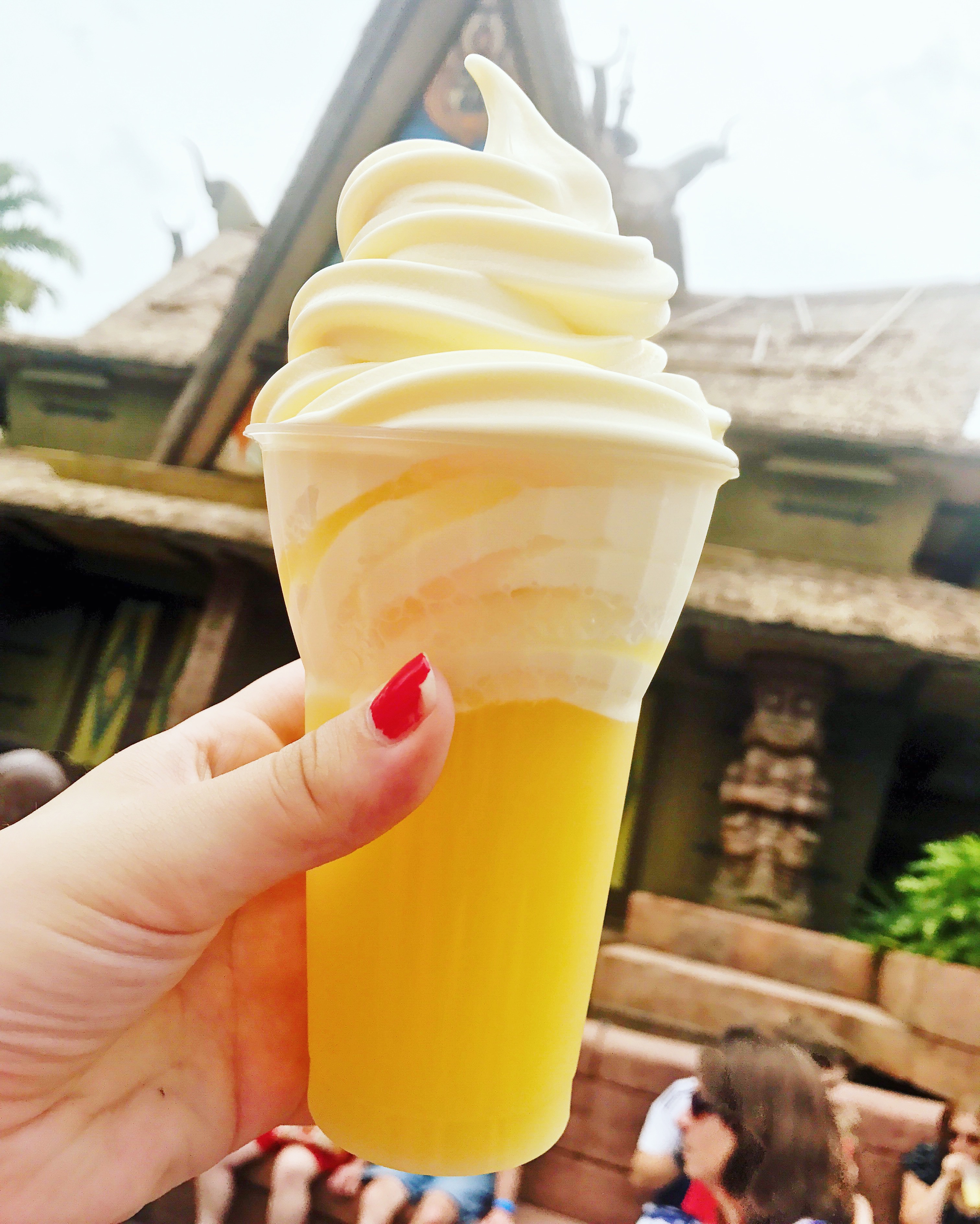 We decided it was time for a little break so I tried my very first Dole Whip!! It definitely lived up to the hype! Yet again, I'm craving one right now while I'm typing this! My dad and Serena still wanted to sit for a little while so Mom and I went over to watch the Festival of Fantasy parade!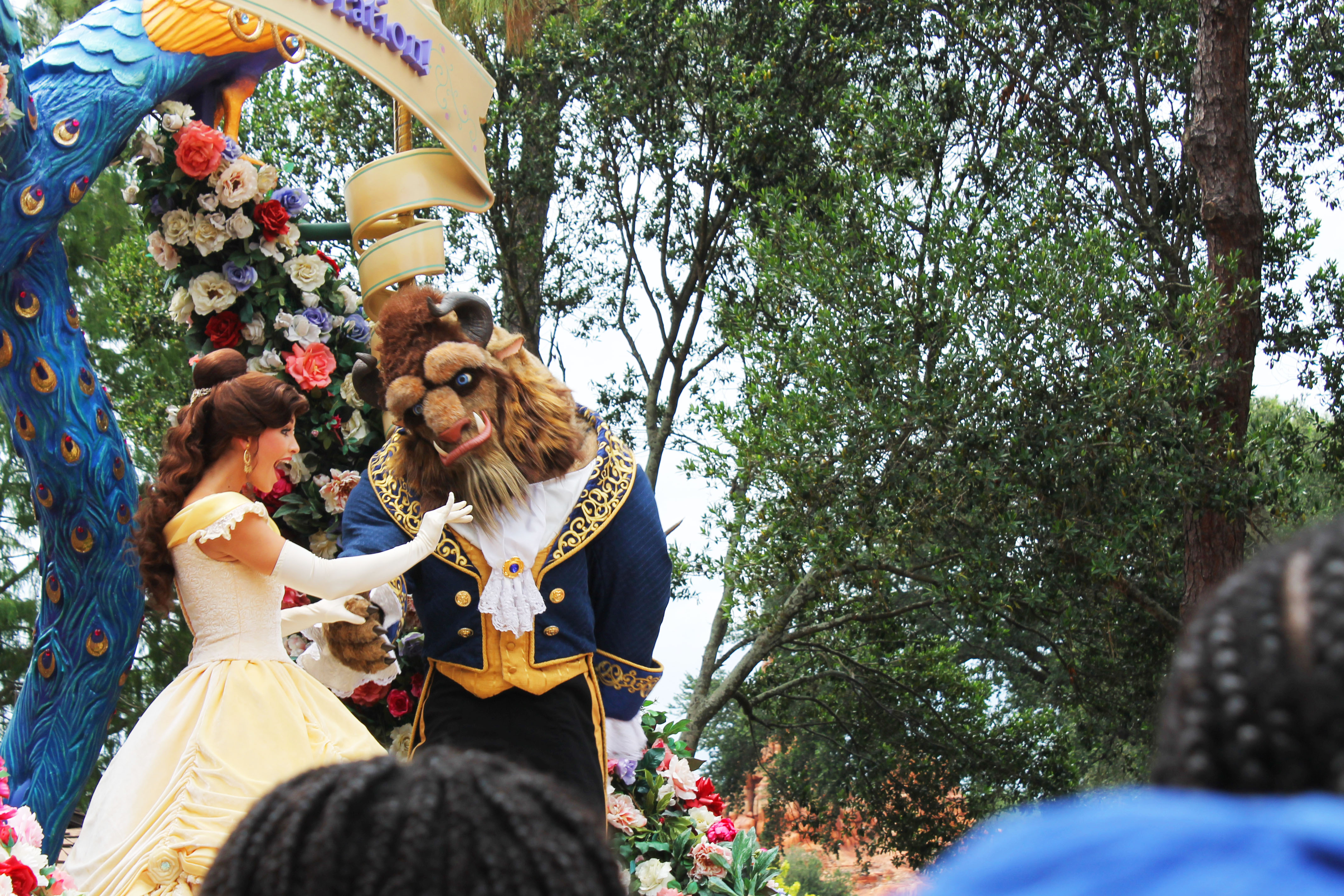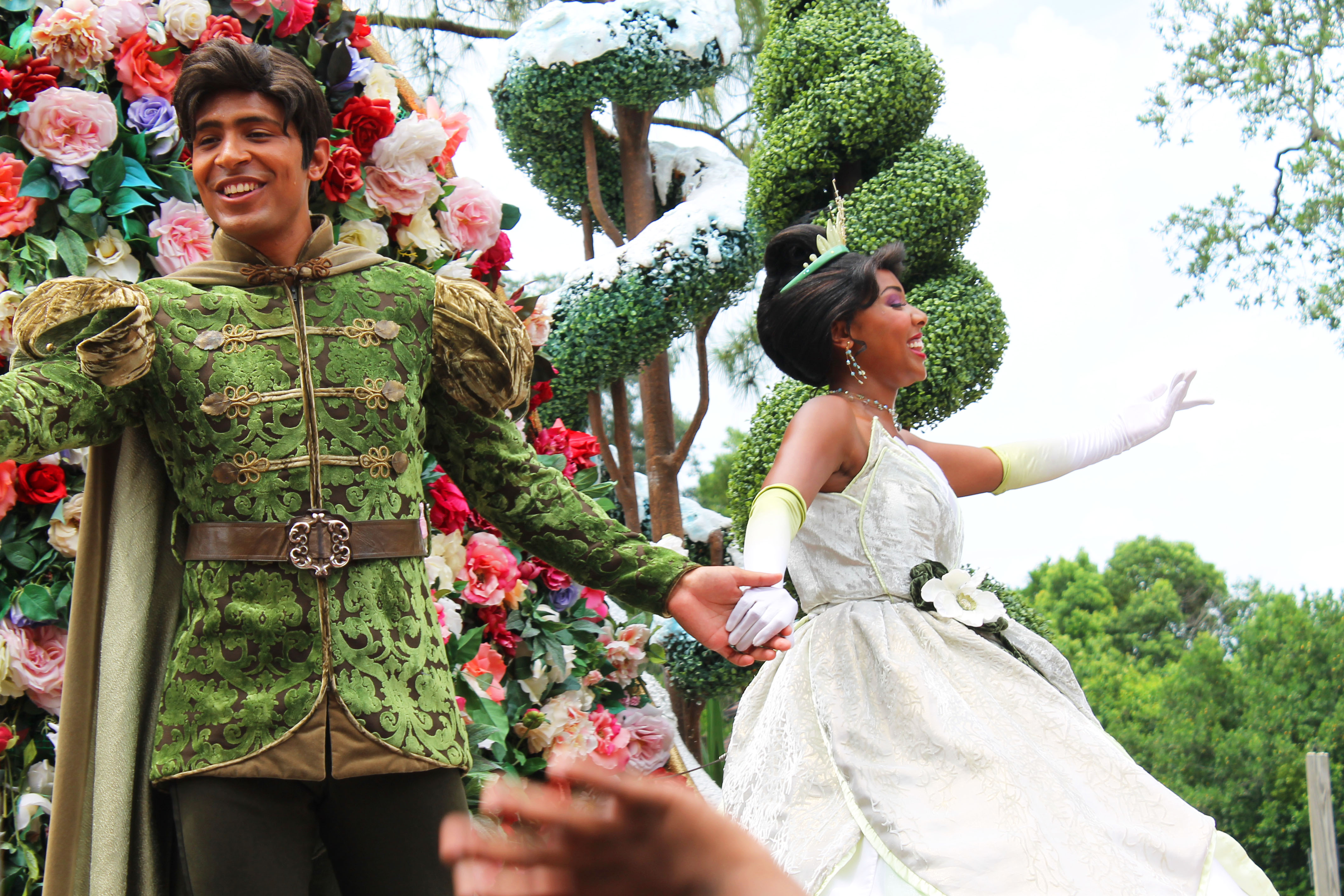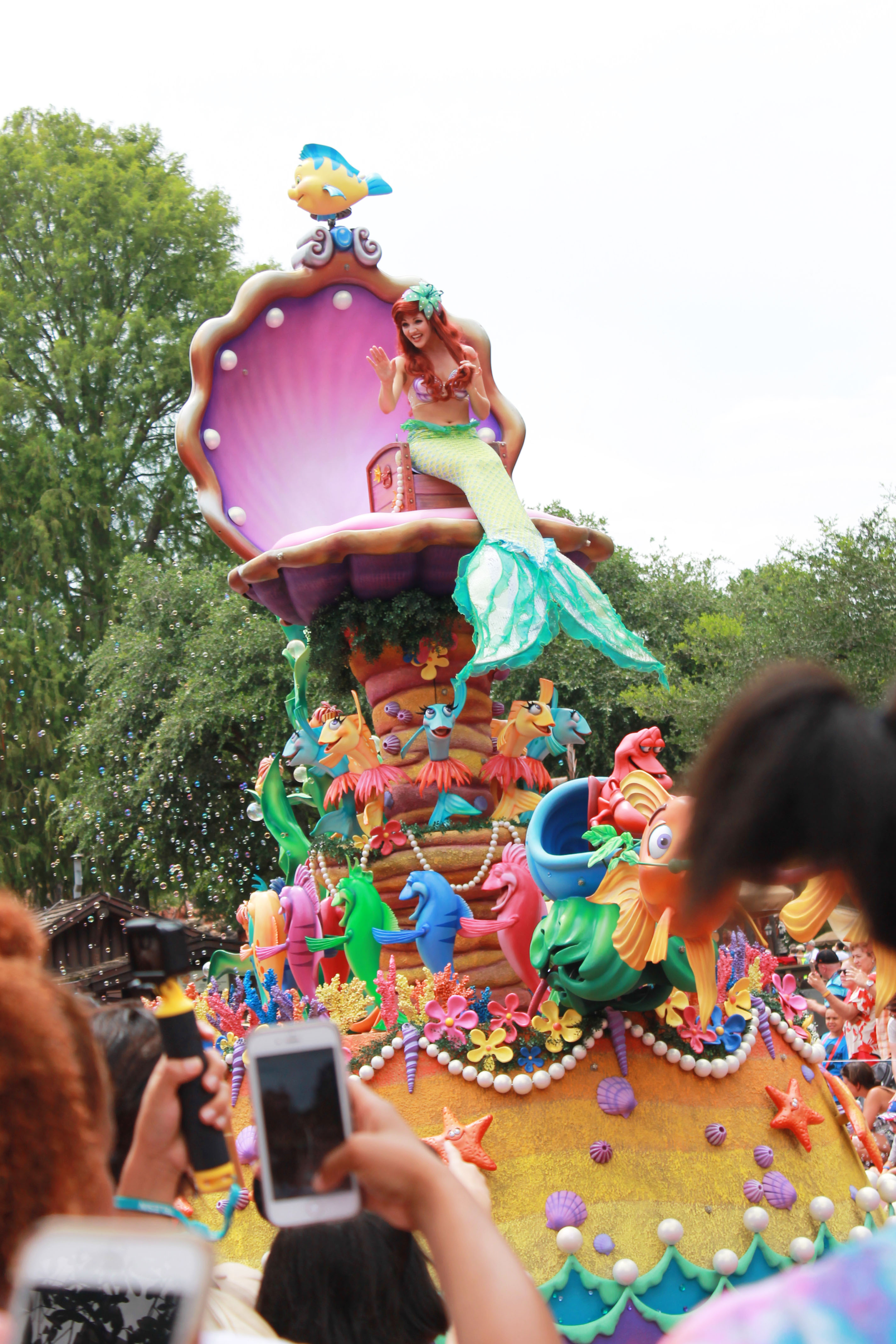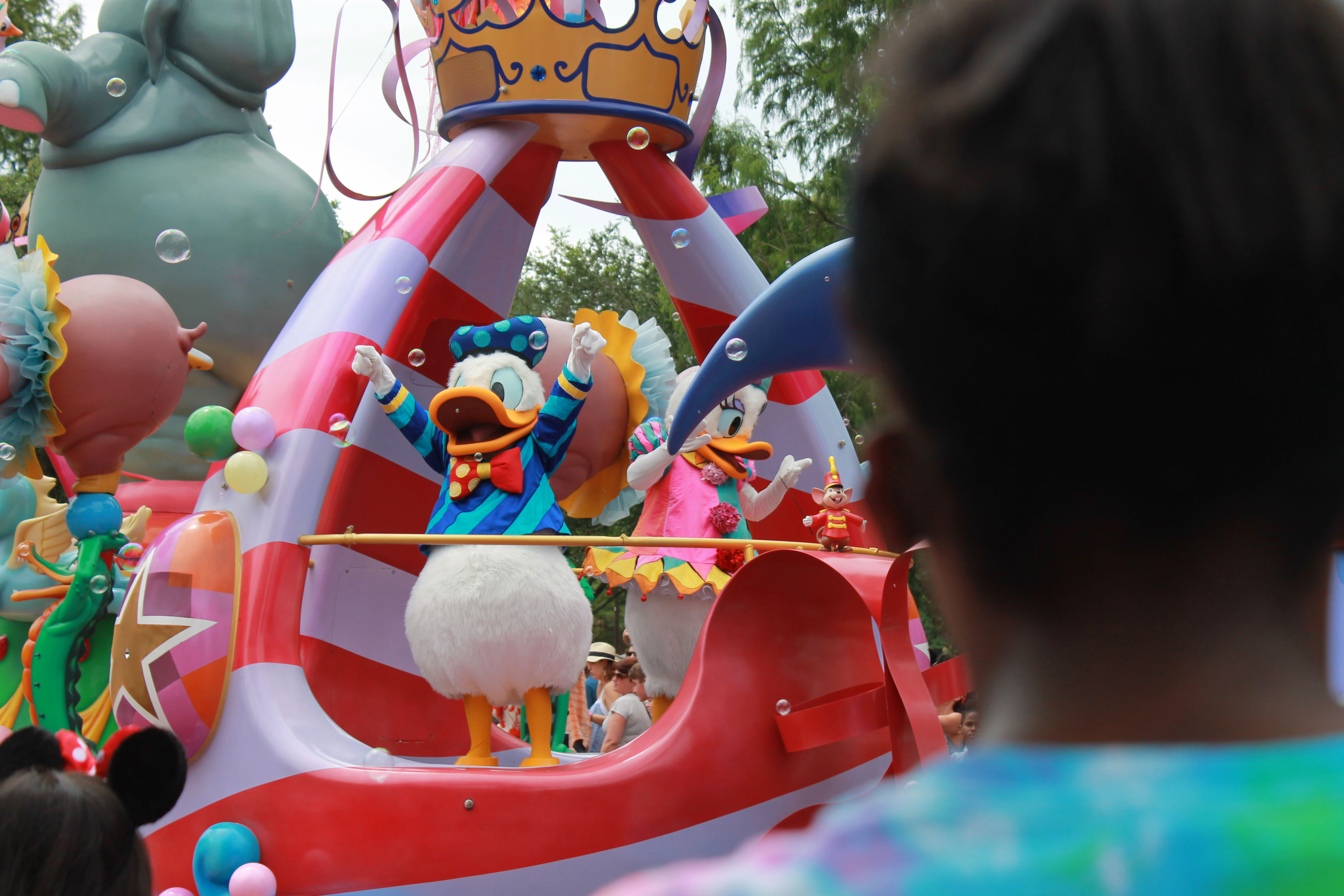 (shoutout to mom who took all of these parade pics because I was taking video!)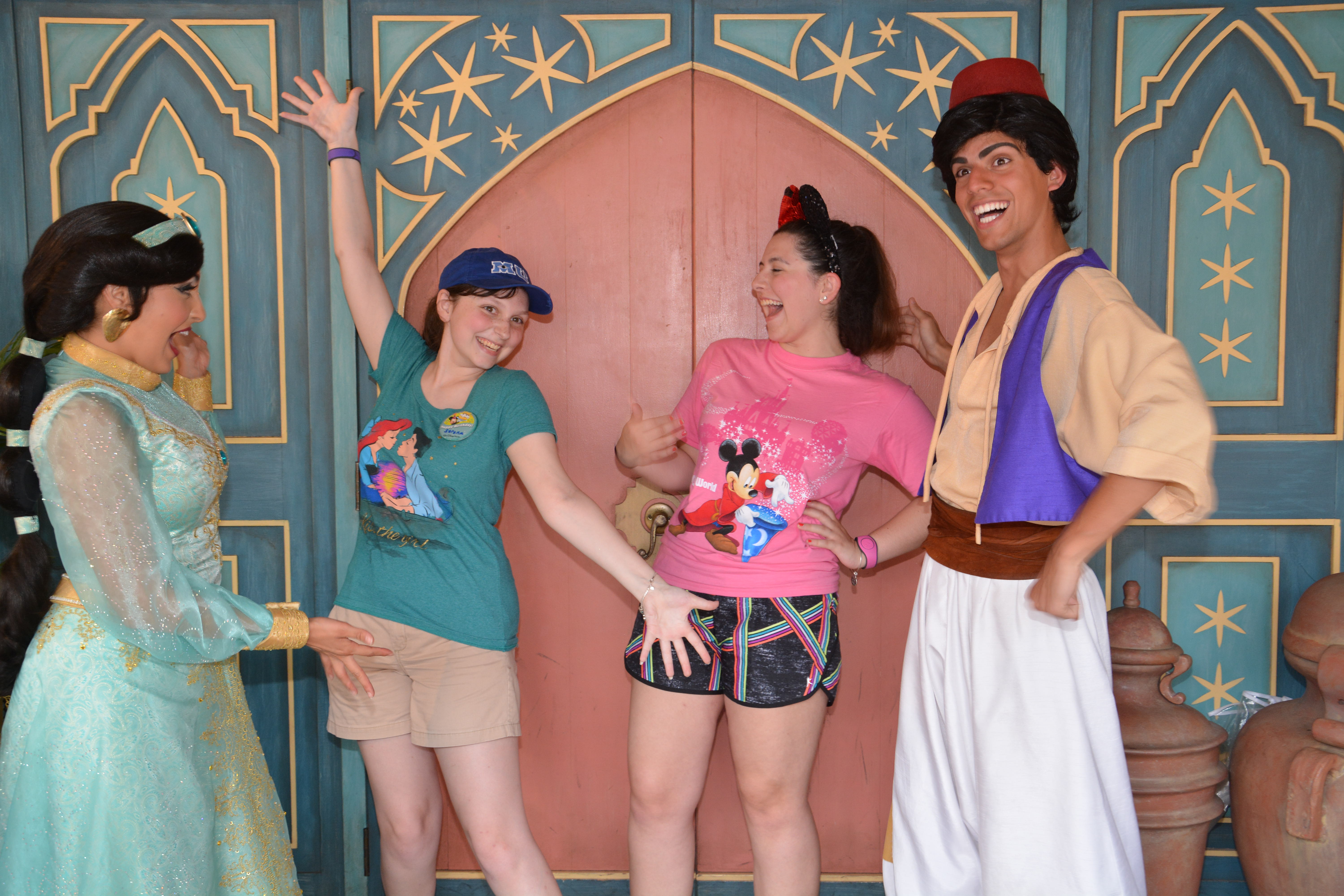 One of my absolute favorite shots from the whole trip! We finally met Jasmine and Aladdin! They were wonderful and Serena is the most hilarious person I know! Thank goodness or we wouldn't get fun pictures like this!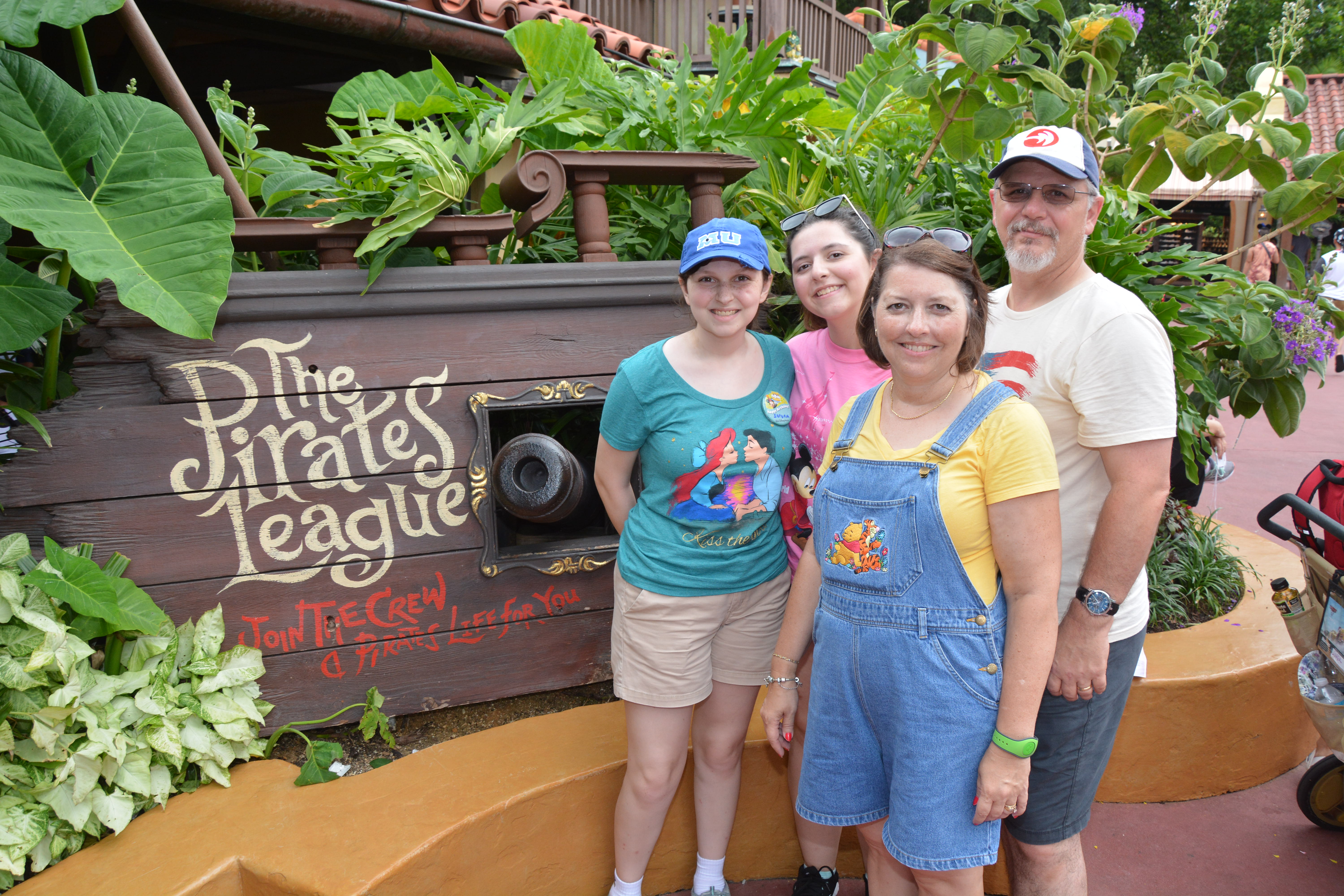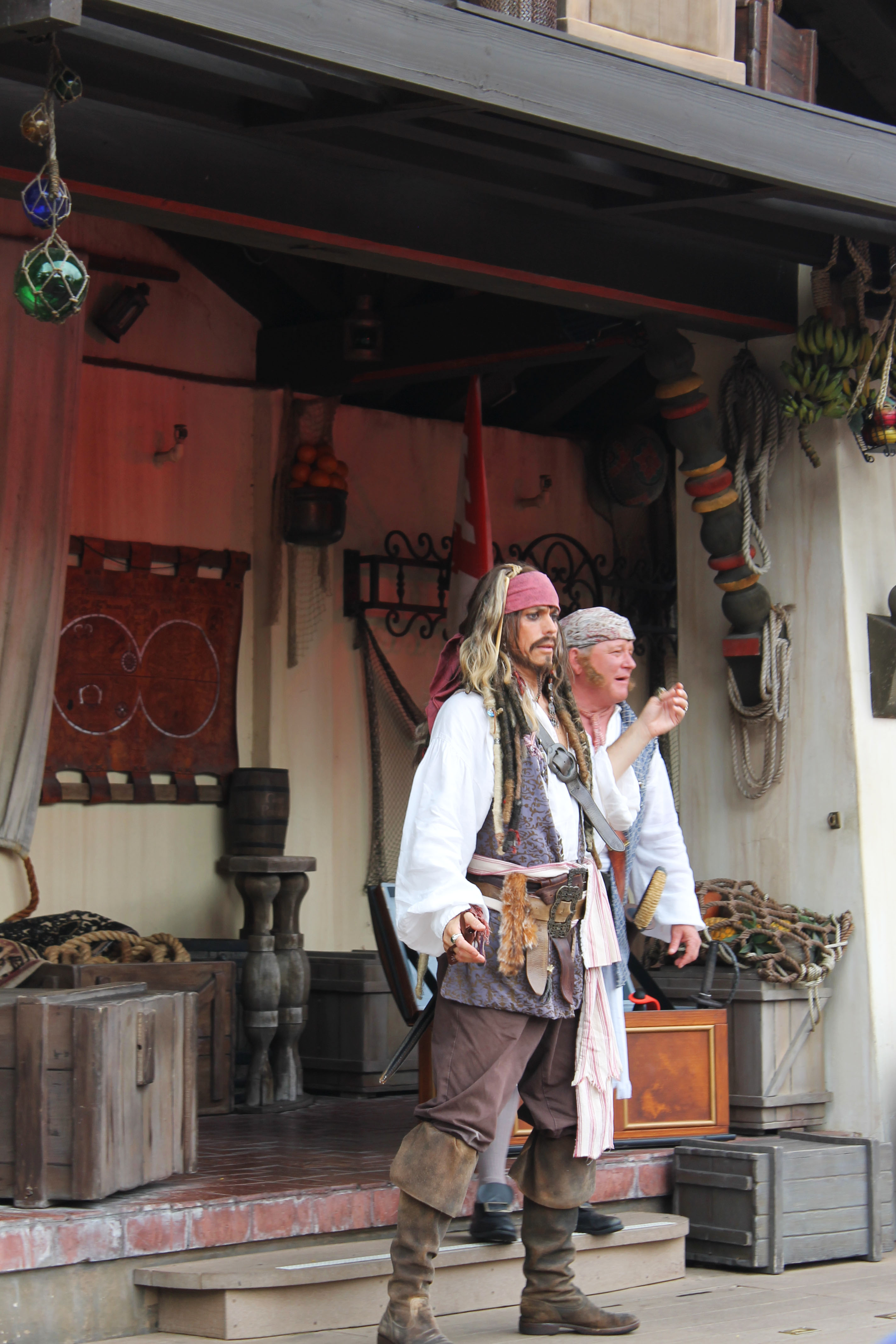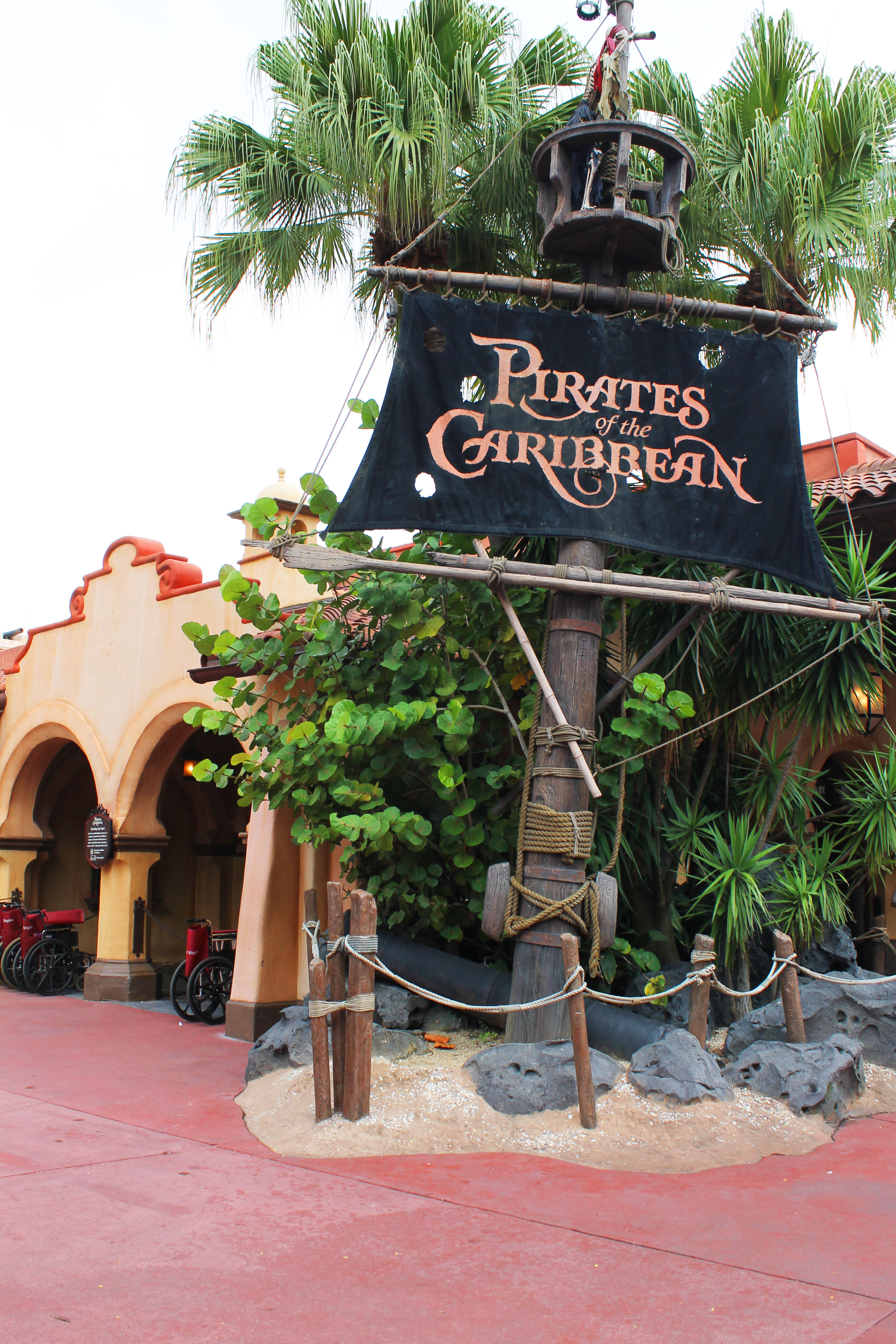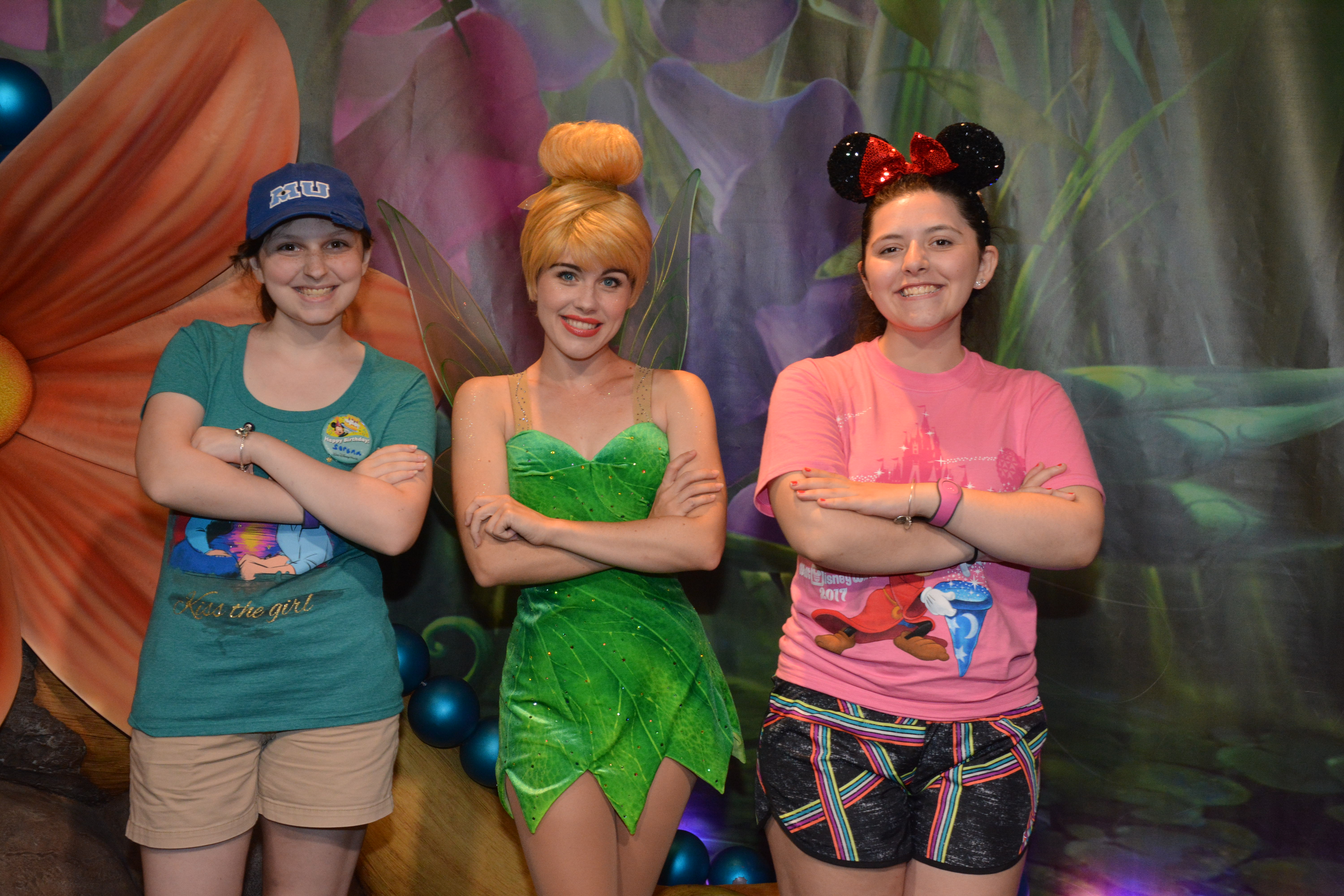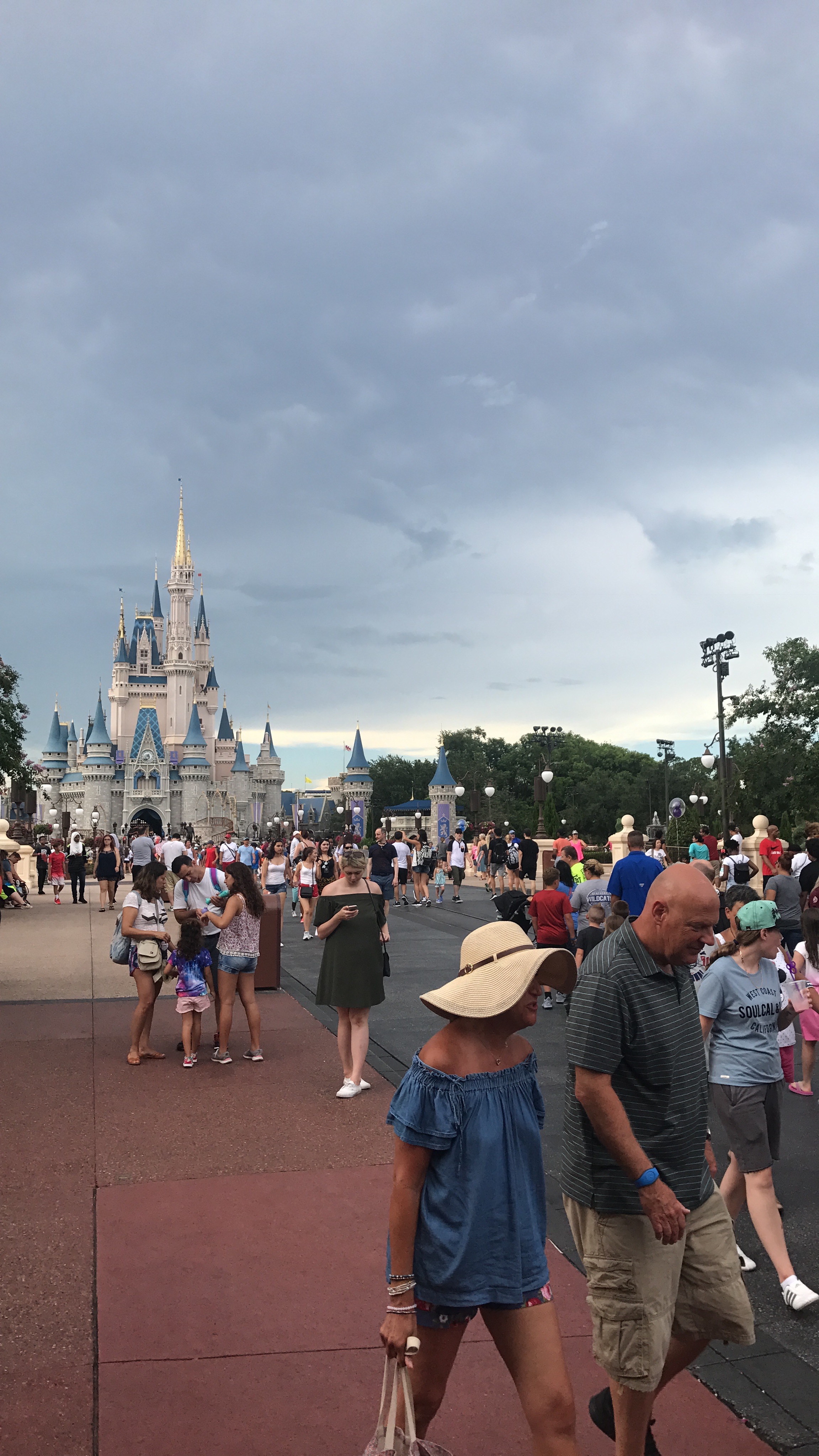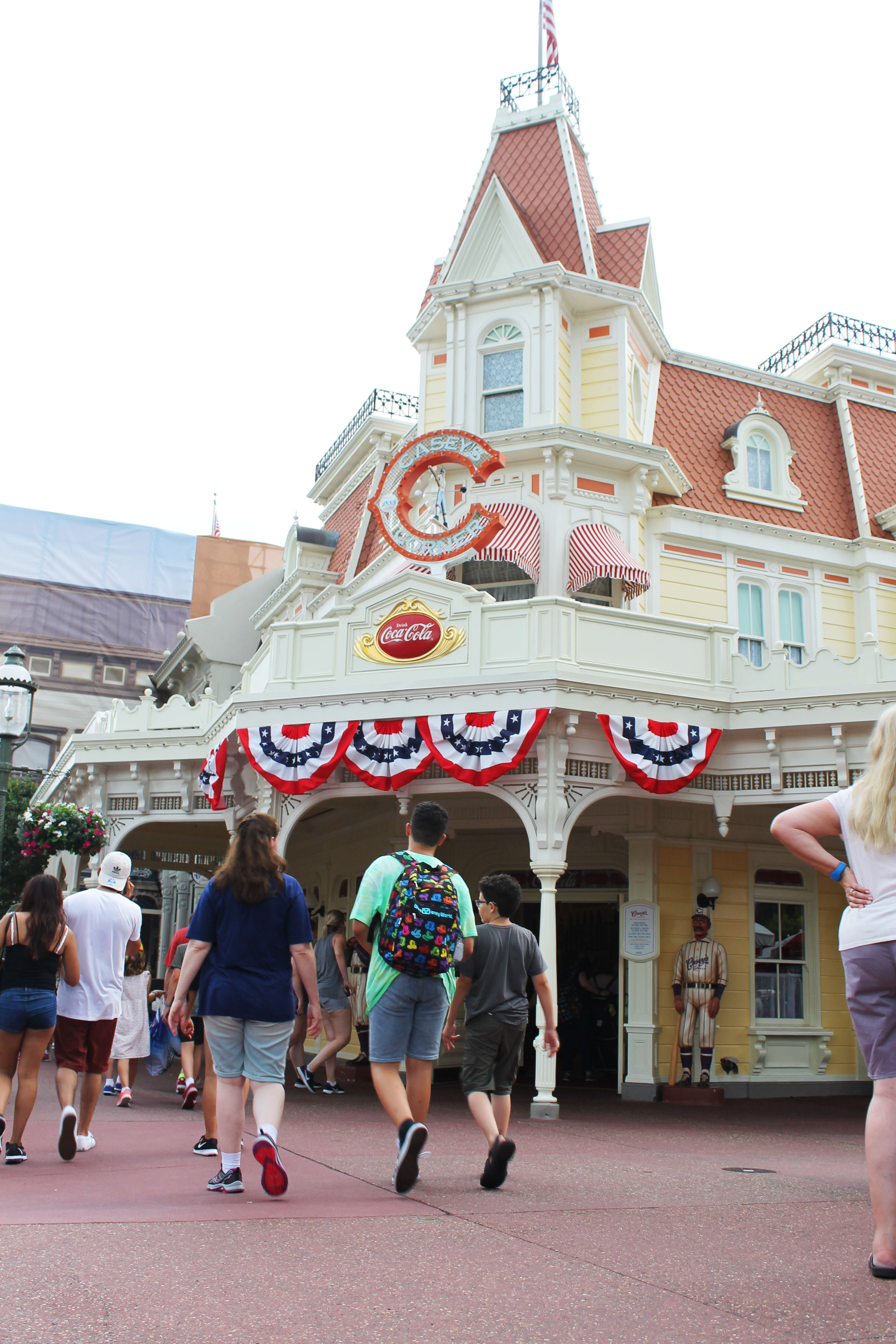 Now, to be honest, at this point it was getting deeper into the evening and I was becoming somewhat emotional because I really just didn't want to leave. So we kind of took a break to soak everything in on Main Street, got some good food at Casey's Corner, and picked our spot for the fireworks. Since on the first day we couldn't really see, I was really serious about our spot this time!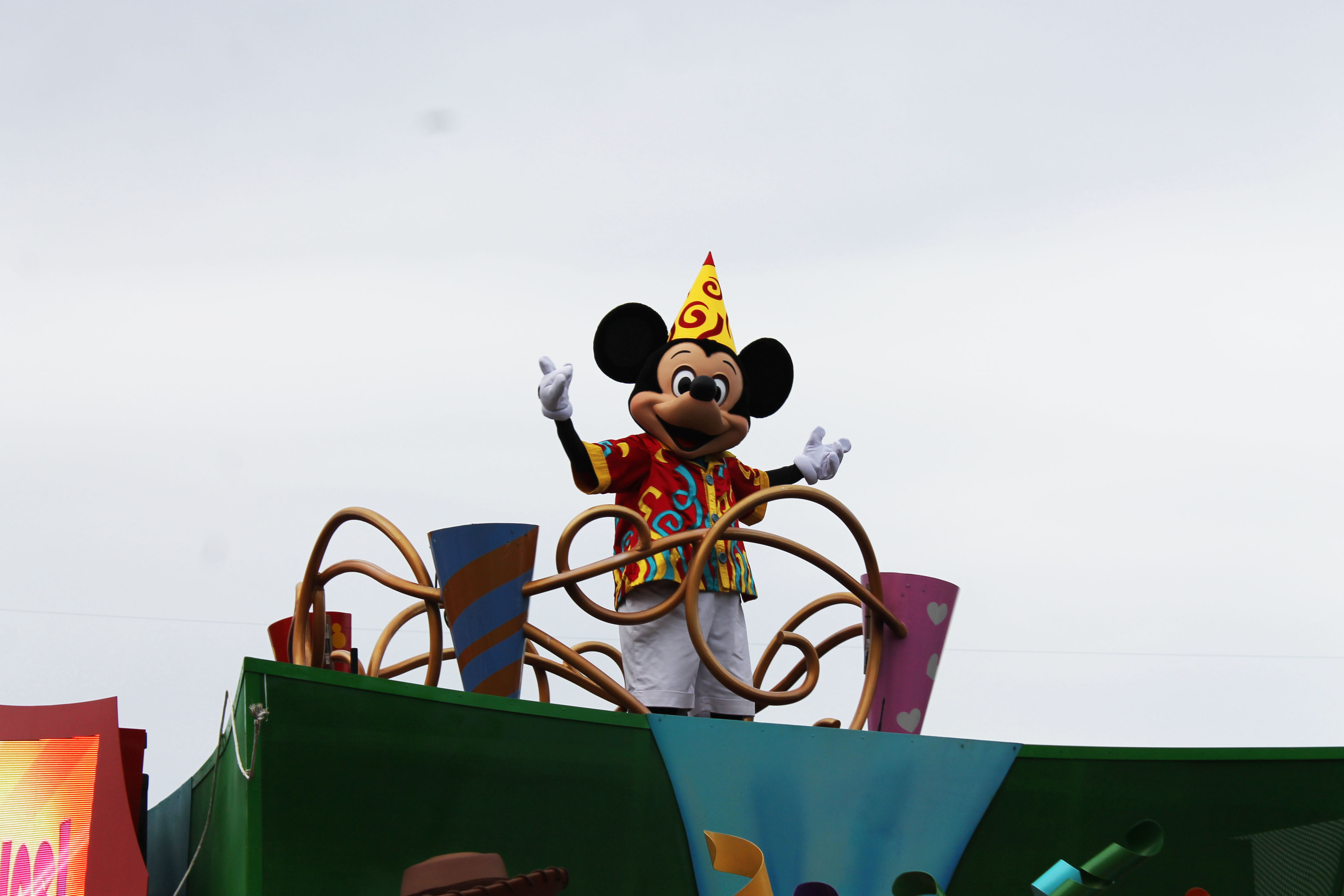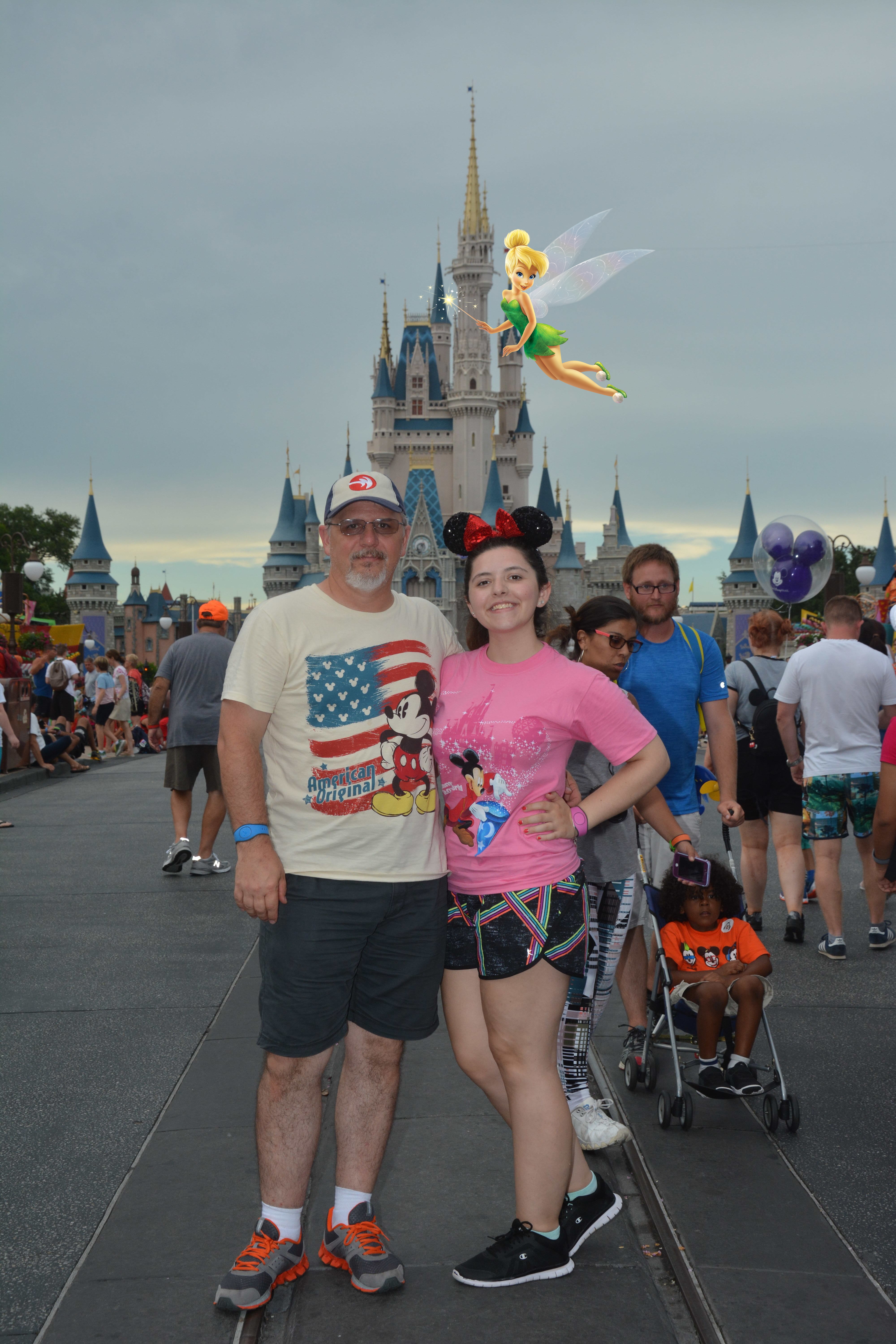 The Move It and Shake It Party passed through and then we all just hungout and took pictures!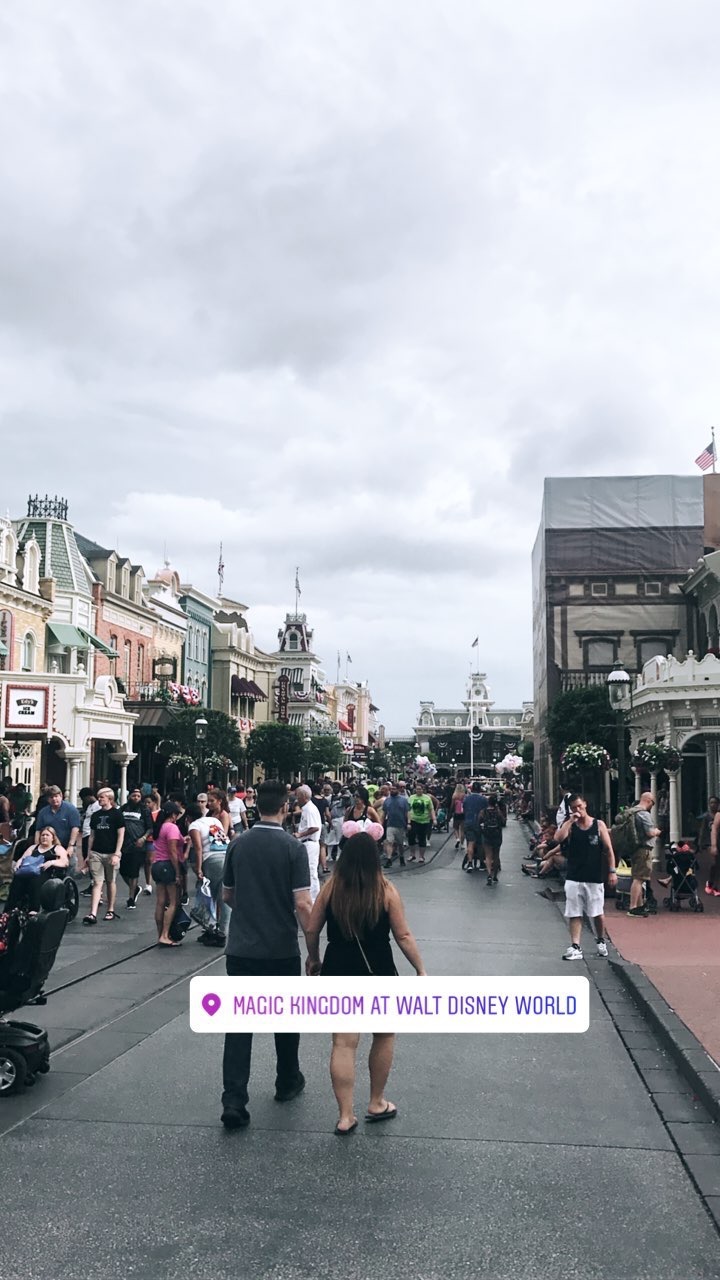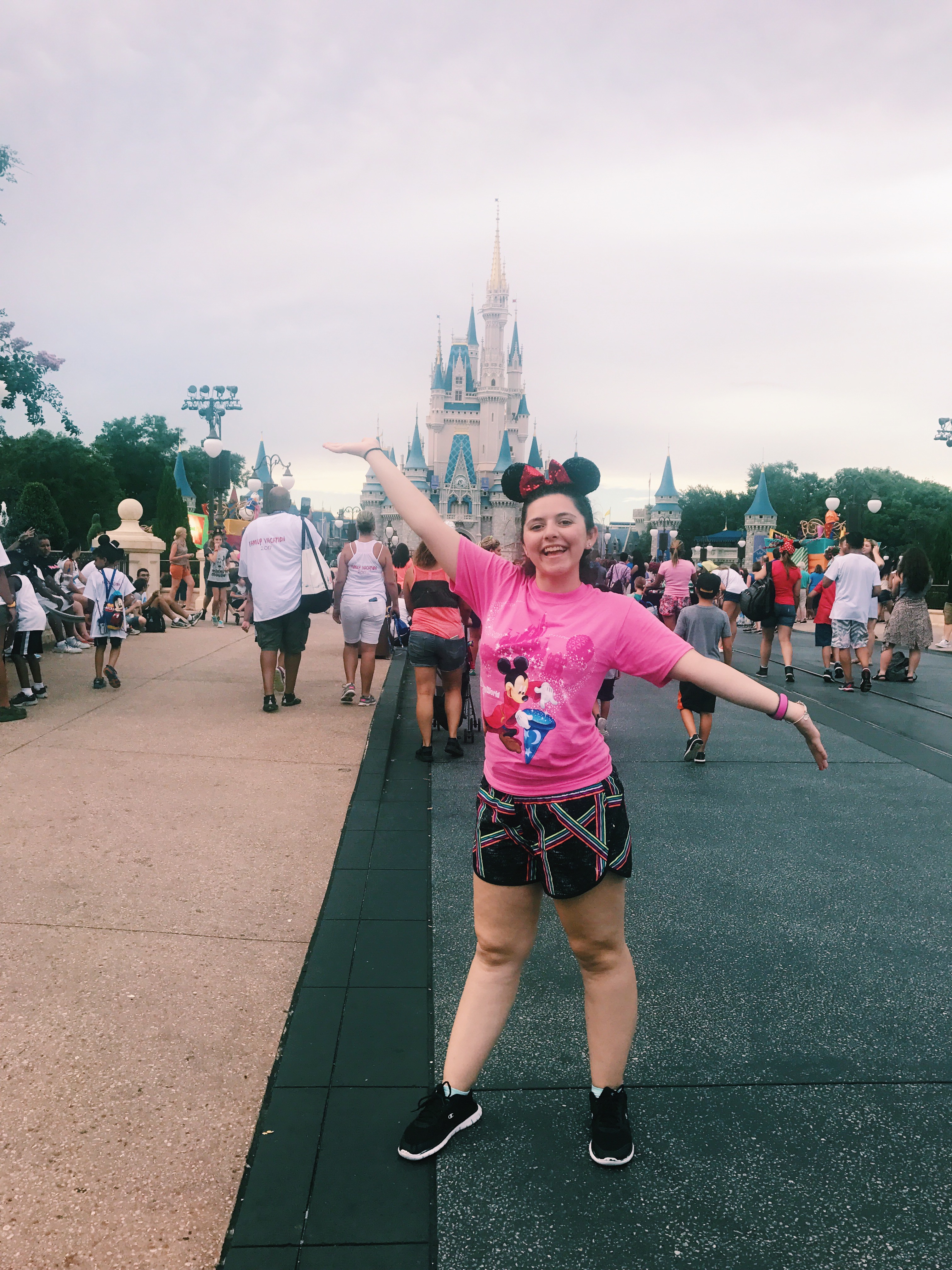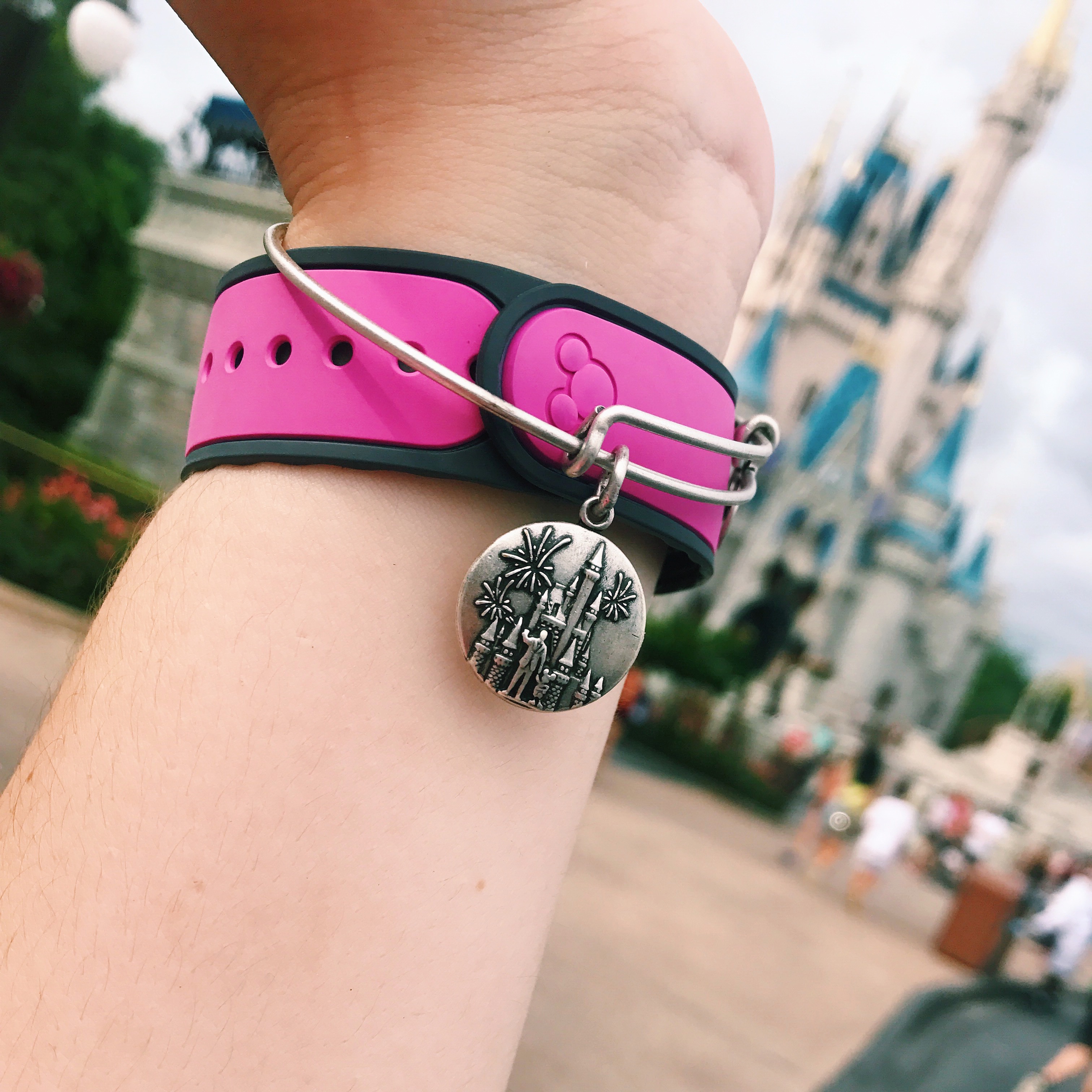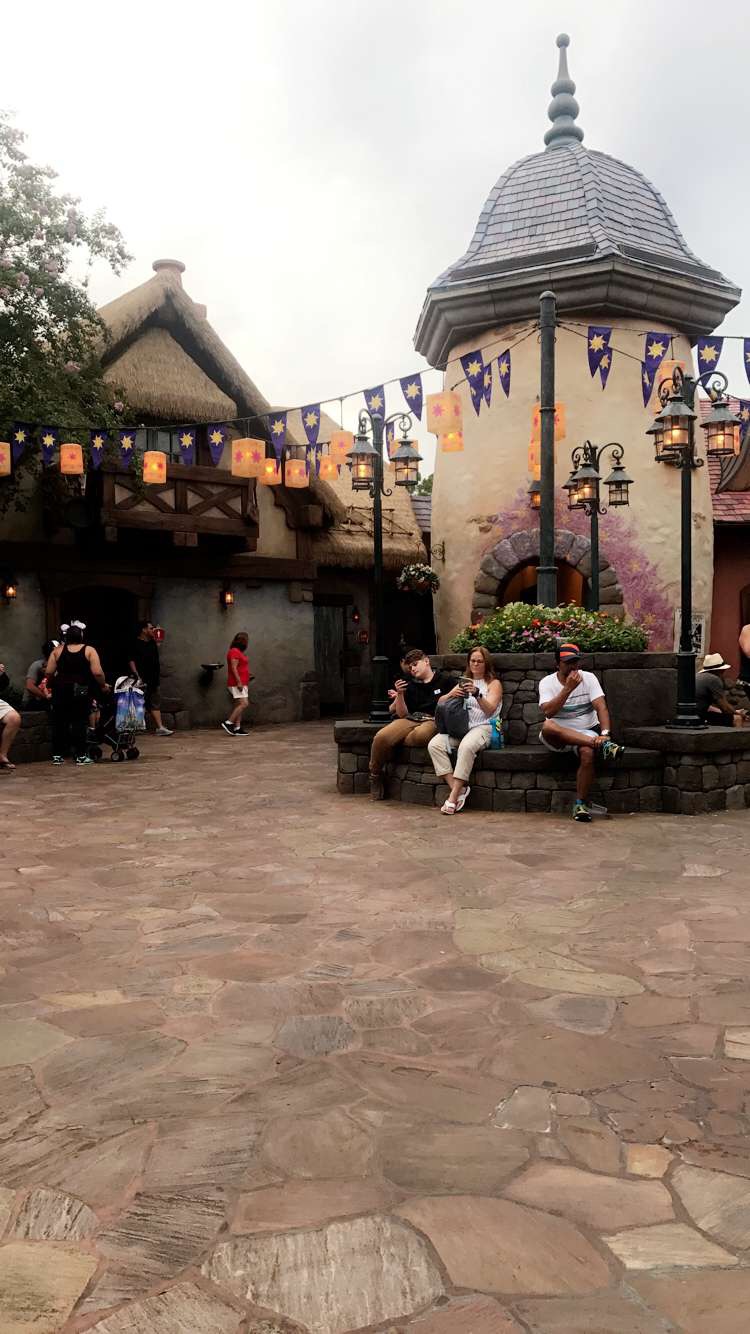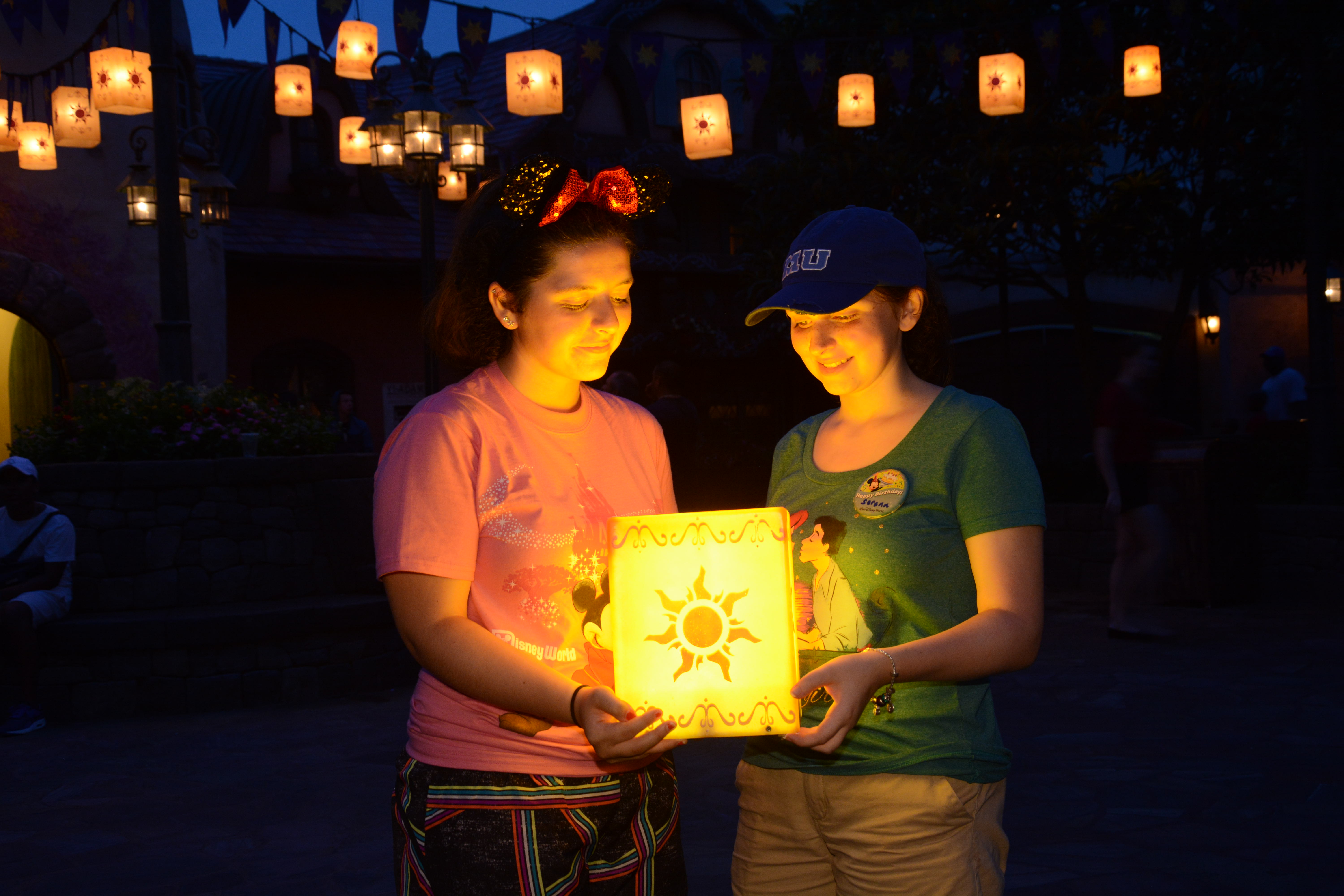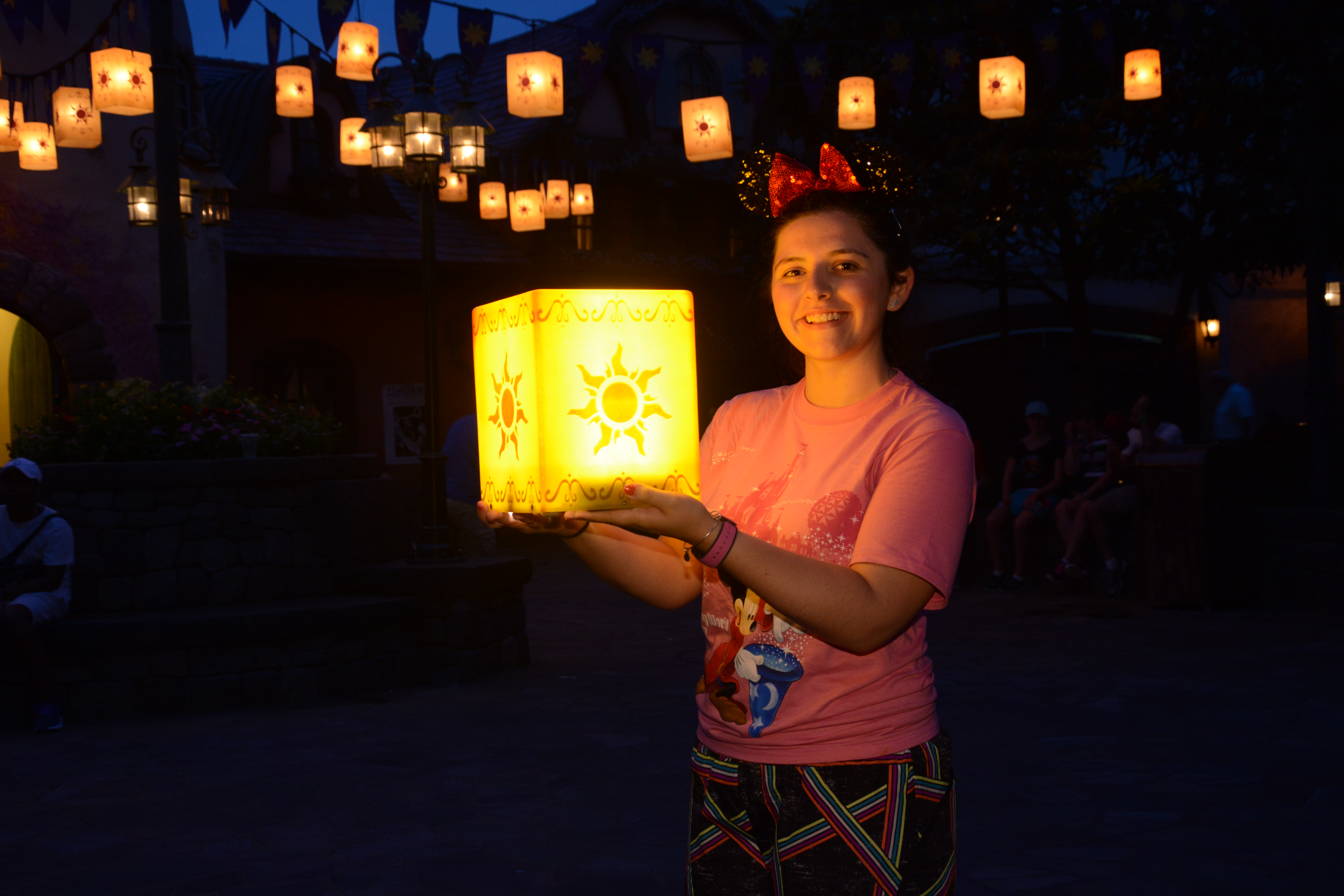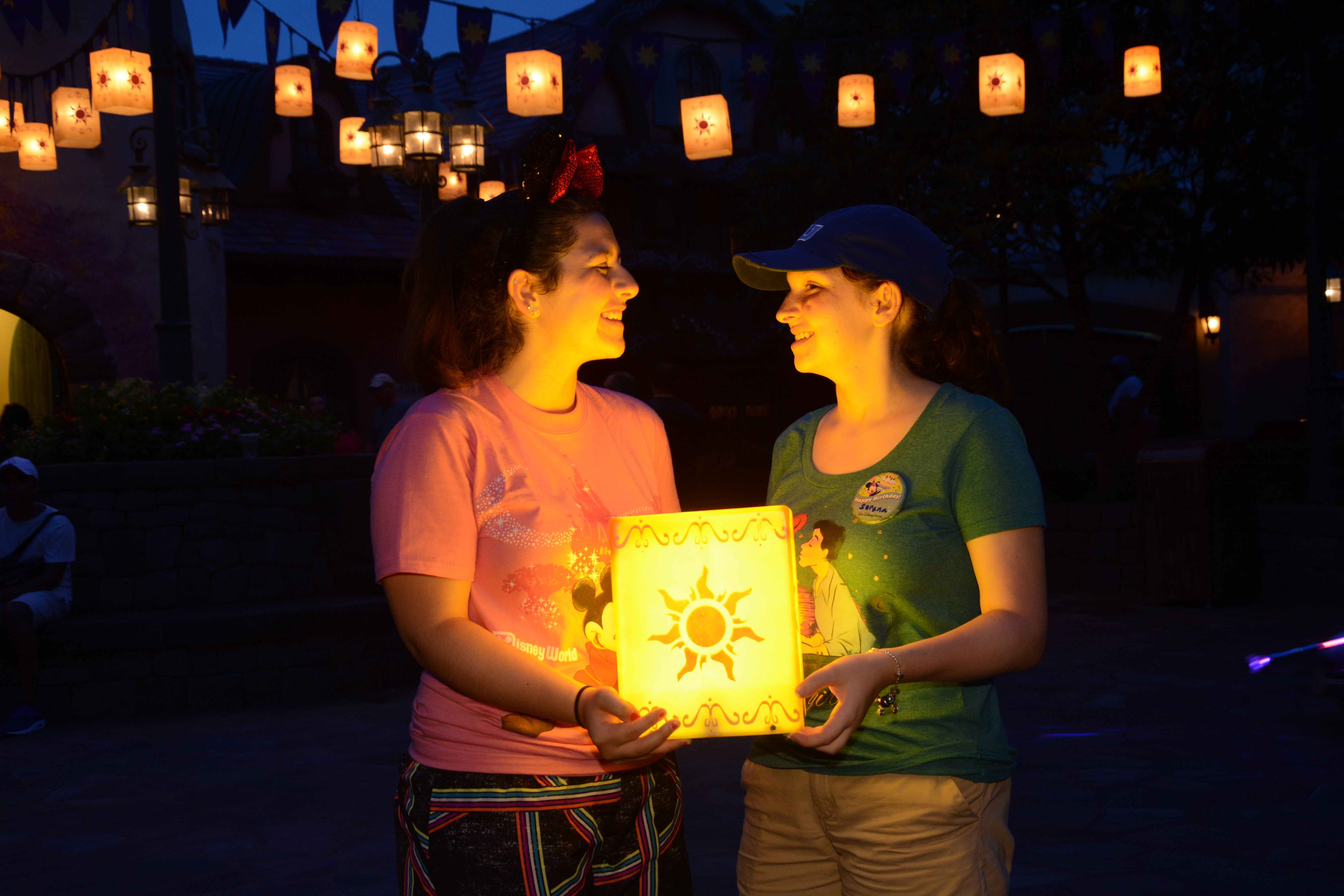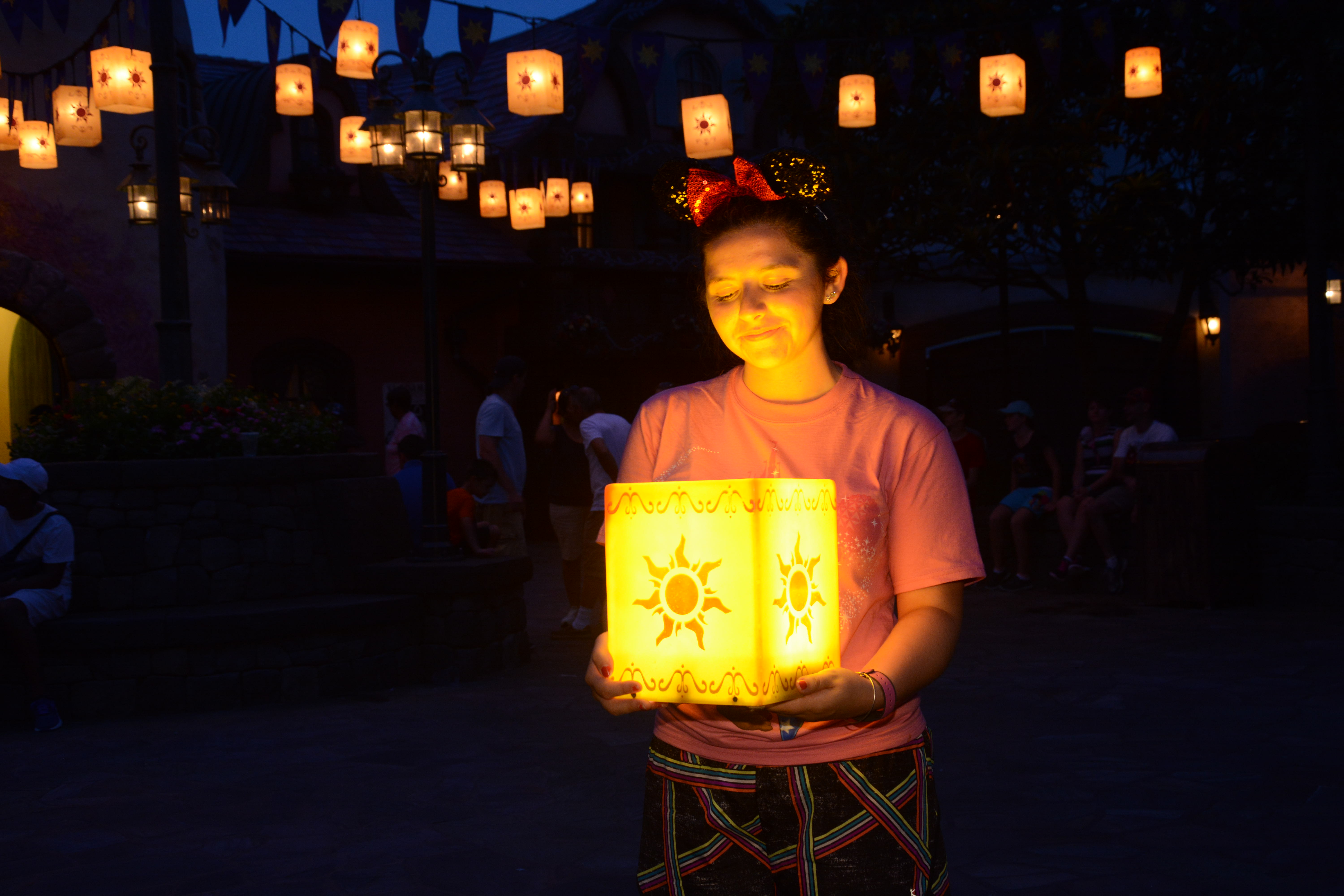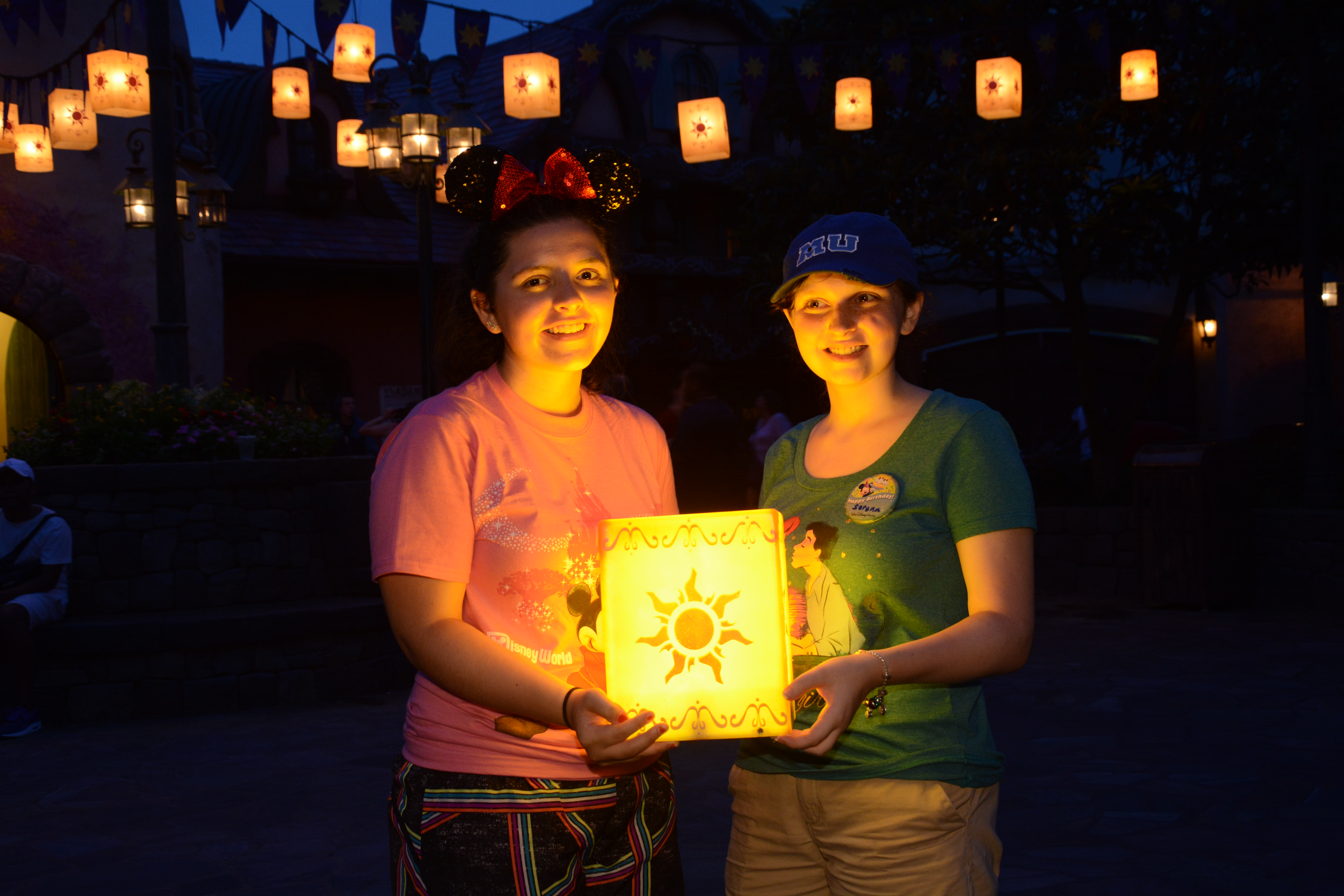 A few months ago, I read about this amazing PhotoPass spot near the Tangled bathrooms and I said "That's it! If there is anything you  do Ariana in Disney, you're getting these pictures taken!" It took a whole week, a lot of waiting, and some worrying that the photographer wouldn't show up but we got it! Serena was super patient with me, we made friends with the lady in front of us, and she let us go in front of her so we could get back to our parents for the fireworks! I almost cried right then because in Disney it just seems like everyone is so nice and wonderful. She was so kind and generous to let us do that and it really made my whole day even more perfect!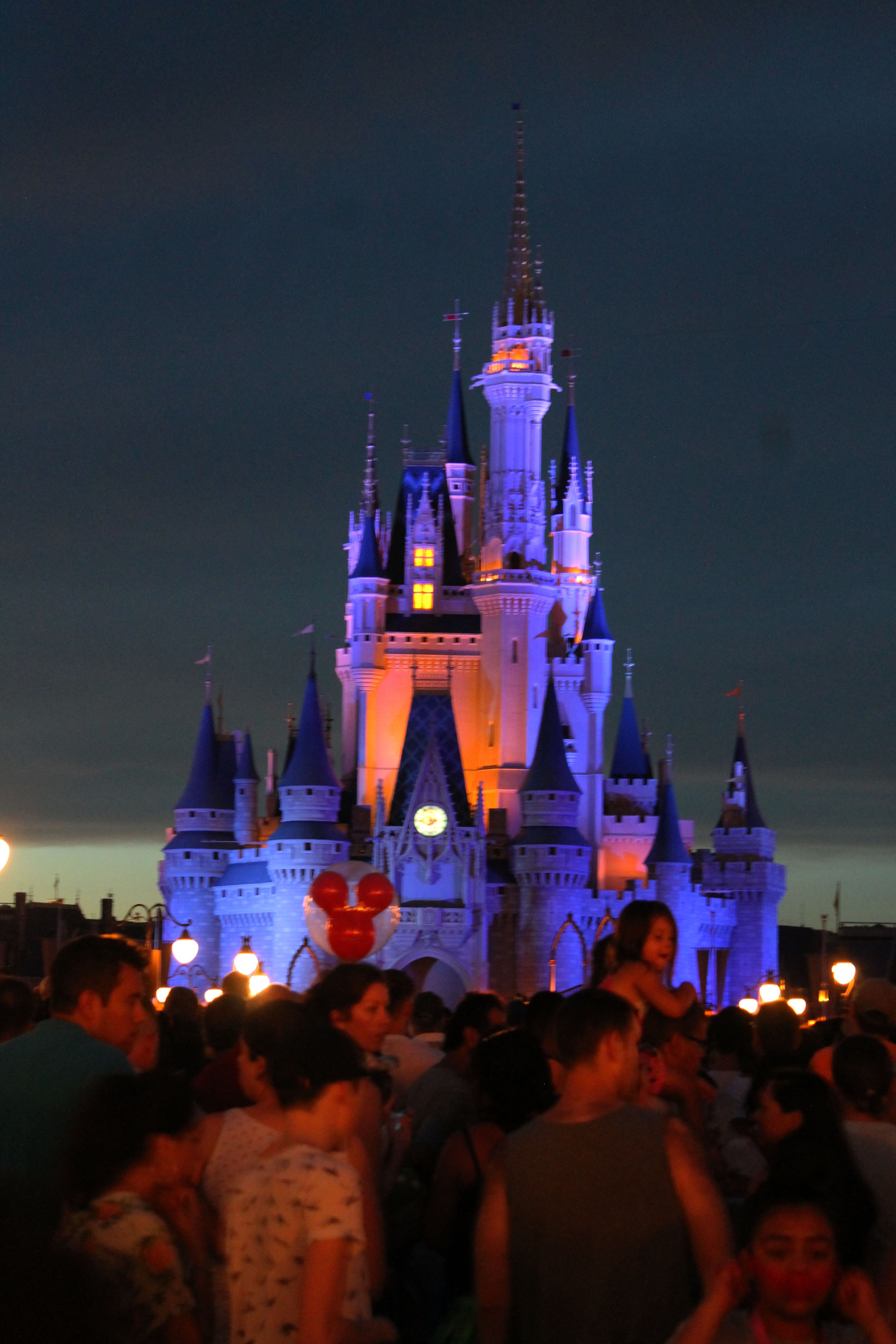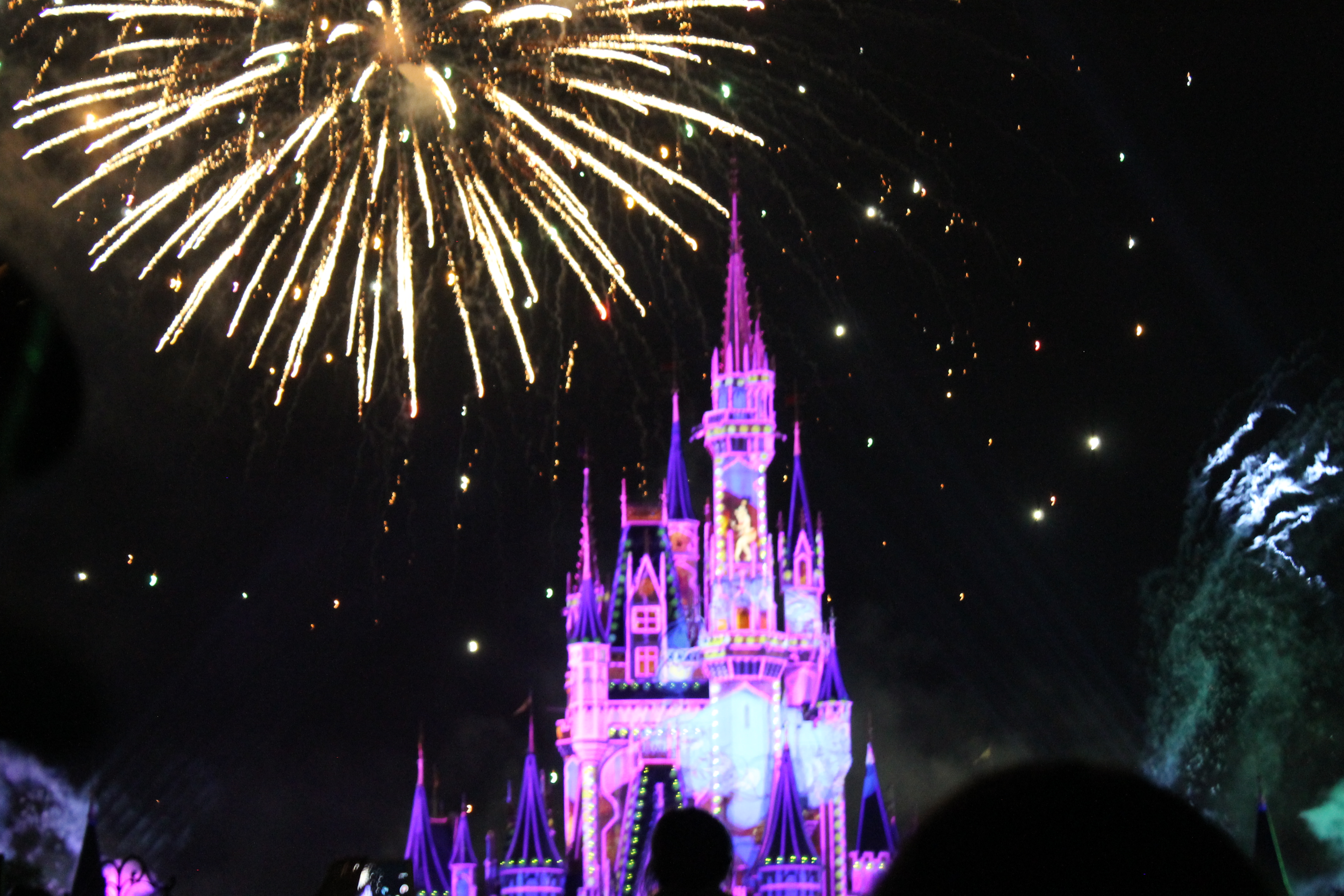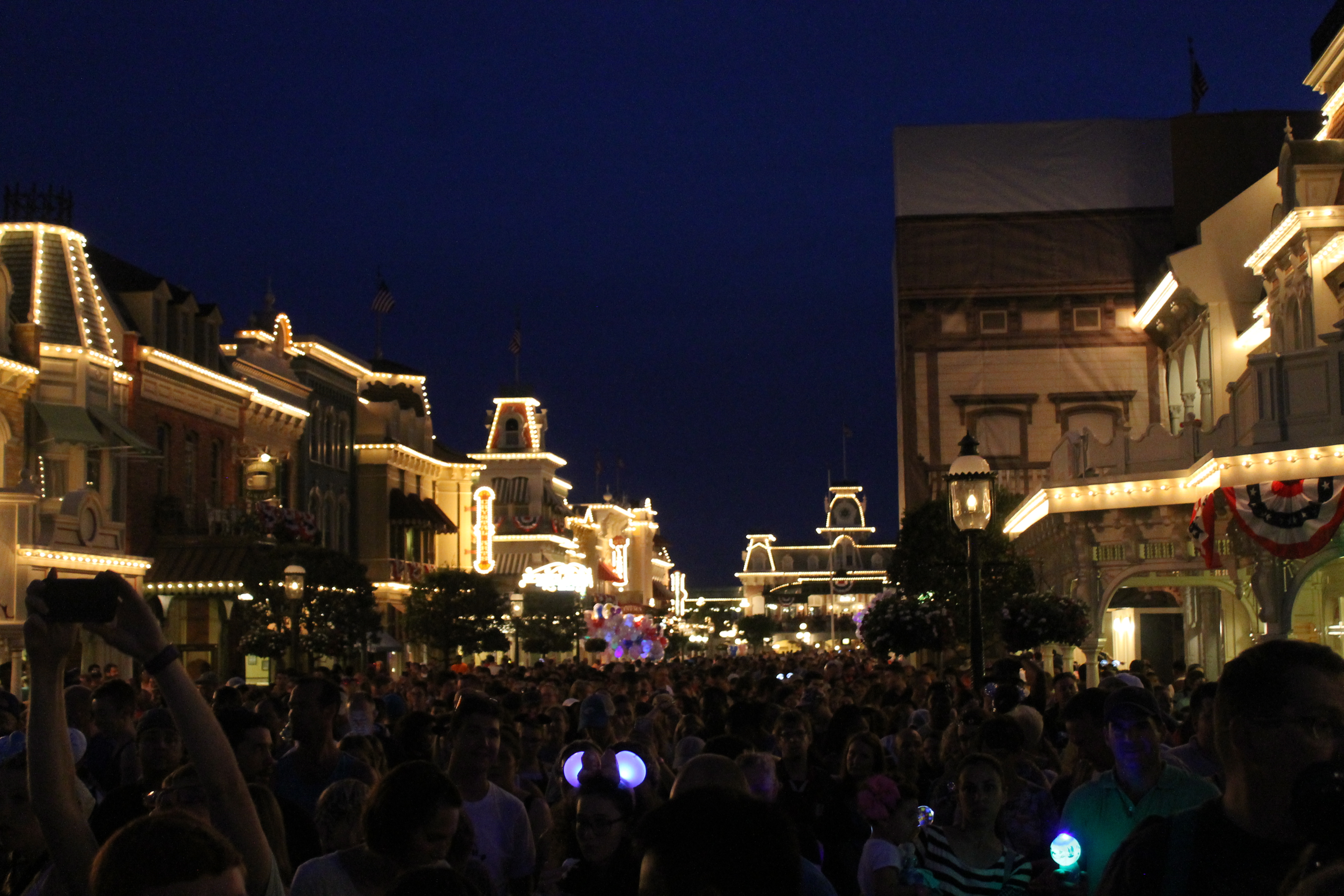 Would y'all just look at that crowd of people? It was nuts! My mom and I really wanted to ride Space Mountain again because it's our favorite. So we devised a plan to head straight  for Tomorrowland right after the fireworks (which were even better the second time)!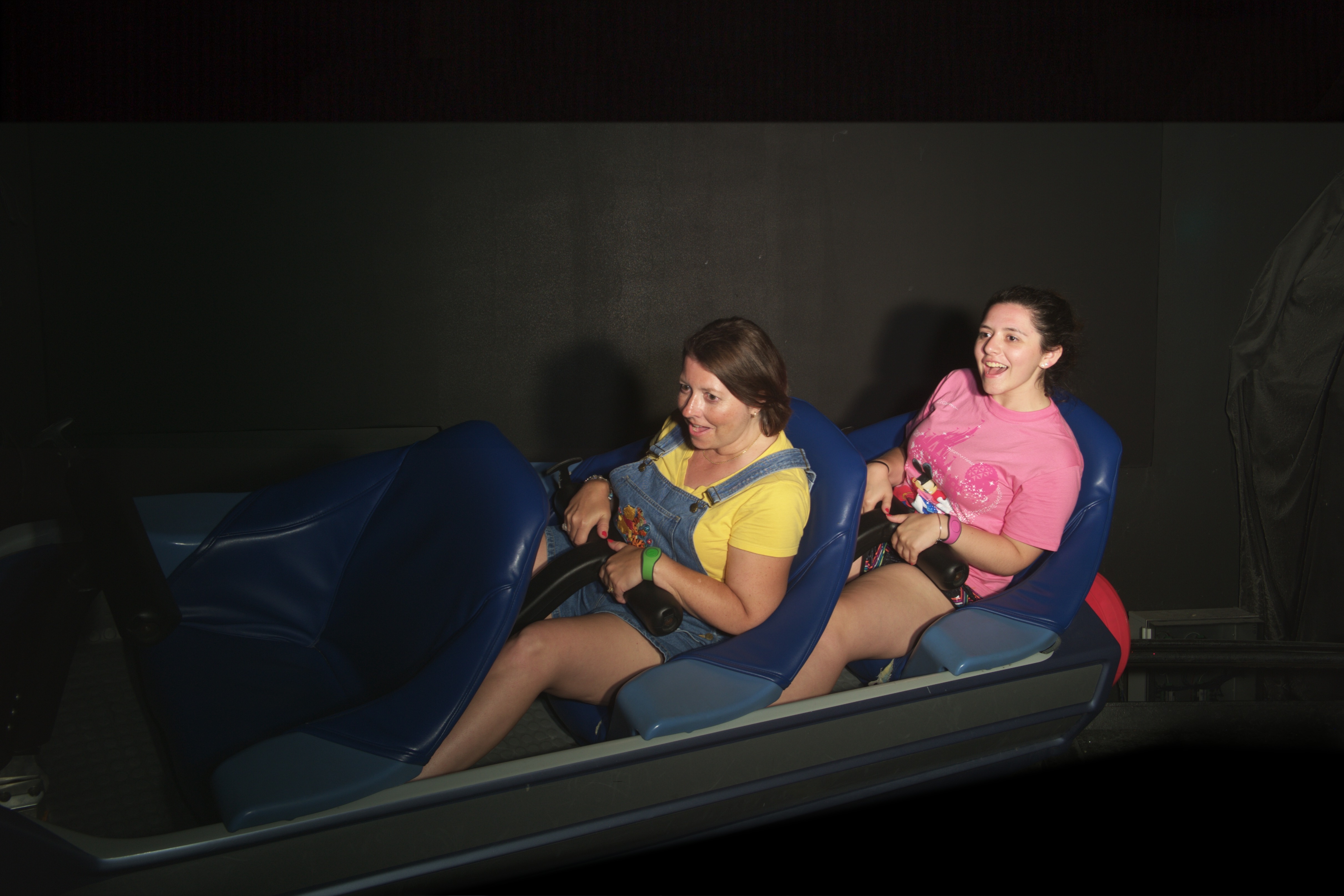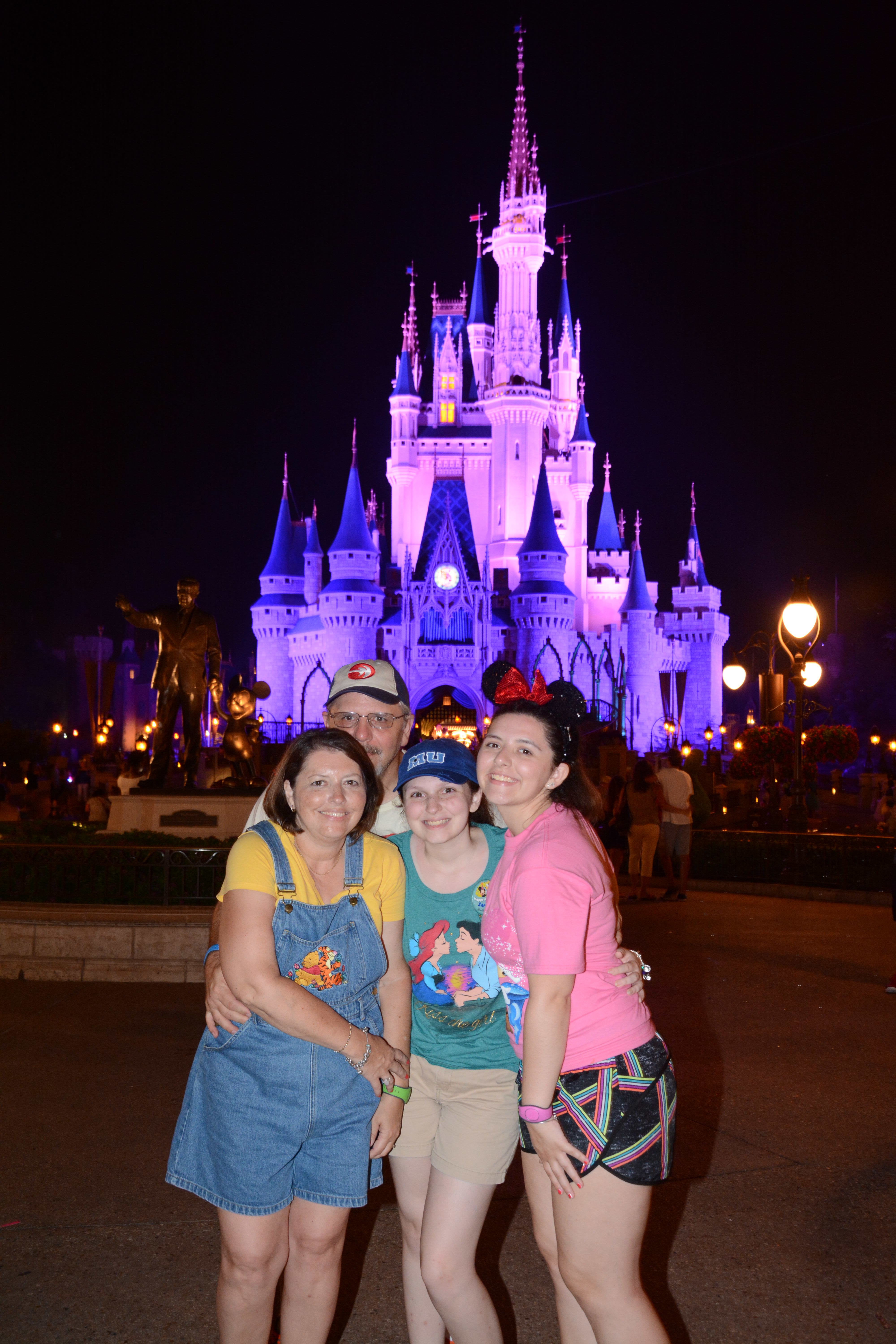 Now for the most magical part of the day of all! We were leaving Tomorrowland and crowds have thinned out severely because technically the park is closed. I spotted a ton of PhotoPass photographers right in front of the castle! I told them we absolutely had to get a picture because the castle was lit up and it was night time! While we were in line, the castle started sparkling and Cinderella-like music started playing! They said farewell to us for the end of our day and Mickey told us he would see us real soon!
Guess what.
…I cried. And I may or may not be tearing up right now remembering it! I guess that's just the magic of Disney!
Now I want to share some goodies I got! Which are mostly pins because you can't go to Disney and not get one pin!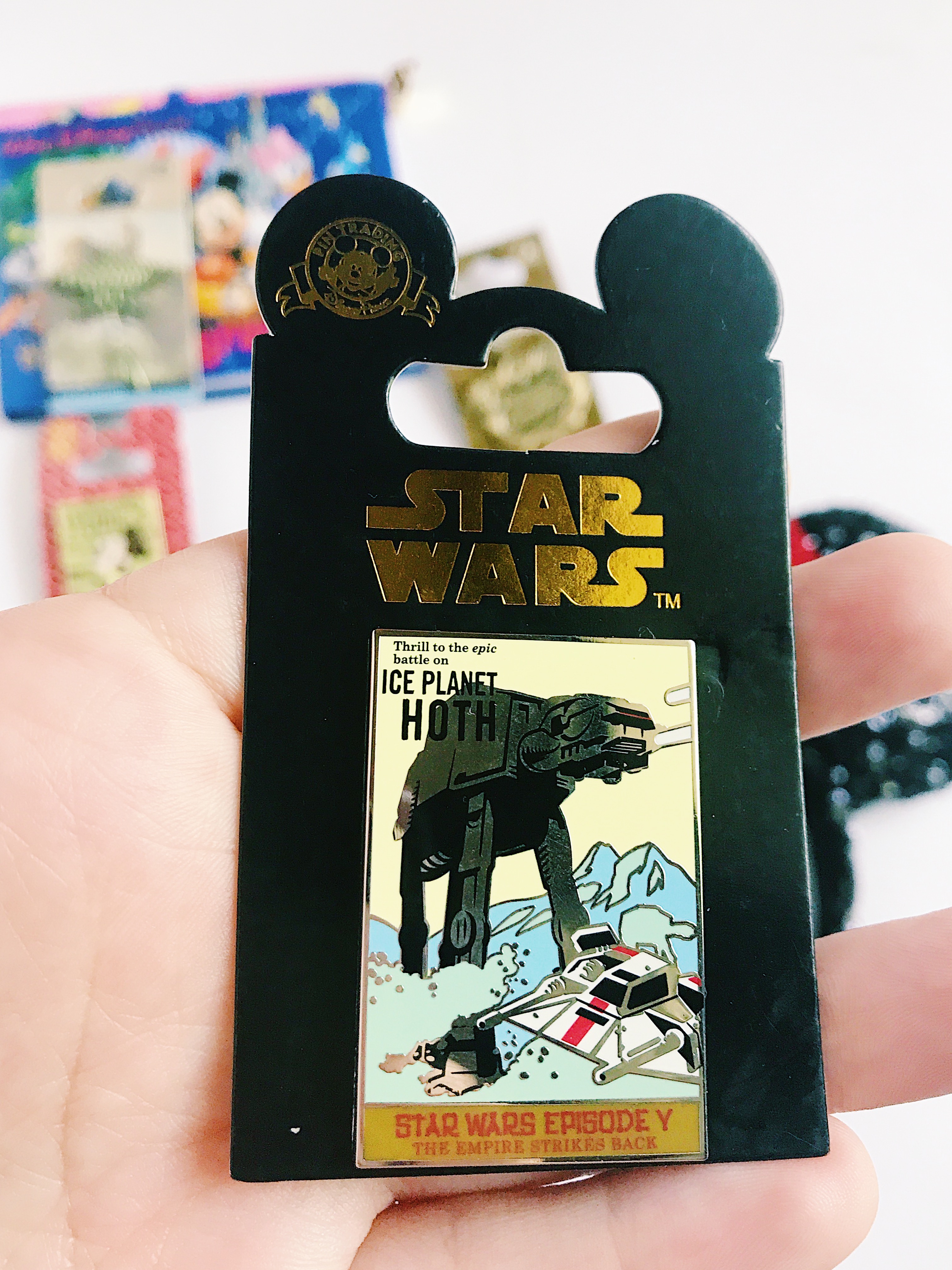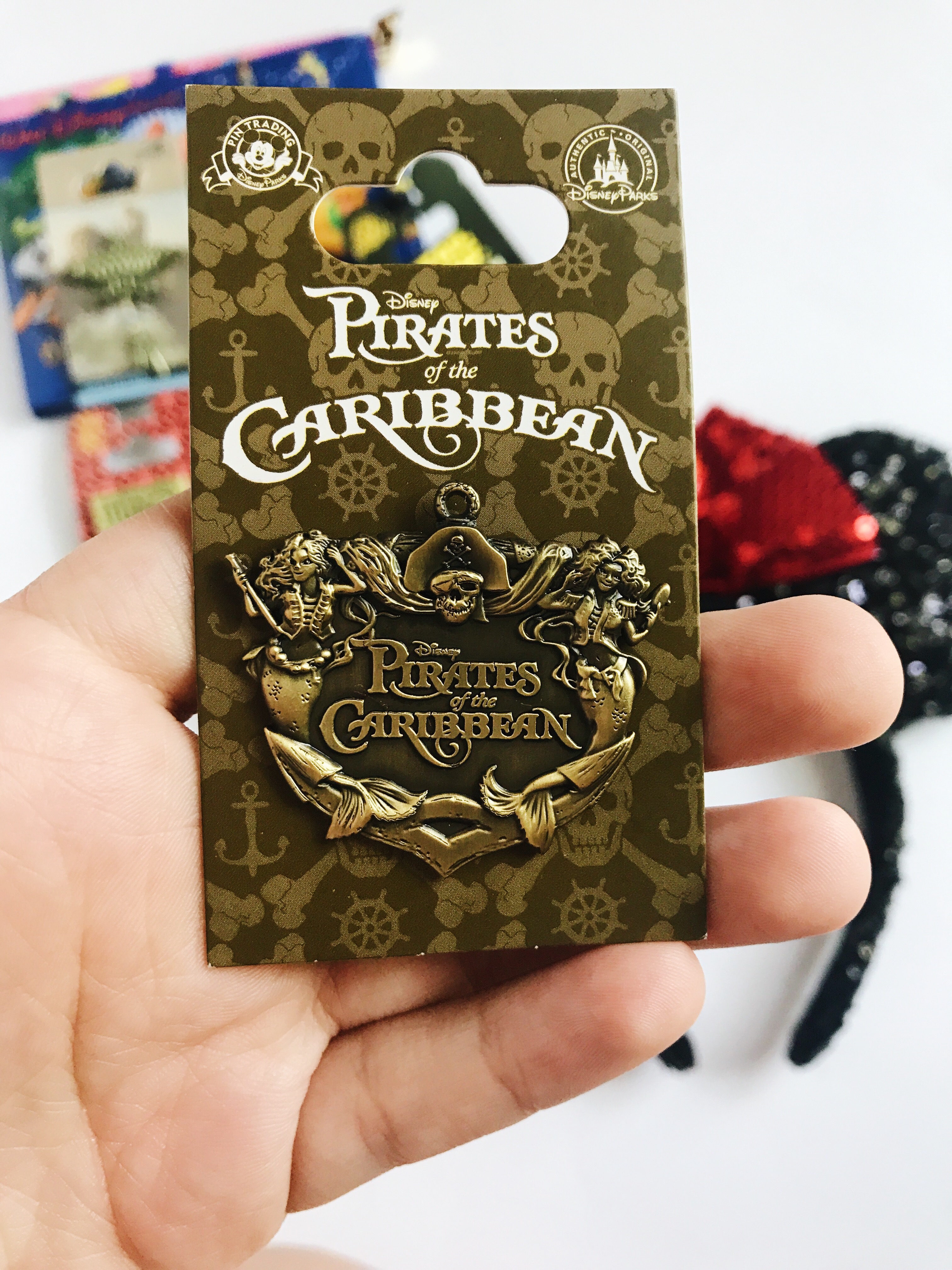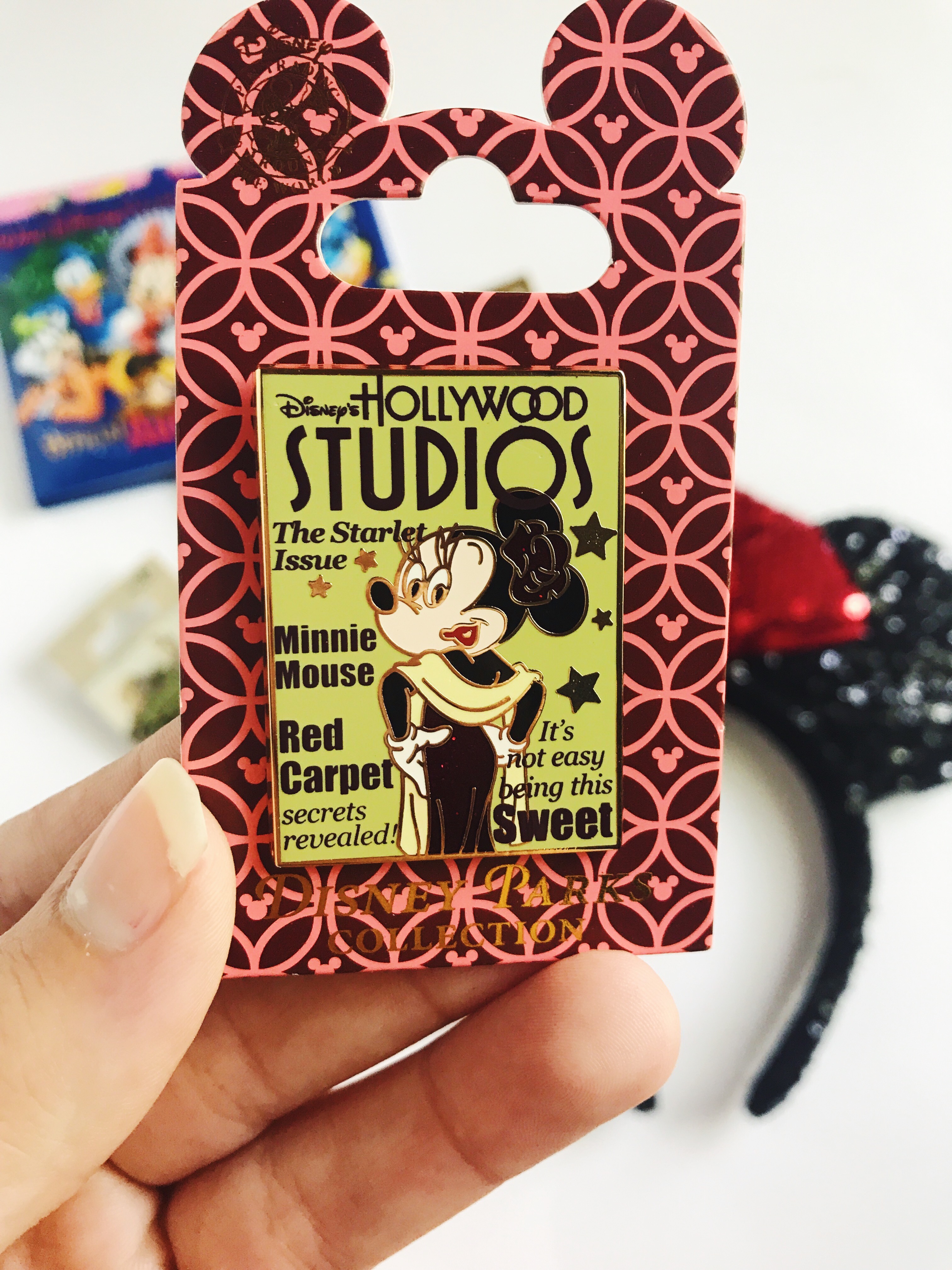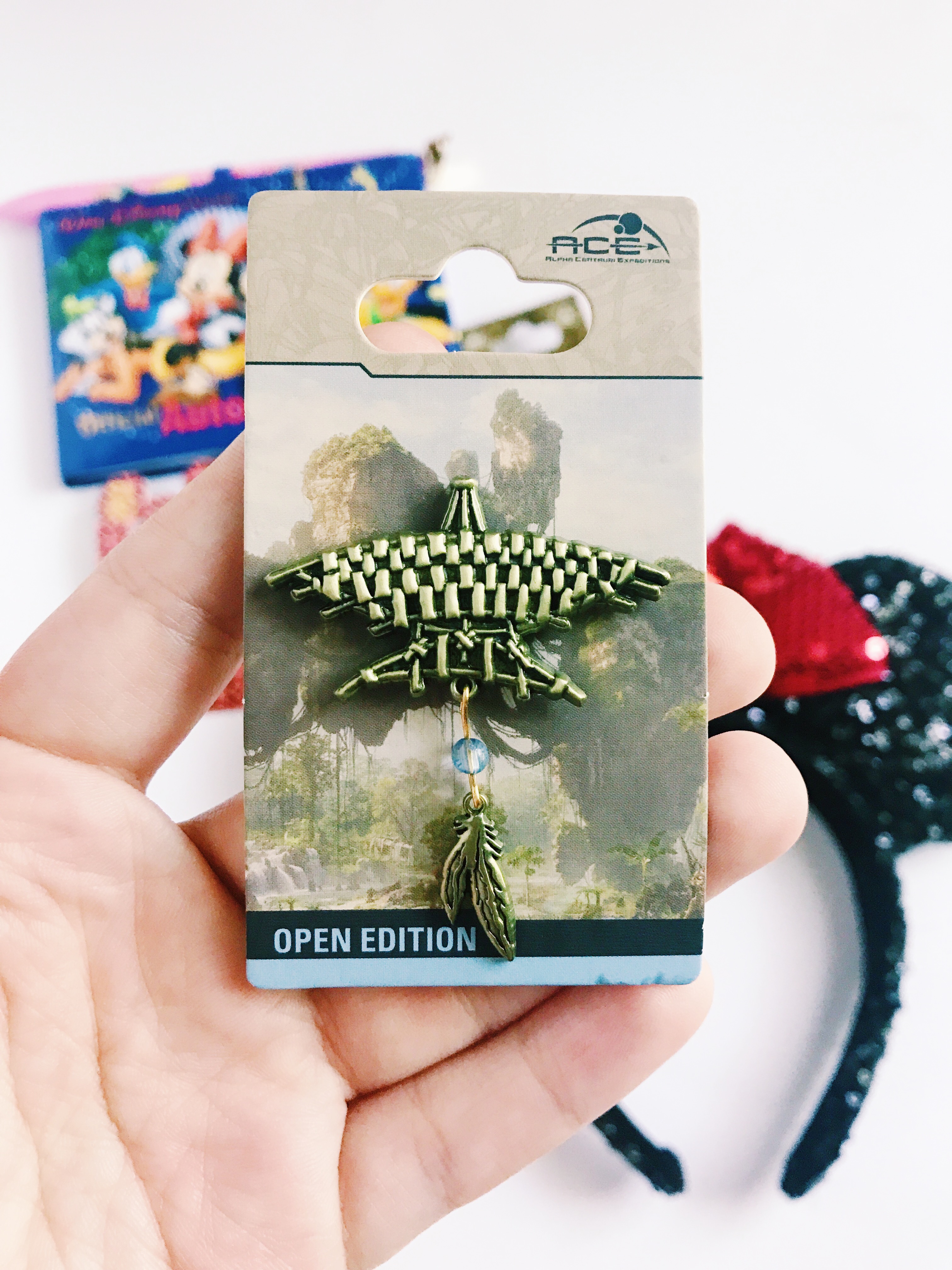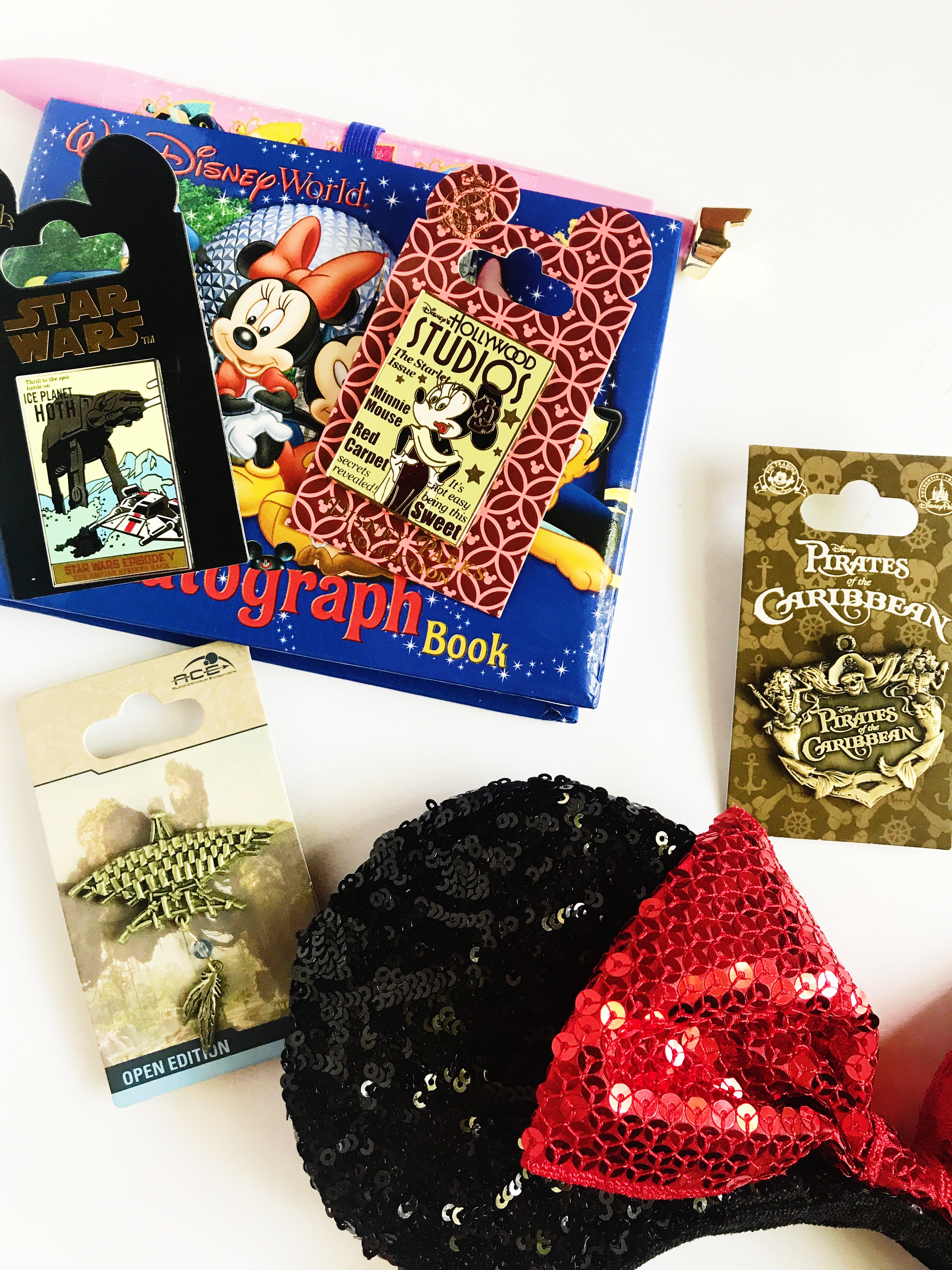 This trip was absolutely amazing and I will never forget it. We were exhausted, sweaty, but full of magic and wonder. If you made it this far, I commend you! Sorry for the insane amount of pictures but I love them!
What's your favorite vacation you've taken? Have any questions? Leave a comment below!
See ya real soon!
xoxo Ariana