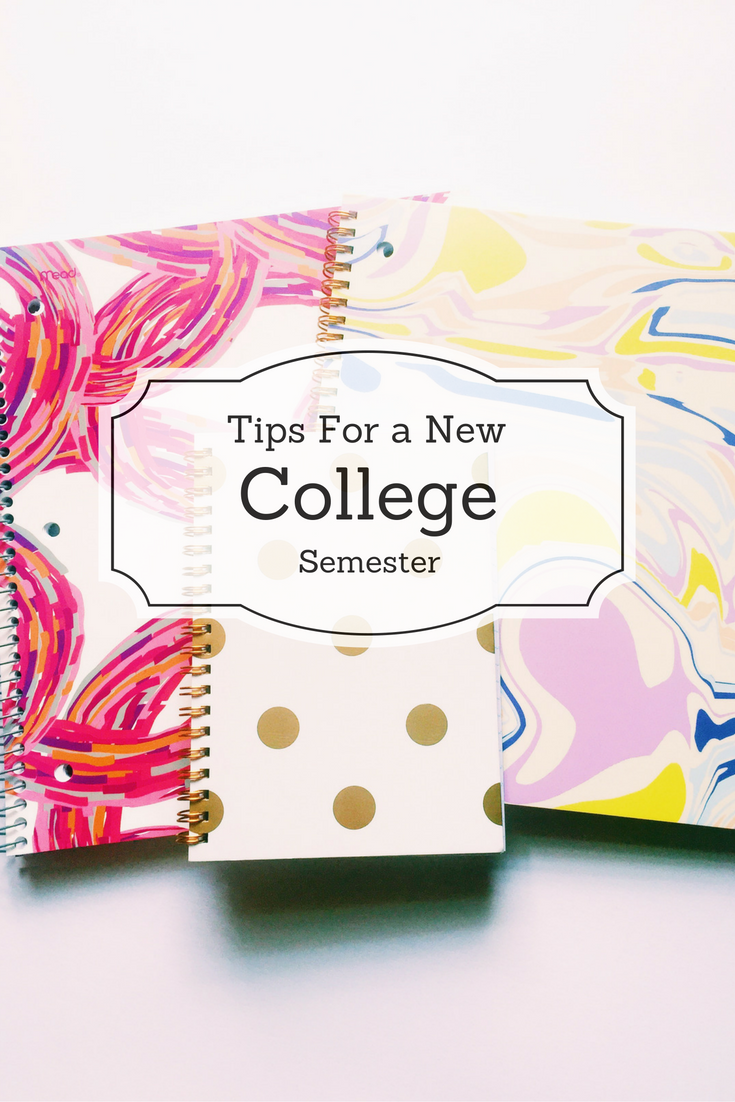 Its that time again! I don't know about you, but I always always always loved the "back to school" part of the year! It was always so exciting, new classes, new supplies, seeing friends again and maybe making new ones! I have always loved school (which may or may not have something with now majoring in education).
Lots of you are either starting your first semester ever in college, or maybe even your first semester in high school! I'm putting together some tips that will hopefully make this whole school thing easier because even for those of us who love school, it isn't a piece of cake.
And if you are still in high school, it's okay! These can work for you too
RENT until you can't rent no more
RENT YOUR BOOKS. I have probably paid 1/4 of what all of my textbooks actually cost just by renting them on websites like Amazon or Chegg. I'm in my third year of college and after just transferring to a big university, I TRULY understand how important this is and I would swear by it! Sometimes I buy the book if it might come in handy later (like my psychology book or education books) but you can still (more than likely) find cheaper buying options online than your college bookstore.
2. Stay Organized (as much as possible)
In high school, I never used a planner. I was one of those annoying people that could just keep track of everything in my head and still keep my head above water. I didn't even think of buying a planner before my first semester in college because I was never able to keep them in use before! Within a month, I had to go buy one because it was suddenly impossible for me to remember everything and keep up. I swear by my planner now. Invest in one that fits your needs, even if it is a bit pricier! There are so many planners out there with different layouts and calendars! Buy one that looks cute so you look forward to writing in it! I have found that if I don't have cute notebooks, planners, etc., then I'm less likely to open them and do the work! I always feel better about using the product if I like the way it looks!
Also, keep track of all official school documents (along with class work). Any records, billing statements, confirmations, etc. Buy a file or folder (or a box with multiple folders) and keep up with your documents. I cannot tell you the amount of times keeping my records has saved my life later on. If it's online, don't print it until you need it but save it as a PDF! I have a file folder on my computer with my school name, and then sub-folders where I keep all sorts of documents! I also organize my classes this way too.
3. Recycle (where you can)
As I just said above, I usually always buy a couple notebooks that are cute to inspire me to do my school work! But also, I recycle my old binders and notebooks I didn't really use. We're not made of money, especially in college. It's probably the most financially vulnerable time in our lives. So recycle old school supplies if you can! I usually do this between fall and spring semesters. If there is a binder still in good condition, I'll just take everything out of it and use it for a class in the spring! But if your notebooks are kind of beat up or you just don't like them, it's totally fine to just get new ones!
4. Talk To Your Teachers
Talk to your teachers. Come on, repeat it back to me so I know you heard me. This goes for any grade, any school, ANYWHERE. I was very shy my first year of college, and though I did well, I could have made it easier on myself if I had spoken up. Raise your hand in class, ask other classmates. Everyone is nervous, most everyone is shy, so you are not alone! Make use of your teachers office hours because they are there to HELP you. Nobody becomes a teacher unless they truly care about helping their students learn. Even the scary, strict teachers. If your professor is strict about the way the assignments are done, don't complain about it and be stubborn, just do it and they'll give you the grade.
IF you are struggling with a class early in the semester and your grade is going down (which is nothing to be ashamed of), get help. Your teacher maybe can arrange extra credit, give you extra help, or assign you to a tutor. I learned this the hard way. Don't be stubborn and think you can help yourself all the time. It's OKAY to get outside help!! They don't bite!
5. Get Involved
This advice is good for high school and college students. Get involved. Join a club whether it's intramural sports, a Bible study, or even Quidditch (yes my school has a Quidditch club and so do many others!) Don't stand on the sidelines and longingly look, just do it! Maybe others who are also nervous and scared will see you do it and follow! Trust me, joining sports teams in high school was my lifeline and I'm still trying to find that in college but I'm much happier trying than if I wasn't! This is the time in your life where you have the time, the energy, and the opportunity to do all these amazing and fun things! You are going to want to look back on these years and have fond memories! Find things that inspire you, challenge you, and interest you. Use them. Make friends. Make memories. You'll thank yourself in the years to come!
I really hope these tips helped you out or made you slightly more excited about school! I hope everyone had a great back to school week and likes their classes! What's your favorite part of school? Let me know in the comments! And leave any questions you have!
xoxo Ariana